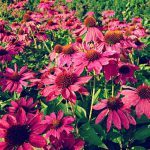 Strong, vibrant and unique, Coneflower is a staple for attracting butterflies and other pollinators. 
This is a super hardy plant that survives in extreme environmental conditions of summer and winter as well as depleted soils or clay.   Sporting a delicate looking daisy-like flower, one quickly discovers that this plant is designed for survival.  It has a sturdy structure with stiff stems with thick dark green leaves and stiff cones where the seeds are produced.  In my clay soil, these plants reliably come back every year with a few seedlings at the base.  They seem to always be giving me the opportunity to grow more, but are not aggressive.
Averaging 18″-24" tall, Echinacea flowers maintain themselves through drought and heat without complaint.  I've seen mine wilting from excessive heat of the day, but by evening their leaves are standing full again.   Plant in sun as accents or masses.  Because they are not invasive, they can be planted across the garden without fear of overtaking.  With  upright flowers atop the stem, utilize this in your garden design to create visual flow across an area.  They are also great for filling the late season garden with color after other perennials have faded.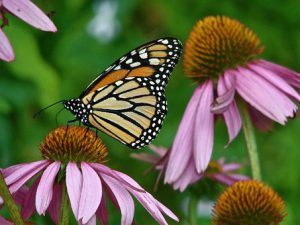 Butterfly garden flowers – top contender
Butterflies and other pollinators love these.  It would be unusual for me to go into the garden and not see a yellow swallowtail butterfly, several bees or a hummingbird moth visiting the coneflowers.  Their huge center cones almost seem like beacons,  often tipped in bright contrasting colors.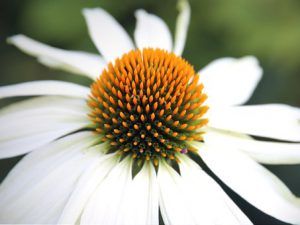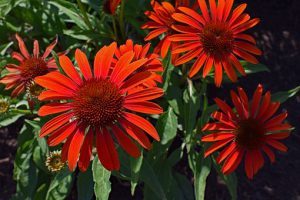 Many varieties of pink, white, yellow, orange, gold and red are available.  A couple of the varieties I've grown are the Magnus and the Rainbow Marcela.  Magnus flowers are striking hot pink petals that surround a deep orange-tipped center that seems to glow in fluorescence.  The Rainbow Marcela, radiates apricot, pink and raspberry color around the center cone.  They are stunning color combinations.  They add velvety vibrant color to the garden whether fluorescent orange or pastel peach.
Coneflower maintenance
The flowers start blooming in mid June and last a long time on the plant.  With regular deadheading, they will continue to produce flowers up to winter. This is a plant that you don't want to wait until the flower is completely spent before deadheading – as soon as it starts to fade, remove it so energy is transferred to the production of new buds.  Fortunately, these make great cut flowers, so keeping a vase of them in the house will assure continual bud production on the plants in the garden.
If you want to expand these in an area of the garden for next year, late in the season begin to leave some flowers on the plants to go to seed.  Remove the cone in the fall and gently squeeze/roll the heads so the seeds fall out and generously distribute and lightly cover with soil. Look for new plants in the spring.  These seedlings will not bloom the first year but will successively following years.   *** A word of caution – the dried seed heads are very stiff and spiky like rose thorns.  Use gloves!   Leave a few of the last seed pods on the plant, and the birds will thank you for the treat during the winter.