Coleus Plants: Tips For Caring for Coleus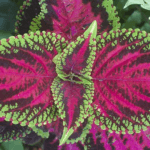 Find out how ailing coleus plants react and how to remedy with these tips for caring for coleus.
Prized for amazing foliage colors and patterns, coleus plants will thrive if you know a few tips for caring for their water, light, soil and environment needs.
IN THIS ARTICLE:
How much water do coleus need?
How much light do coleus need?
What type of soil do coleus need?
How to propagate coleus from cuttings
Acclimate coleus plants outdoors
How to have coleus flowers and keep the plant compact
What's wrong with my coleus plant?
Why are my coleus tall and lanky?
Why are my coleus leaves drooping?
Why are my coleus leaves curling and have yellow spots?
Why are my coleus leaves turning yellow and falling off?
Why are my coleus leaves pale and the plant looks weak?
This article may contain affiliate links. Click here for full disclosure.
How much water do coleus need?
Moisture needs of coleus should be balanced with light, temperature and soil conditions. The soil should remain slightly moist but not wet. In cool shade, they will not need to be watered as often to keep the soil moist. In bright light and heat, daily watering may be needed to keep the soil moist. Adjust watering needs for the soil condition – rich organic matter will retain more moisture than a clay laden soil. In excessive heat, watch the plants for signs of stress and keep soil moist.
Avoid wetting leaves when watering coleus. Always water at the soil to reduce the chance of developing fungi which causes dark blotches on leaves.
How much light do coleus need?
Dappled sunlight or partial sun is best to keep your coleus colors vibrant. Coleus will adapt to brighter conditions if the soil is not allowed to dry out. Strong sun may cause foliage to look washed out. Coleus are often favored for filtered shade gardens, where their brightly colored leaves will easily brighten areas. In deep shade, the colors will not be as vibrant and plants will tend to have taller and weaker growth. Too little light causes weak spindly growth.
What type of soil do coleus need?
Coleus prefer fertile well drained soil and can develop root rot and fungal diseases in poorly drained soil. Areas that retain water or containers that don't drain well will not be favorable for coleus.

Rainbow Blend Coleus Seeds
from:
Botanical Interests
Rainbow Blend Coleus Seeds –

Coleus is an excellent houseplant that will add color to those dreary winter days. In the garden, its white, bronze, gold, copper, yellow, pink, red, and purple foliage will brighten up shady areas that typically are hard to grow flowers in! Also great for containers and planters!
How to propagate coleus from cuttings
If you want to multiply your coleus they respond quite well to propagating by cutting. A plant that has been waterlogged beyond saving can often be saved by propagating cuttings from the tips.
There are a couple of ways you can grow roots from cuttings – start in water or start directly in soil.
To propagate coleus, each cutting should be about 4-6" in length, cut from a mature stem, but not from a large main branch. Cut below a leaf node. Remove all leaves on the stem that will be below water or soil.
For water propagation, place the stem in a clear glass or vase in a bright location. A clear glass allows you to see the roots as they grow. In 2-4 weeks the roots should be 1-2" long and ready to plant. Use a pencil or other long tool to make a hole in moist soil large and deep enough to accommodate the roots. Carefully place stem and roots into the soil, keeping the roots pointing down, and gently press the soil around the base to keep the plant standing upright. The soil should have good contact with the roots now.
To propagate coleus cuttings in soil, make cuttings about 4-6" in length the same as for water. In moist soil, use a pencil to make a hole. I like to use a rooting powder on the stem first, to encourage root growth. Read and follow the directions about how to use and handle the rooting powder.
Place the end of the stem in the hole and press the soil around the base to keep the plant standing upright. Keep the soil moist until roots form in 2-3 weeks.
Coleus make great houseplants too, so consider bringing them in before frost and enjoy their company over the winter. Propagate during winter months, and you will be ready with new plants for the garden when spring arrives. Just remember to acclimate them properly to their new environment outdoors in the spring.
Acclimate coleus plants outdoors
Properly acclimating coleus to the outdoors is essential to assure that they don't suffer from discolored leaves or shock.
Place your potted coleus outdoors in a shady spot protected from sun and wind. After about a week, you can gradually introduce them to more light and elements. They need to strengthen stems for breezes that they did not have while they were in the house. Once acclimated, plant them in the ground and maintain moisture while the get established. Watch how much sun and wind they get to prevent damage.
How to have coleus flowers and keep the plant compact
The draw to the amazing colors and patterns of coleus leaves can sometimes cause us to forget that coleus also produce flowers. And coleus blooms are actually quite pretty and last a long time.
On coleus you can keep the plant uniform so leaves produce at about the same height as the flowers start to develop. It just takes some timing and advance planning.
Choose the random stems you want to allow to develop flowers. Pinch random surrounding stems to encourage foliage growth, and the stems chosen to bloom slightly below those. Allow the flower buds to develop.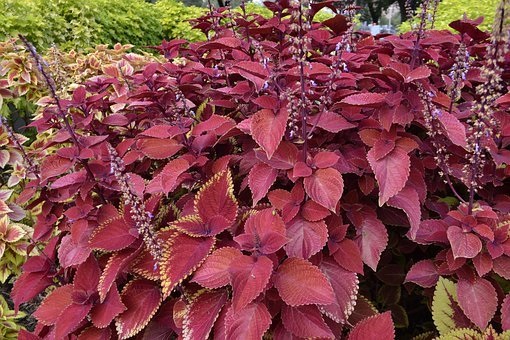 This picture is a perfect example of how the plant was kept uniform by timely pinching select stems to encourage foliage growth and flower production. When you deadhead the flowers these stems will produce new foliage again. Ongoing random pinching will encourage flowering and foliage all season. Random flowering also helps balance the plant energy into flowering and foliage growth.
What's wrong with my coleus plant?
Coleus symptoms can be similar for different conditions, so start with the simplest (water, light) and then look to more complicated issues (insects, fungal). Here are some possible reasons for different coleus symptoms.
Why are my coleus tall and lanky?
Coleus will get tall and exhibit weaker growth in low light or deep shade conditions. They do best in partial sun conditions.
Coleus will get leggy if they are not pinched back regularly. If you want bushy coleus and are not interested in the flowers, pinch buds off at the set of leaves below the bud. Regularly pinch top growth to encourage new stems to form which will create new sets of brightly colored leaves. No need to wait for the flower to form before pinching.
This is a plant you can really increase the foliage density by regularly pinching back. If a stem has gotten too long, pinch the stem off 2-3 leaf sets back from the flower end. Coleus will respond with new stems and leaves in short time.
Why are my coleus leaves drooping?
Coleus will wilt or droop if they are not getting enough water. In extreme cases the edges of leaves will appear burnt or curl under or drop off. Coleus are durable, so a good watering should perk them back up if they have only been stressed for a short time. Don't allow them to get in this state often however, as it does weaken the plants and they will react with less vibrancy and productivity over time.
Coleus exposed to excessive wind will often react by drooping. If the condition subsides, they will perk back up on their own provided they have enough moisture in the soil. Protect coleus from excessive windy conditions.
Coleus may droop because of a mealybug infestation. Check the stems and leaves to see if there are white cottony masses stuck to them. These oval bugs are about 1/3 inch long, flat and covered with a white waxy powder that makes them look fuzzy. They suck the sap from the roots, stems and leaves and leave behind a secretion that encourages mold and attracts ants. Insecticidal soap will help eliminate a mealybug infestation.
Why are my coleus leaves curling and have yellow spots?
This could be a sign of a mite infestation. They suck the sap from the plant, leaving foliage discolored and distorted. Look for telltale webbing they weave around the inside stems of the plant. Check the underside of leaves for a very tiny red, brown, yellow or green spot, which will be the mite. If it's a light infestation that you caught early on, sometimes you can just remove the mites and eradicate the problem. If the infestation is widespread, use an insecticidal soap and follow directions for application.
Why are my coleus leave turning yellow and falling off?
Not properly acclimating a coleus from indoors to outdoors may cause the leaves to turn yellow and fall off.
Coleus leaves will turn yellow on overwatered or waterlogged plants. It's possible that the plant can be re-potted and saved if caught early. If the plant is dying, consider taking cuttings and propagating new plants.
If there are small bumps on the leaves and stems, you may have a scale infestation. Scale will cause the leaves to yellow and drop off, along with reducing growth of the plant. Scale insects have a shell covering and look like clusters of flattened waxy bumps suctioned to leaves and stems. Reddish gray or brown, they grow to a bit larger than the head of a pin.
Why are my coleus leaves pale and the plant looks weak?
Too much sunshine can make leaves lose their color and vibrancy. Large leaves that have been washed out or damaged should be removed. These leaves will not recover and removing them allows the plant to use its energy towards making new vibrant leaves. It also removes weight from a stem that may have been weakened.
Old leaves tend to be less vibrant than newer. Regularly pinch the plant to encourage new growth of fresh colorful leaves.
Coleus that display poor coloring may be infested with whiteflies. They accumulate on the underside of the leaves, sucking the life juices from the plant. When the plant is bumped, they will fly up off the plant in masses that look like dandruff. They can significantly weaken the plant, causing the leaves to turn yellow and die. If the infestation is minimal, sometimes spraying the underside of the leaves with water will eradicate whiteflies. If not, insecticidal soap is an alternative.