Can I Burn Any Wood In A Fire Pit?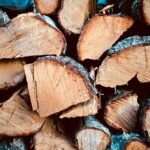 Fire pits provide a wonderful way to enjoy the outdoors long into the colder months of the year. 
Burning the correct type of wood in a fire pit is important for the overall enjoyment as well as assuring a safe experience.
According to the Environmental Protection Agency woods that should not be burned in a fire pit are those that are coated, painted and pressure -treated, ocean driftwood, plywood, particle board or any wood with glue on it.    
Woods that are wet, rotted, diseased, moldy or pest infected should not be burned in a fire pit.   
Burning these woods can release toxins into the air that can negatively affect nearby people, wildlife and the ecosystem.
Also do not burn wood that may have embedded nails or other objects.
Best Firewood For Fire Pits – Hardwoods
A harder, denser wood will burn longer than a softer wood, and are most desirable for use in fire pits.  Oak, hickory, ash, fruit trees and birch are good hardwoods to burn in a fire pit.
Softwoods such as pine or cedar are easier to light than hardwoods, but are less desirable because they burn quickly and create more smoke and flying ash residue.  You will spend more time stocking the fire with additional wood and tending to the positioning of the wood when you use softwood.  Soft woods are best saved as kindling for starting fires.   


VEVOR Log Splitter 17″ x 8.3″, Wood Splitter for 6″ Diameter Wood, Firewood Splitter 5.3 Lbs, Easy to Carry, Manual Log Splitter Made of Q235 Steel, with 4 Screws & Blade Cover, for Home, Campsite
from:
Vevor
Best Hardwoods For Use In Fire Pits
Oak
A relatively easy to find wood, oak is a very dense hardwood, which allows it to burn longer.   Because of its density it may be a challenge to light, so keep some softwood or other kindling nearby to assist.  White oak is commonly used for burning in fire pits.
Hickory
One of the hottest burning fire woods, hickory provides lots of warmth for any gathering.  Burns cleanly with a pleasant aroma that lasts a long time.
Ash
Similar qualities to oak, white ash is commonly used for fire pits.   Clean burning and good heat producer.
Fruit Trees
Apple wood is similar to hickory in that it provides a pleasant aroma unique to that wood, which is commonly used to smoke meats.  Apple wood cleans burn and combined with the pleasant scent, makes for a fire pit experience that stimulates the senses.
Birch
While not as hot burning as oak, birch is still a great hardwood to use in a fire pit.  Take advantage of the easy-to-peel bark for use as kindling.
What Is Seasoned Wood?
Before you can use cut wood in the fire pit, it needs to be seasoned.
Seasoned wood is wood that has had time to sit after being cut.  This is important for wood that is used for burning because as the wood sits it releases trapped sap and moisture which make the wood difficult to ignite.  According to the EPA, wood should be seasoned for at least six months.
How to tell if wood is seasoned?
Wood that has been seasoned will be lighter in weight because the moisture is gone.  The color of the wood becomes dark and cracked, and the bark will be easy to detach. 
Some hardwoods can take a minimum of a year or more to properly season, such as oak or apple. 
Seasoned firewood is not only easier to ignite, but it is much lighter to carry, produces a cleaner burn and is safer overall.
This article may contain affiliate links. Click here for full disclosure.
Store Wood On A Firewood Log Rack
Firewood should be stored properly to maintain its quality.  Store firewood off the ground so it stays  dry.  Areas of moisture on the wood will cause uneven burning.   A firewood log rack that elevates the wood when stored outdoor will assure the wood is not affected by ground moisture.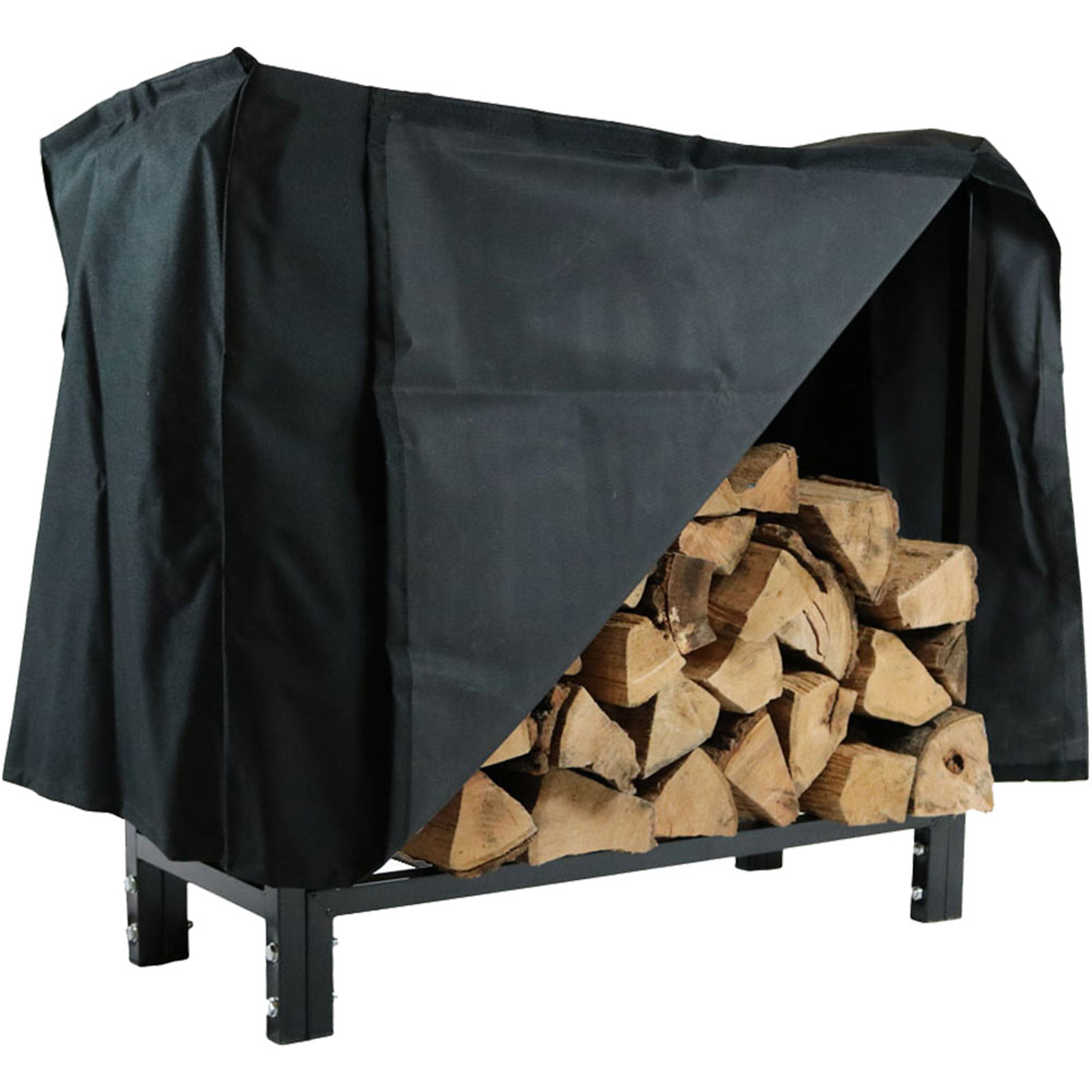 Sunnydaze Black Steel Firewood Log Rack & Cover – 30-Inch
A firewood log rack keeps your wood organized and neat, and can be located in a convenient location for easy access.   
Many firewood log racks have unique styling for indoor or outdoor use, and make decorative additions to living areas.
The log rack cover assures wood doesn't get soaked by rain and stays protected from elements.
Properly Cover Your Firewood
If the firewood is exposed to elements, it's important to use a log rack cover to protect the wood.  A cover assures rain or snow run off the stack without soaking the wood.  
Can't decide where to place your fire pit?  Find considerations and safety tips in the article Is it safe to put a fire pit on a wood deck?