Silver Foliage Plant Artemisia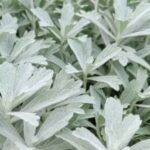 The silver foliage of the Artemisia plant adds a dramatic appearance to landscapes, garden beds or container plantings. Artemisia's come in different shapes, sizes and textures for a multitude of uses. Neutral silver-gray tones of Artemisia display gloriously on their own or in combination with any colors you choose.
Artemisia is a huge genus of herbs and shrubs, a number of which are popular for perennial gardens. Valued not only for their lacy and aromatic silver foliage, but their toughness. Once established, they are almost drought-proof, flourishing in exposed, sun drenched spots with poor soil.
GardenGhost Artemisia
GardenGhost® Artemisia, commonly known as Wormwood, is a popular plant that has been cultivated for its ornamental and medicinal purposes. The botanical name for this plant is Artemisia ludoviciana 'G19123', and it belongs to the family Asteraceae. 
A cold and heat tolerant perennial, GardenGhost® Artemisia is hardy throughout growing zones 4-8. This striking plant is often used in landscaping because of its unique silver-gray foliage. GardenGhost® has a wide variety of landscape uses, each with their individual perks. Include this sun-loving perennial in your sun, moon, rock, and cottage gardens or modern courtyards for formal flair. 
GardenGhost® is a hardy perennial that grows up to 14 inches tall and 30 inches wide. The leaves of GardenGhost® are deeply lobed and have a feathery texture, which gives the plant an airy and delicate appearance. The GardenGhost® Artemisia plant produces small, insignificant flowers that are not typically used for ornamental purposes. Instead, it is the foliage that is highly prized. The plant's leaves have a pungent aroma and a bitter taste, which is why it has been used for medicinal purposes for centuries. The leaves and flowering tops of the plant are used to make teas, tinctures, and extracts.
GardenGhost® is also known for its insect-repellent properties. The plant contains compounds that are effective at repelling mosquitoes, flies, and other insects. This makes it a popular plant for use in natural insect repellents. 
Note – Toxicity makes it very dangerous to ingest so plant in areas away from children and pets.
GardenGhost® Artemisia is a relatively low-maintenance plant that thrives in well-drained soil and full sun to partial shade. This perennial will look great and feel great when surrounded by a dark mulch bed. Prune in late winter to very early spring by trimming just above the ground. GardenGhost® is a drought-tolerant plant that does not require much water, making it an excellent choice for xeriscaping. However, it is important to note that the plant can become invasive if it is not properly contained
Altogether, GardenGhost® Artemisia is a beautiful and versatile plant that has both ornamental and medicinal uses. Its unique silver-gray foliage and insect-repellent properties make it a popular choice for landscaping and natural pest control. Whether you're a gardener or herbalist, the GardenGhost® Artemisia is a fascinating plant that is well worth growing.
Silver Mound

Silver Mound Artemisia
The Artemisia Silver Mound is a wonderful soft, silky, silver-gray accent that is useful in many gardens. The botanical name for this plant is Artemisia schmidtiana, and it belongs to the family Asteraceae.  Hardy throughout growing zones 3-9.
Silver Mound forms a low, neat, symmetrical mound of silver-green, silky haired foliage that reaches 6″ to 12″ tall and 12″ to 18″ wide. It produces small yellow insignificant flowers in mid to late summer that can be removed to keep the plant looking fresh. Because its a non-spreader, Silver Mound is ideal for limited spaces, accents in rock gardens or to define specific areas or borders.
The foliage of Silver Mound has a wonderful aroma. Use in containers on a sunny terrace or patio and enjoy the wafting fragrance of this unique plant. Useful along sidewalks or paths, Silver Mound is a low-care perennial plant that maintains its form throughout the season.
Silver Mound needs full sun and will grow well in average, well-drained soil. It well do best in low humid areas and is drought tolerant.
Try Silver Mound with Echinacea 'Purple Coneflower' or Rudbeckia 'Black Eyed Susan' to add interest in your garden or to accent fresh or dried flower arrangements.
Use Silver Mound as edging, groundcover or in containers. Divide every 2 or 3 years in the early spring or fall to maintain the plants vigor.
How To Care For Artemisia
Soil and Water
Plant Artemisia in well drained, ideally sandy soil. Artemisia perform well in dry rocky soils and rock gardens. Heavy clay or soil that does not drain well will stress the plant and most likely lead to root rot.
Water when excessively dry but avoid overwatering or conditions where soil maintains consistent moisture. Keep the soil dry and avoid overwatering which may encourage growth of long floppy stems. Additional nitrogen can also promote overly lush, floppy growth.
Light
Artemisia flourishes in exposed, sun drenched spots and dry heat. They need full sun so provide at least 6-8 hours a day of direct sunlight.
Pruning
Shear Artemisia plants back in late winter to very early spring but be sure to leave enough buds on the stems to enable dense regrowth.
Propagation
Propagate Artemisia by division of established plants in early spring or fall, or by softwood cuttings taken in early summer.
Pests
Bitter foliage of Artemisia is rarely browsed by deer or rabbits.
Artemisia Companion Plants
The silver foliage of Artemisia pairs well with sun loving annuals, perennials, shrubs and grasses in garden beds and landscapes. Artemisia's also work well in containers, and their clean scent makes a welcome addition to a sunny terrace or patio.
Russian Sage
Russian Sage has gorgeous lavender-blue flower held in smoky spires that rise above a dense mound of fine-textured gray-green foliage that's very fragrant! Sun-loving perennials that survive hot, dry climates, sage are perfect companion plants for Artemisia. All well-drained soil work. Drought-tolerant once established, they thrive in rocky, sandy, poor soil and urban conditions no problem.
Purple Coneflower
Purple Coneflower has a cool blue-pink tone that pairs so well with Artemisia. Look for other Coneflower colors such as red, orange, gold or light pink for elegant companions to plant with Artemisia. You'll love watching butterflies, hummingbirds and goldfinch birds flit from flower to flower, and so will your friends and family.
Salvia
Salvia is incredibly heat and cold tolerant throughout USDA hardiness zones 4 to 9. Upward growing aromatic foliage tops off with violet blue flower spikes on this sun loving perennial. Color varieties in the Salvia family include shades of deep violet, light blue, deep fuchsia, red, pink and even white.
Grasses
In the landscape, pair the round form of Artemisia with upright grasses for interesting form and color combination. Hot Rod Switch Grass (Panicum virgatum 'Hot Rod') has blue-tinted foliage that quickly bursts into bright shades of eye-catching red. In the autumn, the grass turns shades of deep purple topped with decorative red-purple seeds. The colors of this grass will contrast against the silver leaves of your Artemisia all season long.
Hot Rod Switch Grass is a perennial grass that has an upright habit, loves sun in USDA growing zones 4-9 and is drought tolerant. It forms large fountains 30″-36″ wide and 3-4 feet high with an additional 6″ for seeds.
Perennial ornamental grasses often have the same care requirements as Artemisia, which makes them perfect companions. Consider the mature width of the grass clump before choosing the location to place your Artemisia.
It's easy to see why Artemisia is such a cherished plant for use in landscapes, garden beds and containers. Valued not only for their lacy and aromatic silver foliage, but their toughness. A sun loving drought tolerant plant, Artemisia is a worthwhile consideration for any garden plan.