Best Gardening Tools for Seniors, Elderly, Limited Mobility and Arthritis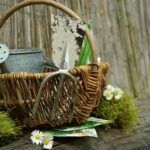 Gardening tools for seniors, arthritis or those with limited mobility help endurance. Long handled garden tools and ergonomic garden tool designs are meant to help complete tasks and reduce physical stress.
For many people, gardening is a heartfelt hobby from which a great sense of accomplishment and pride is derived. Considering a day when you cannot garden is a thought that never enters our minds.
However, as a gardener grows older, it becomes apparent that our bodies are not able to perform all the physical tasks required as well as they once had. It's also inconvenient to have to take the next day off to recoup!
Fortunately, there are aids to assist seniors and others with physical limitations to pursue gardening despite limitations. The benefit of each aid is dependent upon the gardener that will be using the tool and their individual needs.
Here is an overview of gardening tools that are designed to help reduce physical stress, assist stamina and renew gardening enjoyment.
This article may contain affiliate links. Click here for full disclosure.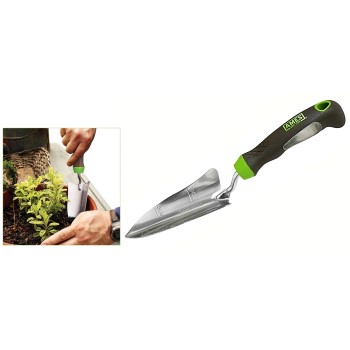 Ames 2445100 Gel Grip Ergo-Handled Hand Transplanter
from:
Hardware World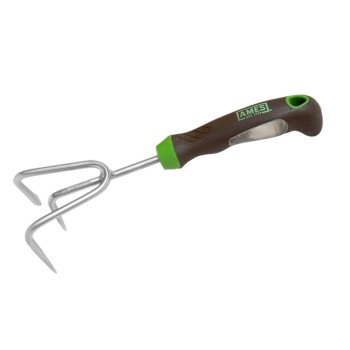 Ames 2445200 Ergo Gel Grip Handle Hand Cultivator
from:
Hardware World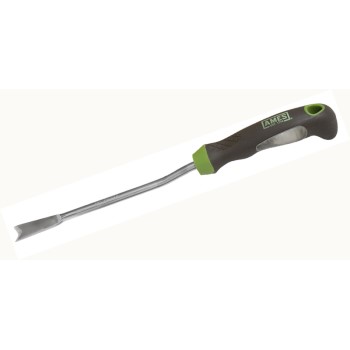 Ames 2445300 Ergo Hand Weeder
from:
Hardware World
These ergonomically designed handles have a soft gel grip insert that cushions the hand. Cushioning allows comfort and grip so you can use the tool longer.

Using small hand tools puts us right there with the plants and soil. The cultivator is great for getting through tough areas of soil or smoothing prior to planting. The transplanter has a narrow spade which is beneficial when planting in containers or getting between small seedlings for transplanting. With the hand weeder, pinpoint the root of the weed for removal without disturbing surrounding plants.
Use for planting, transplanting, weeding, moving and smoothing soil
Stainless steel trowel head
Ergonomic handle design has a soft gel-grip insert that cushions the hand & provides grip
Great for gardening in tight spaces, as well as open gardens
What is ergonomics?
In a nutshell, ergonomics is designing products for use by people, which aims to increase efficiency, productivity and reduce risk of injury, harm or discomfort.
Hand tools with ergonomic design fit easily in your hand and reduce discomfort when used.
Benefits of ergonomic design:
Better grip – ergonomically shaped tools make it easier to grasp and keep your grasp on handles when hands are not as strong as they used to be
Arthritis benefit – soft handles and ergonomic shapes help reduce pain and stiffness often experienced from arthritis
Reduce injury – ergonomic designs mean a better fit for your body and less chance to slip or cause strains

With these easy to grip garden tools, an upright ergonomic handle allows users to keep their hand in a fist-grip position, and their wrist in a neutral stress free position to help prevent strain and discomfort.

Weed N Till Long Garden Weeder

Weed N Till Long Garden Weeder
from:
The Wright Stuff Home Health Care Products
The Weed N Till Long Garden Weeder is an easy-to-use weed removal tool that attaches to a hand drill and has 4 large tines to easily remove large weeds and their roots in one whirling motion. The long shaft eliminates kneeling, bending, or digging for users with arthritis.

The Weed N Till Long Garden Weeder uses the power of a hand drill to easily remove large weeds and tree saplings, roots, and all. Click here to see video on how it works.

People with arthritis who have back and knee problems often find pulling weeds with common gardening tools difficult. Short handle tools require kneeling which is hard on the knees. Long-handled tools often require specific physical motions such as stepping, pushing, pulling, chopping, and motions that can cause back pain.

This weeding tool with 4 tines removes large weeds, roots, and all. The 33-inch long shaft is designed to attach to a hand drill for powerful weeding. A standard 3/8 inch variable speed cordless drill works best. The top speed can vary from 600 to 1400 rpm. A slower rpm works best for large weeds while a higher rpm works better for smaller weeds and debris.

The 4-inch wide horizontal tine leaves a 3.5-inch hole and is also helpful for easily turning over the soil in a small area. Invented and patented by a retired teacher and gardener, the Weed-n-Till Long Garden Weeder provides an environmentally friendly way to easily remove weeds for gardeners with arthritis who have difficulty bending.





Easi Grip Long Reach Garden Tools Set of 4
Can't kneel or bend over or reach? These long handled tools have the easi-grip handle and are long so garden tasks can be performed in standing or seated position and still reach ground level. The handle has a soft feel and the bright colors make them easy to find.

A common problem is when soil gets stuck to the tool. The end of the tool gets too heavy to manipulate. To remove the soil it takes bending, twisting and pushing actions that can be stressful to muscles and joints. These tools are made of stainless steel, which helps to reduce the chances of soil getting caked on it.
You can adapt your existing hand tools to the 90 degree angle with add on handles. Slide the handle into the two stainless steel clamps and tighten.

Ergo Hoe
from:
Botanical Interests
This ergonomic hand hoe is designed to remove weeds and cultivate the soil with ease. Just drop the sharp stainless steel blade into the soil and draw it towards you. With the blade on the inside of the head, you don't accidentally cut stems of plants. Overall length 10".
Burgon & Ball tools have been awarded endorsement by the Royal Horticultural Society, one of the world's leading horticultural organizations.
Brass ferrule ensures a secure joint between the handle and head
FSC* beechwood handle
*The Forest Stewardship Council (FSC) is an international not-for-profit, multi-stakeholder organization established in 1993 to promote responsible management of the world's forests. Its main tools for achieving this are standard setting, certification and labeling of forest products.

Yard Butler Terra Weeder Garden Tool
from:
The Wright Stuff Home Health Care Products
The Yard Butler Terra Weeder Garden Tool is an all-steel, professional-grade, dual head all-purpose tool, for weeding, tilling, digging, and chopping. People with arthritis will find the cushion grip handle comfortable to hold.

15 inches long with a heavy-duty steelhead that is completely welded onto the all-steel handle with comfort grip. Four straight, sturdy prongs easily break up, loosen, cultivate, and deep till hardened soil, and are great for weeding. The 2.5-inch wide beveled edge is ideal for cutting, trenching, or general garden hacking.

Users with arthritis will find the Yard Butler Terra Weeder Garden Tool is well balanced, making it a favorite gardening tool to make a variety of gardening tasks easier.
Measures: 15.5 inches long, 7.5 inches wide, 2 inches high. Weighs: 1.0 lbs.

Original CobraHead Weeding Tool
This tool is ergonomically designed so it can be grasped in various locations and still be comfortable. It uses a pulling action rather than pushing, making it much easier on the wrist. Use for weeding, digging, cultivating, planting, and more.
Weight: 9.2 ounces.
Measures: 13 inches long.
Material: Tempered Steel Blade, recycled composite handle.
Made in: USA.

Fiskars Tools 391151-1001 Smooth Action Anvil Pruner
from:
Hardware World
Ideal for pruning dry, dead growth when dead-heading flowers, stripping small logs or cutting back-brancher
Self-lubricating, maintenance-free bearing provides smooth operation
Fully hardened, precision-ground steel blade stays sharp longer
Low-friction coating makes cutting easier and resists rust for lasting value
Softgrip handle provides comfortable us, steel construction provides excellent durability

Long Handle CobraHead Weeding Tool
from:
The Wright Stuff Home Health Care Products
The Long Handle CobraHead Weeding Tool is made with an extended handle that removes the need to bend over or kneel down while gardening. The narrow blade is designed to be durable, easily cut through rough soil or dirt, and be precise despite a standing position. The combination of the long handle and advanced blade creates an easier and more enjoyable gardening experience for users with arthritis back, knee, or leg pain.

The Long Handle CobraHead Weeding Tool features a unique blade that can cut hard soil on uneven ground or weed between tightly spaced plants with ease. Users will find that using this tool requires less force than using a standard hoe or multi-tined tool. The 54-inch long handle and 8-inch blade together make the tool 62 inches long. This length is ideal for users who are 5-feet 2-inches to 6-feet 1-inch tall. (Handles are also available in 48 and 60-inch lengths).

This adapted weeding tool is best used with a sweeping action, raking sideways across the body, not bending over, making it easy to get at hard-to-reach weeds. The handle is a traditional wood hoe handle made from North Carolina Ashe. The handle also has a locking collar that allows the user to replace the blade should it break. The collar gives the tool enough heft to make it effective in tough soils. The Cobra Head Long Handle Weeder has a tempered steel blade with a durable hardwood handle and is made in the USA.

Specifications: Weighs: 2 lbs. 6 oz. Measures: 62 inches long (54 inch handle, 8 inch blade). Material: Tempered Steel Blade, recycled composite handle. Made in: USA.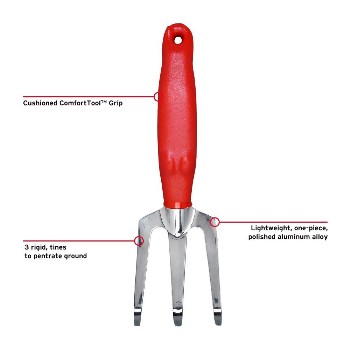 Corona Clipper CT 3030I Comfort Cultivator
from:
Hardware World

Yard Butler Garden Seat and Kneeler
from:
The Wright Stuff Home Health Care Products
The Yard Butler Garden Kneeler and Seat is a combination kneeling pad and outdoor stool. This folding, portable, lightweight garden stool has handles to assist users in sitting and standing.
The Yard Butler Garden Kneeler and Seat foldable design allows users to easily move or store the bench. The extended handles provide added stability when using the kneeling cushion and taking some of the effort out of bending and standing. Kneeler converts from a comfortable bench for sitting to a cushioned kneeler by simply flipping it over. This cushioned garden seat is heavy duty and sturdy, made of all steel construction, and supports up to 250 pounds. The bench measures 24 inches wide, 19 inches high and 10 inches deep, and weighs 9 pounds. The Yard Butler Garden Kneeler and Seat combination kneeling pad and bench with easy up handles helps users prevent back strain when gardening.
This 4ft Vertical Garden is the ideal freestanding garden planter for growing a variety of herbs, seeds, flowers, succulents, or vegetables in just a single area at home. No wasting precious space in a small apartment, balcony or outside area. Easy access to plants on all four sides and no kneeling to reach plants.
No tools needed for set up - simply pull the planter frame-up, latch the hook across to secure the frame, pop the planter bins into the frame, and then add soil and plants.
Highly rated customer reviews.
Shop Lawn & Garden

Bionic Relief Grip Garden Gloves for Women
from:
The Wright Stuff Home Health Care Products
Gardening gloves can improve flexibility , dexterity and increased stamina for hands that are sore or have swollen joints. These gloves are designed by an orthopedic hand specialist to provide extra support and mild compression.
Designed to keep hands dry and provide a secure grip, these gloves come in both women's and men's sizes. Inside of these gloves are terrycloth inserts that absorb moisture to keep hands cool and dry. Over each knuckle, breathable and stretchable Lycra inserts allow better motion and improve comfort, fit and flexibility. The form fitting wrist closure is especially helpful to keep debris and dirt out. Made of long lasting top-grade goatskin leather and are durable and washable.

Yard Butler Long Handle Step Edger
from:
The Wright Stuff Home Health Care Products
The Yard Butler Step Edger is a long handle edging tool designed with a unique half moon shaped blade. This ergonomic tool provides users a faster and cleaner way to edge than using a shovel.
The Yard Butler Step Edger is easy to use. The center step design centers the user's weight over the cutting blade, making deep clean edges. The clever ergonomic design and foot pedal allows the Step Edger to be oriented sideways, so users can walk along or close in for grooming around trees and shrubs, and is ideal for installing plastic edging. The unique half-moon sawtooth blade and center step design focuses the user's weight over the cutting blade to easily create deep clean edges. Made of heavy duty powder coated steel, this long handle edging tool is durable and designed for years of use. This unique long handled edger centers the user's weight over cutting blade for easy edging, foot bar provides extra leverage, and cushioned handle grips for comfort. The Yard Butler Step Edger creates deep, clean edges along sidewalks, driveways, gardens and lawns.

Dramm Colormark 30 inch Rain Wand
This 30 inch rain wand makes watering easy from a standing position or seated.
Aluminum makes it lightweight and the long 8" foam grip provides various positions to comfortably grasp it at.
Fingertip brass shut-off valve that is easy to use.
Available in 6 fun colors

Yard Butler Long Handle Rocket Weeder
from:
The Wright Stuff Home Health Care Products
The Yard Butler Long Handle Rocket Weeder is an easy to use tool designed to grab the weed and remove the whole root. The long handle helps make weeding easier for users with arthritis by allowing them remove weeds without bending, eliminating back and knee strain.

The Yard Butler Long Handle Rocket Weeder is designed to lever the weed and root up out of the ground. The unique gripping action removes the toughest weeds and and gets the whole root while preserving the surrounding ground cover. The ejector button allows the weed to be dumped while keeping the users hands clean.

Made of heavy duty powder coated steel, this long handle weeding tool is guaranteed to last a lifetime. People with arthritis will find the Yard Butler Long Handle Rocket Weeder ergonomic handle maximizes leverage, allowing them to remove weeds while standing, and helps prevent back strain.

Specifications: Measures: 37 inches long, 6.5 inches wide, 8.5 inches high. Weighs: 3.5 pounds. Material: Heavy duty powder coated steel.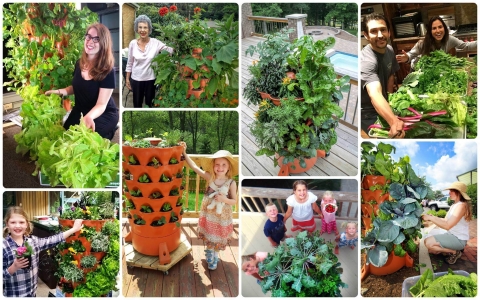 The vertical design allows the user to have hands-on experience with all aspects of growing - from designing the layout, setting plants, staking vines, harvesting herbs and vegetables or picking a bouquet of flowers.
Learn more about the Garden Tower 2
The Garden Tower 2 vertical garden planter and composting system is a vertical growing system that reduces the physical disadvantages of growing plants directly in the ground.
Grow up to 50 plants vertically nearly anywhere. And the tower rotates so you can access the garden from every angle - you bring the plants to you!
Reduce kneeling or bending typically needed to pull weeds and tend to plants.
Can be placed on a patio or deck so it's easy to access. Optional wheels are available too.
The Garden Tower 2 vertical garden planter and composting system replicates a natural ecosystem. Grow nearly any vegetable, herb or flower, turning waste kitchen scraps into organic fertilizer to grow organic produce.

Faucet Grip Easy Turn Handles 2 Pack
The Faucet Grip Handle Grips Double Pack are adapted handles designed to allow users to easily turn and loosen solid t-handle, round, and oval outdoor faucets. The larger gripping surface provides extra leverage for users who have difficulty gripping and turning outdoor water faucets.
Users with decreased grip strength will find the Faucet Grip Handle Grip Double Pack of 2 makes turning the water on and off easier on outdoor faucets.

Raised Garden Planter Box
This Raised Garden Box is perfect to raise the garden up to a manageable level.
Made of 100% cedar, it will hold up to elements and does not leach chemicals into your garden.
Grow vegetables or flowers or both! Planting area is 33.5" long x 17.5" wide and 9.5" tall.
The box has drainage slots to make sure your plants do not become water logged.
And just in case you over-do your "fun" in the garden and are dealing with sore muscles, the Norco Body Tool Self Massager is ready to assist. The unique positions of the knobs allow you to pinpoint painful areas and apply just the right amount of pressure needed. A welcome relief at the end of an enjoyable day in the garden!

Norco Body Tool Self Massager
from:
The Wright Stuff Home Health Care Products
The Norco Body Tool Self Massager is an easy to use cane shaped tool with strategically placed knobs. This unique, ergonomically-designed device allows users to effectively reach common trigger points for self massage. The Norco Body Tool Self Massager has a unique shape that enables users to release muscle tension and break up trigger points in the neck, shoulders, back, arms, legs, torso, and feet. Seven knobs are strategically placed along the length of the tool to pinpoint painful areas that requires massage. The non-slip handles provide better control of the placement and amount of pressure. The ergonomic design allows for easy targeting of common trigger points for self massage and pain relief. The self massage tool measures 25 inches long, 6 inches wide and includes an easy-to-follow instruction guide and poster. The Norco Body Tool Self Massager is designed to allow users to relieve muscle tension and break up myofascial tissue easily and effectively. Norco Body Tool Self Massager Specifications: Overall Length: 25 inches. Handle Length: 6 inches. Weight: 1 lb. Diameter: 1 inch. Color: Blue. Includes: Body Tool, instruction guide, trigger point poster.
Point Relief ColdSpot Gel Roll On Bottle
from:
The Wright Stuff Home Health Care Products