Best Gardening Tools for Seniors, Elderly, Limited Mobility and Arthritis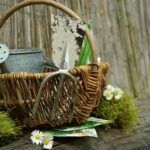 Gardening tools for seniors, arthritis or those with limited mobility help endurance. Long handled garden tools and ergonomic garden tool designs are meant to help complete tasks and reduce physical stress.
For many people, gardening is a heartfelt hobby from which a great sense of accomplishment and pride is derived. Considering a day when you cannot garden is a thought that never enters our minds. 
However, as a gardener grows older, it becomes apparent that our bodies are not able to perform all the physical tasks required as well as they once had.  It's also inconvenient to have to take the next day off to recoup!
Fortunately, there are aids to assist seniors and others with physical limitations to pursue gardening despite limitations.  The benefit of each aid is dependent upon the gardener that will be using the tool and their individual needs.
Here is an overview of gardening tools that are designed to help reduce physical stress, assist stamina and renew gardening enjoyment.
This article may contain affiliate links. Click here for full disclosure.
These ergonomically designed handles have a soft gel grip insert that cushions the hand. Cushioning allows comfort and grip so you can use the tool longer.

Using small hand tools puts us right there with the plants and soil. The cultivator is great for getting through tough areas of soil or smoothing prior to planting. The transplanter has a narrow spade which is beneficial when planting in containers or getting between small seedlings for transplanting. With the hand weeder, pinpoint the root of the weed for removal without disturbing surrounding plants.
Use for planting, transplanting, weeding, moving and smoothing soil
Stainless steel trowel head
Ergonomic handle design has a soft gel-grip insert that cushions the hand & provides grip
Great for gardening in tight spaces, as well as open gardens
What is ergonomics?
In a nutshell, ergonomics is designing products for use by people, which aims to increase efficiency, productivity and reduce risk of injury, harm or discomfort.
Hand tools with ergonomic design fit easily in your hand and reduce discomfort when used.
Benefits of ergonomic design:
Better grip – ergonomically shaped tools make it easier to grasp and keep your grasp on handles when hands are not as strong as they used to be
Arthritis benefit – soft handles and ergonomic shapes help reduce pain and stiffness often experienced from arthritis
Reduce injury – ergonomic designs mean a better fit for your body and less chance to slip or cause strains

Weed N Till Long Garden Weeder

Weed N Till Long Garden Weeder
from:
The Wright Stuff Home Health Care Products
The Weed N Till Long Garden Weeder is an easy-to-use weed removal tool that attaches to a hand drill and has 4 large tines to easily remove large weeds and their roots in one whirling motion. The long shaft eliminates kneeling, bending, or digging for users with arthritis.

The Weed N Till Long Garden Weeder uses the power of a hand drill to easily remove large weeds and tree saplings, roots, and all. Click here to see video on how it works.

People with arthritis who have back and knee problems often find pulling weeds with common gardening tools difficult. Short handle tools require kneeling which is hard on the knees. Long-handled tools often require specific physical motions such as stepping, pushing, pulling, chopping, and motions that can cause back pain.

This weeding tool with 4 tines removes large weeds, roots, and all. The 33-inch long shaft is designed to attach to a hand drill for powerful weeding. A standard 3/8 inch variable speed cordless drill works best. The top speed can vary from 600 to 1400 rpm. A slower rpm works best for large weeds while a higher rpm works better for smaller weeds and debris.

The 4-inch wide horizontal tine leaves a 3.5-inch hole and is also helpful for easily turning over the soil in a small area. Invented and patented by a retired teacher and gardener, the Weed-n-Till Long Garden Weeder provides an environmentally friendly way to easily remove weeds for gardeners with arthritis who have difficulty bending.





Easi Grip Long Reach Garden Tools Set of 4

Long Handle CobraHead Weeding Tool
from:
The Wright Stuff Home Health Care Products
The Long Handle CobraHead Weeding Tool is made with an extended handle that removes the need to bend over or kneel down while gardening. The narrow blade is designed to be durable, easily cut through rough soil or dirt, and be precise despite a standing position. The combination of the long handle and advanced blade creates an easier and more enjoyable gardening experience for users with arthritis back, knee, or leg pain.

The Long Handle CobraHead Weeding Tool features a unique blade that can cut hard soil on uneven ground or weed between tightly spaced plants with ease. Users will find that using this tool requires less force than using a standard hoe or multi-tined tool. The 54-inch long handle and 8-inch blade together make the tool 62 inches long. This length is ideal for users who are 5-feet 2-inches to 6-feet 1-inch tall. (Handles are also available in 48 and 60-inch lengths).

This adapted weeding tool is best used with a sweeping action, raking sideways across the body, not bending over, making it easy to get at hard-to-reach weeds. The handle is a traditional wood hoe handle made from North Carolina Ashe. The handle also has a locking collar that allows the user to replace the blade should it break. The collar gives the tool enough heft to make it effective in tough soils. The Cobra Head Long Handle Weeder has a tempered steel blade with a durable hardwood handle and is made in the USA.

Specifications: Weighs: 2 lbs. 6 oz. Measures: 62 inches long (54 inch handle, 8 inch blade). Material: Tempered Steel Blade, recycled composite handle. Made in: USA.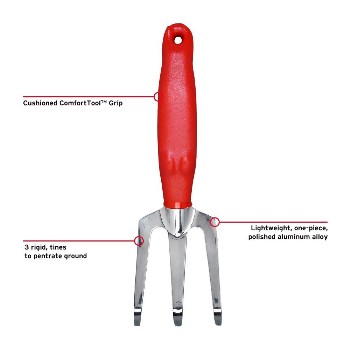 Corona Clipper CT 3030I Comfort Cultivator
from:
Hardware World

Dramm Colormark 30 inch Rain Wand
This 30 inch rain wand makes watering easy from a standing position or seated.
Aluminum makes it lightweight and the long 8" foam grip provides various positions to comfortably grasp it at.
Fingertip brass shut-off valve that is easy to use.
Available in 6 fun colors

Yard Butler Long Handle Rocket Weeder
from:
The Wright Stuff Home Health Care Products
The Yard Butler Long Handle Rocket Weeder is an easy to use tool designed to grab the weed and remove the whole root. The long handle helps make weeding easier for users with arthritis by allowing them remove weeds without bending, eliminating back and knee strain.

The Yard Butler Long Handle Rocket Weeder is designed to lever the weed and root up out of the ground. The unique gripping action removes the toughest weeds and and gets the whole root while preserving the surrounding ground cover. The ejector button allows the weed to be dumped while keeping the users hands clean.

Made of heavy duty powder coated steel, this long handle weeding tool is guaranteed to last a lifetime. People with arthritis will find the Yard Butler Long Handle Rocket Weeder ergonomic handle maximizes leverage, allowing them to remove weeds while standing, and helps prevent back strain.

Specifications: Measures: 37 inches long, 6.5 inches wide, 8.5 inches high. Weighs: 3.5 pounds. Material: Heavy duty powder coated steel.

Raised Garden Planter Box
This Raised Garden Box  is perfect to raise the garden up to a manageable level.
Made of 100% cedar, it will hold up to elements and does not leach chemicals into your garden.
Grow vegetables or flowers or both! Planting area is 33.5" long x 17.5" wide and 9.5" tall.
The box has drainage slots to make sure your plants do not become water logged.
And just in case you over-do your "fun" in the garden and are dealing with sore muscles, the Norco Body Tool Self Massager is ready to assist. The unique positions of the knobs allow you to pinpoint painful areas and apply just the right amount of pressure needed. A welcome relief at the end of an enjoyable day in the garden!
Point Relief ColdSpot Gel Roll On Bottle
from:
The Wright Stuff Home Health Care Products
Explore More