Flowering Vines For Shade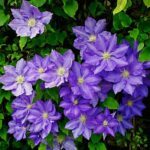 Flowering vines that are tolerant of shade include varieties of Hydrangea, Jasmine and Clematis. Clematis provide a wide range of colors and flower types to choose from. Jasmine's intoxicating scent will tantalize and Honeysuckle will bring loads of beneficial pollinators to your garden.

Climbing Hydrangea
Climbing Hydrangea Vine
Botanical Name: Hydrangea anomala subsp. petiolaris
Growing Zone: 4 – 10
Mature Height: 30 – 40 feet
Mature Spread: 5 – 6 feet
Sun exposure: Full Shade, Partial Shade
This perennial flowering vine produces fragrant white lace-cap flowers in late spring and early summer.  It's a little slow to start, but once established, will send out shoots that will become more aggressive as the plant develops. It's one of a few flowering vines that bloom profusely in shade.
Climbing Hydrangea will self cling on vertical surface without help.  It produces a mass of nonfeeding rootlets to hold on with. Can also be used as a ground cover that will ramble in mounds at about 3 feet high.
It blooms on last year's wood, so prune right after its blooms start to fade in the late spring to early summer. Left alone, Climbing Hydrangea develops a bushy, informal habit. Keep it neat and uniform with regular light summer pruning.
Vines that have the ability to bloom in shady or partial shady areas are a great benefit to the landscape. They can be used in areas that other vines might not perform with such vigor. Areas that have morning sun and afternoon shade would be ideal for a vine that can tolerate partial shade. Partial shade under a tree or bush makes a great place for a rambling vine.

Star Jasmine Vine Shrub
Star Jasmine
Botanical Name: Trachelospermum jasminoides
Growing Zone: 7 – 11
Mature Height: 4 – 6 feet
Mature Spread: 5 – 7 feet
Sun exposure: Full Sun, Partial Shade
Star Jasmine vine has highly scented flowers commonly used as the base of many perfumes. The white flowers grow in clusters during spring and summer.
Use Jasmine vine to frame porches, accent trellises, or as screening for fences or walls. A fast growing vine for creating privacy. Bees love it too so may not be appropriate directly near seating areas. It can also be used as a quick groundcover if you let it sprawl out, rather than train it up. Allow to spill over the edges of hanging baskets.
Provide moderate moist soil until established, then Star Jasmine is tolerant of most well-draining soil types. Star Jasmine is a shade tolerant vine, but will produce less flowers in shade than when in full sun.
Walk through an archway covered with vines and have a magical experience. The flowers scent the air in waves, and the playful tendrils interact with you as you pass by.
Garden Arbors and Trellises

Amethyst Falls Wisteria
Wisteria Amethyst Falls
Botanical Name: Wisteria frutescens 'Amethyst Falls'
Growing Zone: 5-9
Mature Height: 15 – 25 feet
Mature Spread: 10 – 15 feet
Sun exposure: Full Sun, Partial Shade
The Amethyst Falls Wisteria is a flowering vine that has dark lavender blooms in grape-like clusters that contrast against dark green foliage. Flower clusters have a light fragrance that is a favorite of butterflies and hummingbirds.
Use as a specimen plant, vining shrub or plant in an oversized planter with an obelisk sunk into the center. The twining stems will need a sturdy support to cling to and can be trained with clockwise growth.
Plant in full sun or partial shade, where it will receive at least four hours of sunlight a day. Amethyst Falls Wisteria requires well-drained soil that won't retain water for very long after rain or watering. Although it will tolerate periodic drought, the root system needs to become established first. You'll want to use a Root Booster during planting for life-long support of the tiny feeder roots.
This article may contain affiliate links. Click here for full disclosure.

Guernsey Cream Clematis
Guernsey Cream Clematis
Botanical Name: Clematis 'Guernsey Cream'
Growing Zone: 4 – 9
Mature Height: 6 – 8 feet
Mature Spread: 3 – 4 feet
Sun exposure: Full Sun, Partial Shade

Guernsey Cream Clematis has a gorgeous creamy bloom with rounded sepals and green bars. It gives double-duty by blooming in Late Spring and again in Late Summer with deadheading. Can be used as supported vining climber or rambling ground cover.
There are many varieties of clematis that thrive in partial shade locations. They do best when the roots are shaded, or use a three-inch layer of mulch to keep root zone cool. Use well-drained soil and sturdy support. With proper care, Clematis vine can live many years so be sure you have a sturdy foundation for them. Plan to prune as needed for best results.
See these fast growing annual vines you can grow.

Tecoma Chicklet Orange Trumpet Vine
Tecoma Chicklet Orange Trumpet Vine
Botanical Name: Tecoma fulva 'Chicklet Orange'
Growing Zone: 8 – 11
Mature Height: 3 – 6 feet
Mature Spread: 3 – 4 feet
Sun exposure: Full Sun, Partial Shade
The Tecoma Chicklet Orange Trumpet Vine is a compact, non-invasive shrub form that is much more manageable than its larger vining cousin Trumpet Vine. A good choice for a container plant to bring indoors for winter.
This flowering shrub will keep producing deep-orange blooms all season long. Tecoma Chicklet Orange trumpet vine likes slightly alkaline soil, meaning pH above 7.0. This shrub likes well-draining slightly sandy soil . Give it a little extra water during the first growing season after transplanting.
Once Tecoma Chicklet Orange is well-established, it should need little care and will be somewhat drought tolerant. Orange Trumpet Vine plants will grow in full sun to partial shade.
Vines elevate the view above the ground level. Allow a vine to fill open vertical space and bring continuity to the vertical and horizontal view of an area. Allow a vine to grow on a pergola and the garden is now overhead too!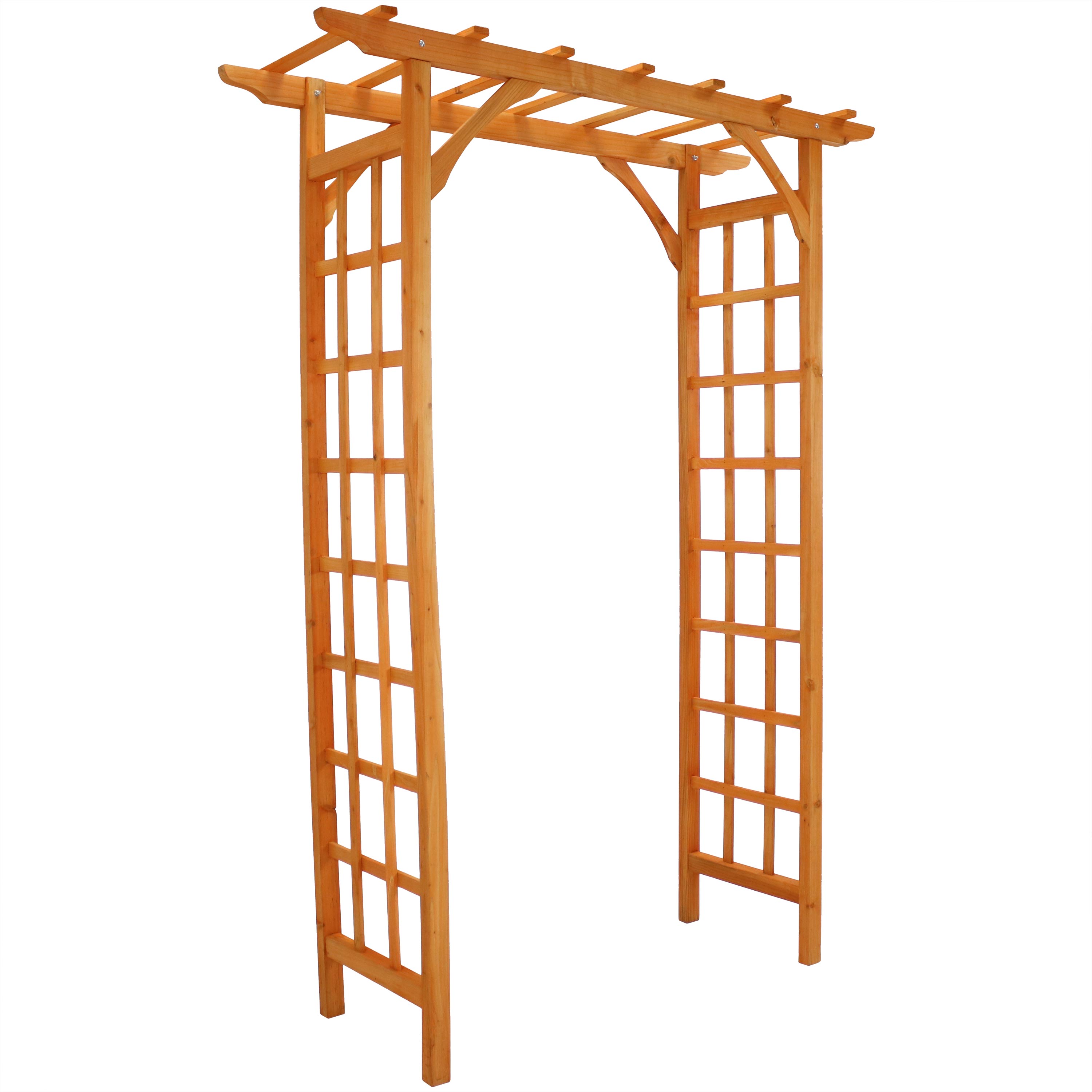 Sunnydaze Wooden Garden Arbor – 78-Inch
from:
Sunnydaze Decor
Grow your shade loving vines on this gorgeous wooden arbor placed on a walkway or used as entryway. Made of beautiful fir wood construction with a medium tone finish, this wooden garden arbor will give you years of appeal and quality. 

Pink Jasmine
Pink Jasmine Vine
Botanical Name: Jasmine polyanthum
Growing Zone: 8 – 10
Mature Height: 8 – 20 feet
Mature Spread: 3 – 5 feet
Sun exposure: Full Sun, Partial Shade
Create living privacy screens on your porch or deck where you'll be able to enjoy the tantalizing scent of this compact vine. A small footprint of 2-5 feet makes it desirable for use in small spaces, containers or trellis.
For northern gardeners, Pink Jasmine vine is a houseplant that will thrive in front of a bright sunny window all winter.
Jasmine vines do best in bright sunny or partly shady locations in very moist but well-drained soil with ample fertility and organic matter. Pruning is best done right after the flowers fade so you don't accidentally nip off one of next year's blooms.

Potato Vine
Potato Vine
Botanical Name: Solanum jasminoides
Growing Zone: 9 – 11
Mature Height: 20 – 25 feet
Mature Spread: 10 – 15 feet
Sun exposure: Full Sun, Partial Shade
The Potato Vine is a semi-evergreen vine also known as Potato Climber or Jasmine Nightshade. Stems of white star flowers cover the plant throughout the summer months into autumn.
Ideal for training on a structure, trellis or other feature for shade, or readily covering chain link and wood fences or walls to conceal an eyesore.
Potato Vines tolerate full sun and partial shade throughout warm growing zones. Ideal plants for arid and hot landscapes. Because Potato Vines are in the Nightshade family, they do contain toxins that can irritate skin and should not be ingested. Wear gloves and protective clothing when handling and pruning – which should be performed after the plants are done flowering when needed.

Goldflame Honeysuckle Vine
Goldflame Honeysuckle Vine
Botanical Name: Lonicera x heckrotti 'Goldflame'
Growing Zone: 4 – 9
Mature Height: 10 – 15 feet
Mature Spread: 5 – 6 feet
Sun exposure: Full Sun, Partial Shade
A deer resistant and extremely hardy vine, Goldflame Honeysuckle thrives in a wide range of USDA 4 through 9 hardiness zones. This vigorous vine can be trained into a vining shrub or left to trail along the ground. It's adaptable to many conditions and very easy to manage.
There are several varieties of Honeysuckle that thrive in partial shade locations. They are a favorite among pollinators, butterflies and hummingbirds.  Not particular about soil type, Honeysuckle Vine loves any well-drained soil that ranges from acidic to alkaline.
Flowering best in average moisture, Goldflame Honeysuckle is very drought tolerant vine once established. Extremely easy care and low maintenance, these won't need pruning but are highly conducive to pruning if needed.