Container Gardening Vertical Growing Guide
Do you want to grow your own vegetables but thought you didn't have the space? You can gain skills and confidence to grow all the foods you want with The  Vertical Veg Guide to Container Gardening.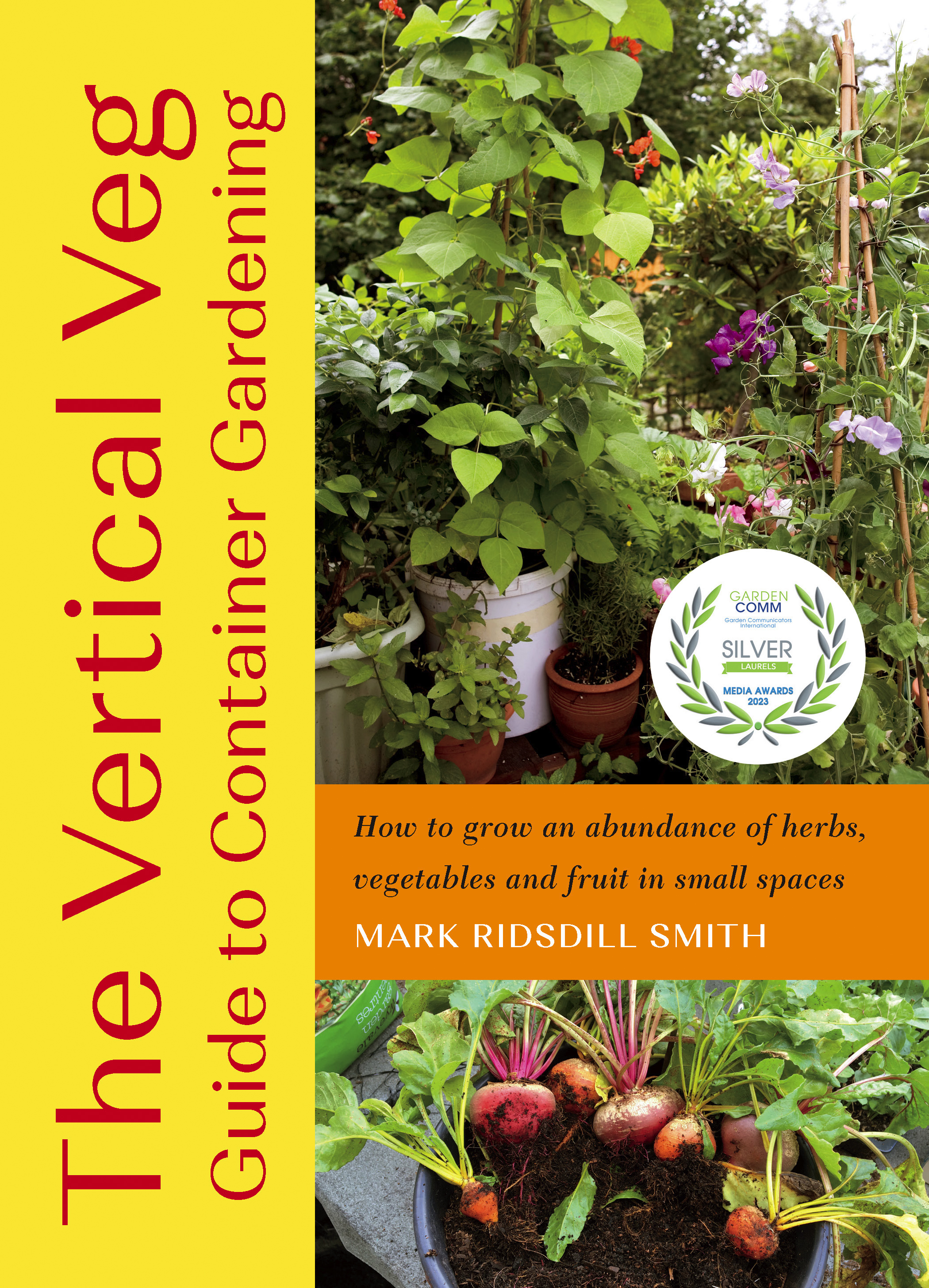 The Vertical Veg Guide to Container Gardening
from:
Chelsea Green Publishing
In his book The Vertical Veg Guide to Container Gardening, Mark Ridsdill Smith will give you the skills and confidence to grow an abundance of Herbs, Vegetables and Fruits in just a few containers on your patio, window sills, rooftop or balcony.
Mark has spent over ten years teaching people to grow bountiful, edible crops in all kinds of containers in small spaces. He shows how gardening in containers can be more than a hobby – it's a way of creating a serious amount of delicious, nutritious food while saving money on your grocery bills.
With many people in urban areas now living in flats, whose outdoor access is limited to balconies or small community areas, gardening in containers is the optimum choice.
Gardening for seniors, elderly, those with physical limitations or arthritis may find container gardening their only option.
Container gardening in hot dry areas is often a more productive choice than directly in the ground.
This book lays out with thorough advice how to garden in containers for any situation.
Inside The Vertical Veg Guide to Container Gardening, you'll find:
Mark's "Eight Steps to Success"
How to make the most of your space
How to draw up a planning calendar so you can grow throughout the year
Planting projects for beginners
Compost recipes and wormery guide for the more experienced gardener
Troubleshoots for specific challenges of growing in small spaces
How growing food at home can contribute to wellbeing and the local community
'Mark's enthusiasm is infectious and together with his attention to often-overlooked details, will give you confidence and knowledge to grow an impressive amount of food in seriously small spaces, where you probably thought you could not! He has been practising what he preaches for a long time and continually refines his methods, to be able to share with you many effective ways to harvest fresh vegetables throughout the year.'

Charles Dowding, author of Skills for Growing and No Dig Gardening
'Like all the best educators Mark is an excellent storyteller, and his enthusiasm and personal commitment shine from every page.…'On a practical level this book details every important aspect of how to succeed growing in containers. From composting to watering, propagation to plant choices, there are detailed investigations and recommendations.…'Don't be fooled by the 'good for beginners' intro. The depth of research and recording and the factual guidance is as good as it gets. This is a masterwork for all gardeners to enjoy – even the most experienced.'

Graham Bell, author, practicing gardener, teacher of permaculture
You may also like….