Flowering Bulbs For The Rock Garden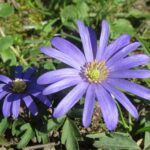 Use flowering bulbs in your rock garden to start Spring with a burst of energy or fill drab spots with color as fall arrives.  Whether emerging from between rocks or playfully splashed across spaces, bulbs celebrate new beginnings.  
In rock gardens, dwarf bulb varieties tucked into crevices or spread in masses add a whimsical charm and soften hard edges of stones, rocks or other hardscapes.   
Left in the ground they will emerge year after year and naturally multiply.    Their ability to create drifts of flowers make them ideal for the naturalized rock garden.
This article may contain affiliate links. Click here for full disclosure.
Naturalizing Bulbs
When bulbs naturally multiply over time, they spread across an area in randomized form, utilizing the soil available.   In large masses they are often referred to as "drifts".
Naturalizing bulbs means planting bulbs in random locations so when they bloom they look naturally multiplied. Some flowers will be blooming next to each other in clumps, some will be spaced out.   Using an odd number of bulbs per grouping helps to assure a natural looking display.     

Blue Glory of the Snow
from:
Nature Hills Nursery, Inc.
Chionodoxa luciliae   also known as Glory of the Snow
First discovered blooming at the snow's edge in the mountains of Asia Minor, Glory of the Snow is one of the earliest spring bloomers.  Each plant has 2-3 thin spiky leaves and several arching stems with star shaped flower.  Blossoms are usually blue to lavender-blue shading to white in the center, but some may be pink or white. 
3-6" tall
Zones 4-8
Full sun to light shade in hot summer areas
Need moisture during growing season  but tolerates dry summer.  Best in cooler climates.
Plant in large groups for best effect.
Self-sows vigorously.

Blanda Anemone Mix
from:
Nature Hills Nursery, Inc.
Anemone – Windflower
Large wide-open flowers atop stems that hold them above the clumps of finely divided foliage.   Tends to favor woodland conditions with dappled shade, but will be happy in a sunny location with moist well drained soil.    In very wet climates, dig up when dormant and store until fall.  Tubers will decay if they remain too moist after blooming.
Anemone blanda  flowers of white, light and dark blue or pink that bloom in spring.   Wheel shaped flowers 2" wide.  Low finely divided leaves last through spring.
Height 3-5"
Width 6" spreads readily
Zone 4-8

Winter Aconite
from:
Nature Hills Nursery, Inc.
Winter Aconite
Eranthus hyemalis     Individual yellow buttercup shaped flowers up to 1" across set atop lobes of dark green leaves.  Frequently come up through snow, about the same time as snowdrops.  Useful for carpet-planting over large sunny areas.   
Height 4-6"
Width 3-6"
Zone 4-7
Buy Spring Flower Bulbs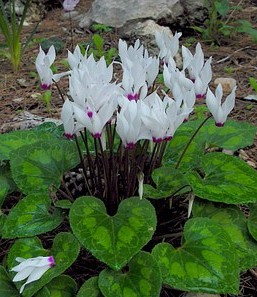 Cyclamen
Flowers have dropped centers and reflexed petals on single stems.  They look like hovering butterflies.  Heart shaped leaves sometimes with a silvery tinge.  Light shade.  Humus rich well drained soils and plentiful moisture during growing season. Best if undisturbed for many years and allowed to self-sow.
Cyclamen coum  white to shades of purple-pink blooms 
Bloom time late winter to early spring
Height 2-4"
Width 4-6"
Zone 6-9
Cyclamen hederifolium  pink, darker purple at petal base
Blooming in late summer to fall
Height 4-6"
Width 6"
Zone 5-9

Crocus Mix
from:
Nature Hills Nursery, Inc.
Crocus
Genus of over 80 species, these cup shaped blossoms often herald the beginning of Spring.  Most recognized in colors of purple, yellow, white    Some are streaked white and purple.  Crocus thrive in cool, moist, humus rich soil.  Prefer to have full sun at flowering time.  
Crocus chrysanthus – creamy yellow to gold
Bloom time late winter to early spring
Height 2"
 Width 2"
Zone 4-9
Crocus speciosus  blooming in purple with deep blue veining
Bloom time autumn
Height 6"
Width 2"
Zone 3-8


Tarda Tulip
from:
Nature Hills Nursery, Inc.
Tulip
Low growing varieties in lovely bi-colors perform best in full sun to light shade.  Prefer rich, fertile medium moisture, well drained soils.   Best visual impact when grown in groupings.  Easy to grow and reliable returns year after year.
Height 4-10"
Width 3"
Zone 3-8
Tulipa tarda is a low growing tulip with stunning star shaped flower that appears in early-mid Spring.  Yellow in the center and tipped in white, clusters of 3-6 flowers appear over glossy green leaves. Grows to 6" tall.
Tulipa clusiana   Cynthia –  pale yellow flowers delicately flamed rose-red.  Flowers in mid spring.   Blossoms open to form a perfect star during day sunlight and close at night or cloudy days.   Tolerates harsh Spring winds and rain.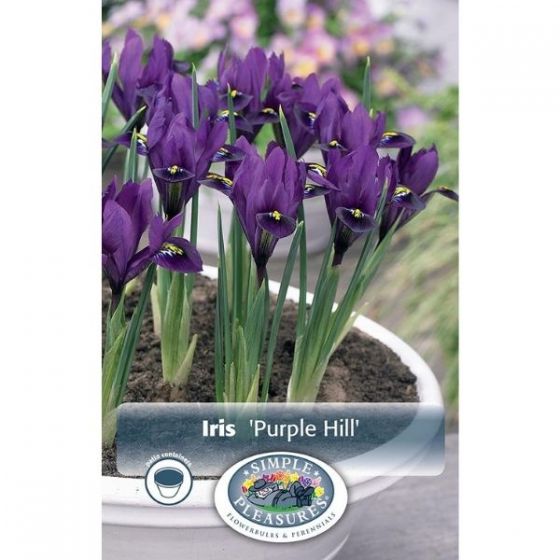 Dwarf Iris
Dwarf iris arrive in spring in many of the same colors as their full-sized counterparts.  Dwarf iris enjoy growing in well drained soil with moderate moisture and full sun.     Plant in groups of 10 or more for best effect.
Iris danfordiae with yellow flowers is a dwarf variety of bulbous perennial.  They are sweetly fragrant and spectacular when planted in groups. 
Iris reticulata is a vibrant orange-splashed royal blue dwarf iris which also is fragrant.    Dwarf Iris reticulata are unique because they are bulbs as opposed to rhizomes.  Leaves are short when they bloom but elongate to 18" later, then disappear by summer. Bloom time late winter early spring
With over 215 reviews! Click here to see why customers can't get enough of our 6.5x300ft Woven Weed Barrier Landscape Cover Vegetable 300ft Ground Cover 3.0oz
Where To Plant Bulbs In Rock Gardens
Work dwarf bulbs in rock gardens between rock structures and existing perennials.  Plant under trees or ground covers to naturalize.  
Bulbs and Groundcovers
Ground covers are often used in rock gardens and make a perfect backdrop for bulb flowers in groupings or naturalized.  The ground cover continues to provide interest after the flowers have faded, and masks ripening bulb leaves. 
Most bulbs easily poke through a carpet of creeping stems and leaves.  Low growing spreading perennials such as sedums, creeping veronica, thyme, creeping baby's breath, rock soapwort are good bulb companions. 
When choosing bulbs to grow with ground cover, make sure the bulb will grow tall enough to flower above the height of the ground cover.
Can bulbs be planted after groundcover is established?
If ground cover is already established, you can still plant bulbs in the soil below without having to transplant the ground cover.   
Choose space under the groundcover away from the main root of the plant if possible.  
Use a narrow trowel to gently work between the stems of the ground cover and insert the trowel into the soil at a slight angle. 
Push the trowel slightly upward to create the hole behind the trowel. 
Firmly set the bulb in place behind the trowel and pull the trowel out to cover the bulb with soil. 
It may be helpful to mark off sections so you maintain a random pattern and don't cut already-planted bulbs.    
Bulbs and Trees
Rock gardens with trees provide space for colorful bulb displays.   Spring bulbs are especially well suited for naturalizing under deciduous trees, since they can get the moisture and sun light they need before the leaves shade the ground.   
Spring flowering bulbs that perform well under trees include crocus, glory of the snow, snow drops and daffodils.
Bulbs and Rocks
Bulbs are most effective when planted in groupings of same variety or groupings of companion varieties. For example white snowdrops and pink cyclamen coum make a complimentary pair for late winter to early spring blooms.   Cylamen creates a low growing  "carpet" and the snowdrops rise above on unassuming stems. 
When planting around rocks, think of how nature would utilize the available soil around the rocks over time.  Plant in those spaces and you will have a natural combination of plants and structures that mimic nature.   
Best soil for bulbs in the rock garden
Bulbs will adapt to a range of soil qualities, but to get the best performance a humus rich slightly sandy soil is best.  Good drainage is a must.  Bulbs will often decay if soil does not drain well.
If your bulbs are not flowering see Why Do Bulbs Not Produce Flowers? for guidance on why bulbs don't flower and how to get them blooming again.
Will a bulb grow planted upside down?
The rule of thumb is to plant a bulb pointed side up.  That would be easy if all bulbs had points, but they don't.   Even large ones such as Elephant Ears can be as confusing as tiny Winter Aconites.  
A bulb planted upside down will most likely still grow and flower. Sometimes the bulb will actually turn under ground to right itself, growing sideways.
It is best that bulbs are planted correctly from the start. Check directions and examine the bulbs to see if there are traces of roots which would indicate that side would go down. If unsure, plant the bulb sideways.
Yard Butler Long Handle Bulb Planter
from:
The Wright Stuff Home Health Care Products
The Yard Butler Long Handle Bulb Planter is designed to allow users to easily make holes for bedding plants without bending over. People with arthritis will find this long handle garden tool has cushioned grip handles for added comfort. The Yard Butler Long Handle Bulb Planter is ideal for planting any kind of bulb. This arthritis gardening tool is easy to use, requiring only a simple twist action to make a hole. The 37 inch tall handle eliminates bending over, cushioned hand grips provide added comfort, and the foot bar provides added leverage. The 6 inch deep and 3 inch wide barrel creates the ideal size hole for bulbs. Yard Butler Long Handle Bulb Planter is made of heavy duty powder coated steel is guaranteed to last a lifetime. Specifications: Measures: 37 inches long, 9 inches wide, with 6 inch deep and 3 inch wide barrel. Weighs: 4 pounds. Materials: Heavy duty powder coated steel.
Will bulbs grow through stones?
Bulbs will push up through small stones or pebbles, natural mulch or other loose ground covering. Planting them under objects that block them will cause distorted leaves and flowers or possibly reduce their performance altogether.
Whether you get your bulbs by divisions from friends or buying for the first time, be sure that your bulbs are healthy. Bulbs that are pitted from insects, weakened by too much water or not enough water will have less of a chance of surviving. Start with healthy bulbs and you should expect to enjoy several years of care free enjoyment from them.