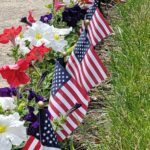 Red white and blue patriotic outdoor decor for Fourth of July or any time you want to show your patriotism. Use decorations in the garden, house, yard or as a gift.
Almost everyone in America knows at least one man or woman who were or are part of the military service.
Non-military citizens may never be able to step into the shoes of someone in the military, but we can show our appreciation for their service and sacrifice. For these service members truly know what it means to make America the home of the brave.
This article may contain affiliate links. Click here for full disclosure.
What better way to show your soldier appreciation and honor service members than with the Home Of The Brave Outdoor Welcome Wheel? Put in your yard or hang on your wall.
You can even get it as a gift to a military member or a military spouse who you think of when you think of the sacrifices that they made for your freedom. Show your appreciation, love, loyalty, and support.
Valley Forge Flag Co PFF-ST Pffst 3x6 Patriotic Fan - $32.23

3 FT. x 6 FT. PATRIOTIC FAN



High quality, color-fast printed polycotton -
material fan measures 3 ft. x 6 ft.
Bunting/fan is 100% made in the USA
Great decoration for Memorial Day, Flag Day -
or Veteran's Day
Also available 1-1/2 FT. x 3 FT. PATRIOTIC FAN
Curl up and relax in this hanging hammock chair. The durable and comfortable cushions and pillow provide a cozy oasis wherever you hang your hammock.
This hanging chair is perfect for inside your home, porches, balconies, or tree limbs if you have proper support. Don't have a place to hang the chair? Try adding a steel base (sold separately).
This hammock chair hanging kit is less of a kit because it already comes mostly put together. All you have to do is decide where you want to hang it. .
The Hanging Hammock Chair With Pillow Flag Pattern has high quality stitching to keep your hanging chair in good condition for years to come. It is also hand stuffed to ensure that the maximum care has been taken to make sure that you get the best comfort possible.
This chair would work perfectly on any porch or in any home.
Hanging Hammock Chair Powder Coated Steel Frame With X Base
This wheel comes with durable stakes so you can easily display it in your yard or a flower bed and even next to a grave. If you don't want to use the included stakes, the Never Forgotten Outdoor Welcome Wheel also makes an excellent wall decoration for indoors or outdoors purposes.
The Never Forgotten Outdoor Welcome Wheel is also the perfect decoration. Whether you want it for armed forces day, memorial day, the 4th of July, and any holiday where we honor those who have served this great country.
Lots of people celebrate this season with outdoor bbq's, getting together with friends and family to celebrate and remember those that we will always honor for their service to this great nation.
Find Patriotic Decor at Nature Hills Nursery, Inc.
Outdoor coolers are an essential part of your patio set up. Whether for an event or you just want to relax outside with a cold drink nearby, they're perfect for every occasion. This ice chest is also for the 4th of July or for that patriotic someone in your life.
The Wooden American Flag Outdoor Patio Cooler is equipped with galvanized steel insulation to keep your drinks or food cold all day. While being 26.7 inches wide and 18.1 inches deep, there's plenty of space for your party/snack, beverage needs.
This cooler can hold up to 55 quarts, making it the perfect size for holding all of the food and drink items you'd like.
Not only that, but since this cooler stands at 31.1 inches tall, it is the perfect height for a side table or drink holder. The drainage spout gives you a convenient way to empty out your cooler at the end of the day (or when you need an ice refill).
You'll never have to worry about losing or finding your bottle opener ever again, since this cooler comes with one attached!
The vintage handles on the sides of the cooler can be used to carry this beautiful piece or they can be the perfect spot to hang up your holiday themed towels that you've been waiting to put on display all year.
The wooden design along with the American flag will give a fun rustic touch to your patio/garden design. The rusted, antique looking handles and bottle opener add to this aesthetic as well.
Perfect for fathers day, the 4th of July, or any of the outside activities your heart desires.
The American Flag Outdoor Garden Bench is one of the highest recommended outdoor items by Nature Hills. This is due to the fact that it is made extremely well and is considered to be made of very high quality. The American flag colors are bright and beautiful and the bench is fast and easy to put together.
This bench is a great addition to your porch, deck, patio, or yard that is sure to be a show stopper and show your pride in their nation and its flag. This product features durable metal construction, a powder-coated frame, a matte black finish, and of course the American flag design.
UV, water, weather, fire, and rust-resistant. This means you'll be able to enjoy this remarkable bench for years and years to come. Never worry about leaving it in the rain, sun, or snow and wondering if it will ruin this amazing product.
This perfect garden bench is easy to clean and take care of. All it needs is a damp cloth and to be wiped down whenever you see fit.
This American Flag Outdoor Garden Bench can be placed on your front porch, in your garden, under a tree, or anywhere throughout your yard. The high gloss paint finish resists rust well, so you will be able to sit on this bench for years!
Even if you don't want to use this bench in your yard, or are still worried about it getting ruined in the elements, it will still be perfect for inside your home! Bring it out during the holidays for guests or make it a permanent fixture and statement piece in your living room.
The seat is contoured to fit your legs and the armrests are curved to provide you with the best comfortability.