Square Garden Planters That Are Lightweight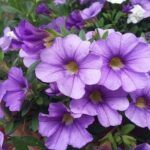 Enjoy the benefit of garden planters that are lightweight by choosing resin and resin composites.
Shiny surfaces can look like ceramics and textures mimic stone and wood.  We no longer have to forego the size or medium of a plant container due to the potential weight of the natural medium.  The lightweight nature of resins combined with amazingly realistic finishes and textures gives us all a chance to experience any look we want regardless of container size.  
The cost of plastic flower pots is a fraction of what it would cost if it was made of the actual medium.  Manufacturers can produce faux garden planters in short time and the cost of materials is often less. 
Resin containers can have a longer life span, as they do not deteriorate over time and withstand temperature changes better than their natural counterparts do.
Gathered here are attractive square flower planters that combine natural medium look with less weight.   Some have unique features like pre-fabricated punch holes for drainage, or double walls, which allow you to add sand or gravel to the base for stability.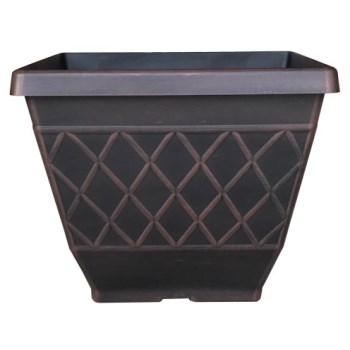 Southern Patio HDR-054856 Lacis Planter ~ 16″
from:
Hardware World
This resin based planter is lightweight and durable
Distinguished by a diamond, textile-like appearance and coloration, it weighs a fraction of what you would expect.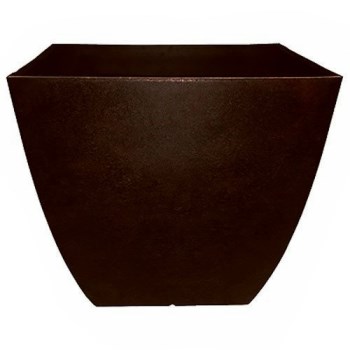 Southern Patio HDR-019275 Newland Series Outdoor Square Planter, Coffee ~ 16″
from:
Hardware World
High density resin construction for a lightweight and durable planter
UV coated finish provides a weather and long lasting color that withstands outdoor seasonal elements and everyday use and is resistant to cracking.
Attractive deep finish is an ideal backdrop for spilling flowers over the edges or highlighting houseplants.
This article may contain affiliate links. Click here for full disclosure.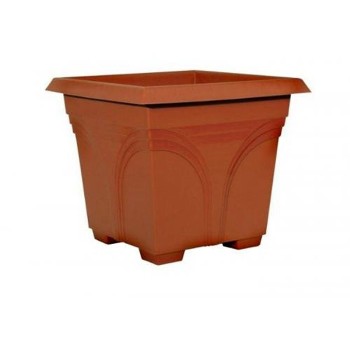 Southern Patio DP1510TC Medallion Deck Planter 15in.
from:
Hardware World
Pretty design accents this 15″ square deck planter
Constructed of durable plastic for lightweight benefit
Built-in feet keep planter off the ground
Terra cotta color matches any decor
14.88″ square x 13.08″ height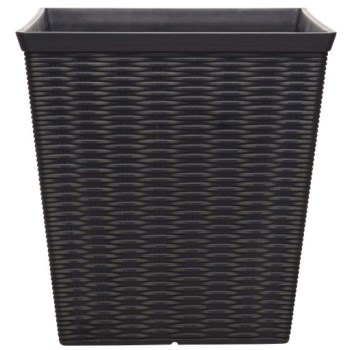 Southern Patio HDR-054771 Resin Wicker Planter – 15″
JAMAICA 15″ RESIN WICKER SQUARE PLANTER
15″ planter with cute wicker design
Crafted from durable high density resin so no liner required
Great for highlighting monochrome or mixed colored plants and flowers
Indoor or outdoor use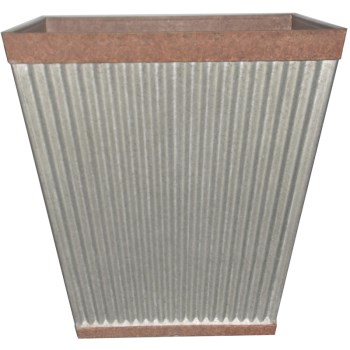 Southern Patio HDR-046851 Wetlake Design Series Galvanized Planter
A galvanized finish look and grooved pattern texture highlight this resin planter
Round, pleated flower pot crafted of durable, yet lightweight resin
Grooved pattern texture with galvanized finish look
Construction lasts longer than traditional metal flower pots & includes UV protectors
With its' weathered & rusted look it adds an old-fashioned feel to any outdoor living area
15″ square at top
Ideal for spilling flowers & ivy or hefty shrubs
High density resin construction for a lightweight and durable planter
UV coated finish provides a weather and long lasting color
Withstands outdoor seasonal elements and everyday use and is resistant to cracking
Approx: 11.9″ square x 21″ high
Also available in 16″ square x 13.5″ high
How to make a drainage hole in a plastic garden planter
Some plastic garden planters will come with recessed locations where drainage holes can be punched out. Simply use a phillips screwdriver and gently tap to remove the circular plug. The plastic is thinner in these locations and are designed to pop out.
It is not necessary to punch all the holes that are provided, but you should choose a balanced pattern so water flow is evenly distributed.
Some plastic /resin planters will have drain hole locations marked on the bottom, but are not able to be punched out.
Thick-walled planters respond well to drilling drainage holes with a power drill.
Thin-walled plastic planters can be drilled or melted to create drainage holes.
Drill or melt?
Planters made of materials that have high temperature melt points don't respond well to heat method of creating drainage holes. Drilling is practical for these.
Planters made of materials that have low temperature melt points respond to heat quickly, and using heat to make drainage holes works well.
The best method to use to make drainage holes depends on the type of resin or resin composite the planter was fabricated from.
Heat methods to make drainage holes in plastic pots
A soldering iron can be used to melt through-holes into pots for drainage.
If you have an old Phillips screw driver you don't need anymore, you can heat the end in a flame and push the tip into the center of the drainage hole to melt a hole through. Choose a Phillips screw driver, because it has a pointed end. Clean the plastic off the end of the screwdriver with a rag to keep the point.