Uses For Burlap In the Garden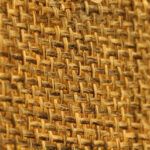 Burlap (also called hessian burlap) is a natural product that is used in the garden to provide protection or covering.  It's natural open-weave allows air flow which prevents or minimizes rotting due to trapped moisture.   
What is burlap made of?
Burlap is typically made of the jute plant and woven into a coarse fabric.  It often has a distinctive natural scent.  
One major advantage of jute fabric is that it is an eco-friendly material.  Because it is made entirely from natural vegetable fibers, it is completely biodegradable.
Use burlap in the garden
Plant covers for cool nights
Protect tender plants from cold or frost damage with a layer of burlap suspended over the plants. 
Use enough supports underneath so that if it rains, pooled water does not crush the plants.    
Winter protection for plants
Wrap plants with burlap to protect plants, bushes, trees or vines from frost, snow and ice. 
Burlap is a desirable option over plastic because of its ability to breath, which allows air circulation. 
Circulation prevents heat from trapping under the covering and winds from smacking against the side of the plant.
Use a tepee-style support around the plant to keep the burlap from laying against the leaves.
Suppress weeds in beds
Use several layers of burlap around plants to reduce weed growth in plant beds.
Lay between plant rows or cut holes or slits in burlap and place plants into holes.
Finish with a layer of mulch.  Any weeds that do sneak up will be easily removed.  
This process will also enhance moisture retention.
This article may contain affiliate links. Click here for full disclosure.
Flower pot covers
You know those thin black plastic pots you get plants in from the nurseries or local hardware store?
Quickly wrap a strip of burlap around the pot and staple secure for an instant finished look.   
Flower pot drainage hole cover
Cut a circle a little larger than the base of a pot and place in the bottom before adding soil. 
Pots will drain more evenly and the soil won't run out the bottom
Find burlap and many other great outdoor products at Hardware World
Prevent soil erosion
On steep slopes or newly turned areas, a layer of burlap tacked over grass seed can prevent the seeds from being displaced by rain or wind. 
The burlap will naturally decompose so the area does not need to be disturbed.
Protect saplings from rodent damage
Once planted, young trees may fall victim to damage from mice and rodents that eat bark and deform trunks. 
Wrapping trunks with burlap can help protect young trees from damaging animals.
Burlap can also be secured to stakes to surround at-risk plants or create small fenced-off sections.  
Find more useful landscaping supplies here
Landscaping – Garden
Help saplings get off to a good start
Excessive sun and wind can be hard on young trees. 
Burlap can be used to build windbreaks that will protect tender saplings until they can withstand more intense weather conditions on their own.
Secure burlap to stakes to create protective barriers around young trees.  
Sunshade for tender seedlings
Newly-transplanted seedlings need time to acclimate to outdoor conditions. 
A sheet of burlap suspended over seedlings will help protect from direct sunlight. 
The weave texture allows filtered light to reach the plants without the full intensity of direct sunlight.  
Staple strips of burlap to stakes to protect from excessive wind.
Veggie growing containers
Burlap grow-bags can be used to grow root vegetables such as potatoes.
Wrap exposed roots of plants for transplanting
Tree and shrub root balls are often wrapped with burlap to keep the soil in tact around roots. The open weave of the fabric provides breathability.
Burlaps' moisture resistant properties prevent the growth of mold and mildew during transport.
If you need to keep a root ball from losing soil around the roots or maintain moisture between transplanting, wrap with burlap for protection.   
Outdoor living décor
Burlap can be made into pillows for benches and chairs or laid as a table covering. 
Because it has a large open weave, try pulling cross-wise threads to create a fringed edge.  Cut edge to even length. 
Sunnydaze Outdoor Garden Decor