Can Hosta Grow in Full Sun?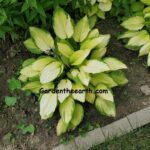 There are sun tolerant hosta that can grow in full sun, and will do quite well when given the proper growing conditions.   These are often called sun tolerant hostas, for their ability to thrive in direct sunlight and not suffer adversely.  
Generally, blue-leaved forms grow and look best in full shade, but the gold-leaved forms actually need partial sun to brighten their color.
What affects hosta quality in full sun?
Hosta and sunlight
Intensity of sunlight and the amount of time the sunlight is on the leaves will affect quality of the plant.   Even a sun-tolerant hosta will have it's limits. 
Where you live will affect the ability of the hosta to endure sunlight exposure.  Intensity of that sunlight will vary depending on what region you live in. 
Most hosta thrive in Zones 3-8. That basically covers the entire United States, which is a huge range of climatic conditions to consider. A hosta grown in the northern climate is able to tolerate more time in the sun than it would in the southern. This is because the sun in the northern region is not as intense as it is in the southern.  Just because a hosta is described as being sun tolerant, it does not mean that it can tolerate the same amount of sunlight in any location.   
Hosta and moisture
Hosta do not tolerate dry soil conditions well.  Combined with extended sunlight, they will exhibit signs of stress by wilting.  Dryness with overexposure can also cause scorched leaves that result in brown spots or burnt edges.  Some may completely wither and die.   Scorched hosta leaves will not recover that season.    
Most hosta prefer evenly moist soil whether in sun or semi shade.  Watering in dry spells will help them endure heat and keep foliage looking fresh.   A good morning rainstorm before the start of a hot day makes hosta very happy, providing they receive the moisture in the soil at the roots. Even after a rainstorm, the umbrella-affect of hosta leaves can keep the soil dry underneath them. Take care to lift leaves when watering so the soil at the base is penetrated with water.
Mulching at the base helps to maintain moisture in the soil too.   On the other extreme, make sure that they don't have soggy feet, as hosta do not do well in poor draining soil.  Growth will be stunted and roots may rot.
Hosta in full sun and color changes
There are many varieties of hosta and each have unique characteristics of color, shape, size etc.  Some have leaves that naturally change color as the season progresses.   Some change color depending on the amount of light they receive.   Some naturally change as they age. You can take advantage of color variations depending on where you place them in your garden.
 For example below, variety Francee  gets morning sun, then is protected by surrounding pines as the sun peaks.  This limited sun exposure brings out the yellow highlights in the leaves but doesn't burn them.    The yellow provides contrast with the blue pine next to it.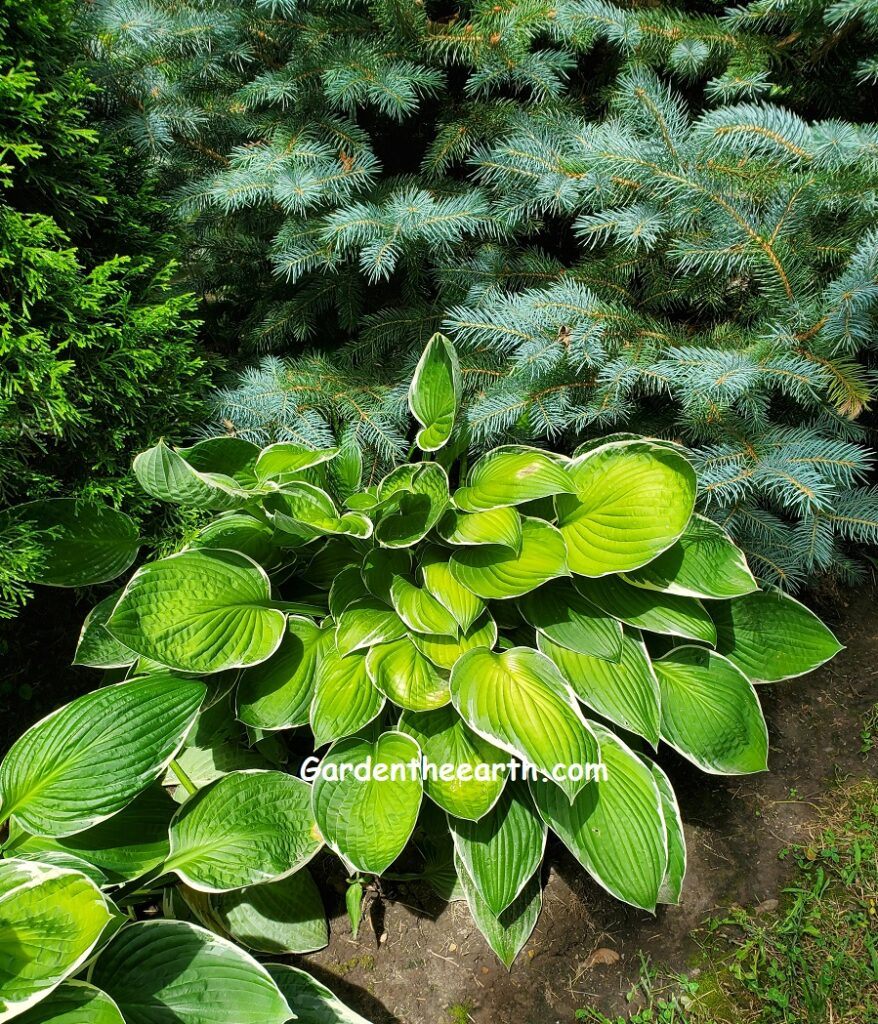 A versatile variety Gold Standard (below) will be yellow-green in shade, and although naturally lightens as it ages, it can turn nearly white in sun.  This group gets full sun for about two to four hours a day during summer.  When kept moist, they do quite well and maintain light yellow color.  It can create a striking border or single spot of bright contrast in the garden.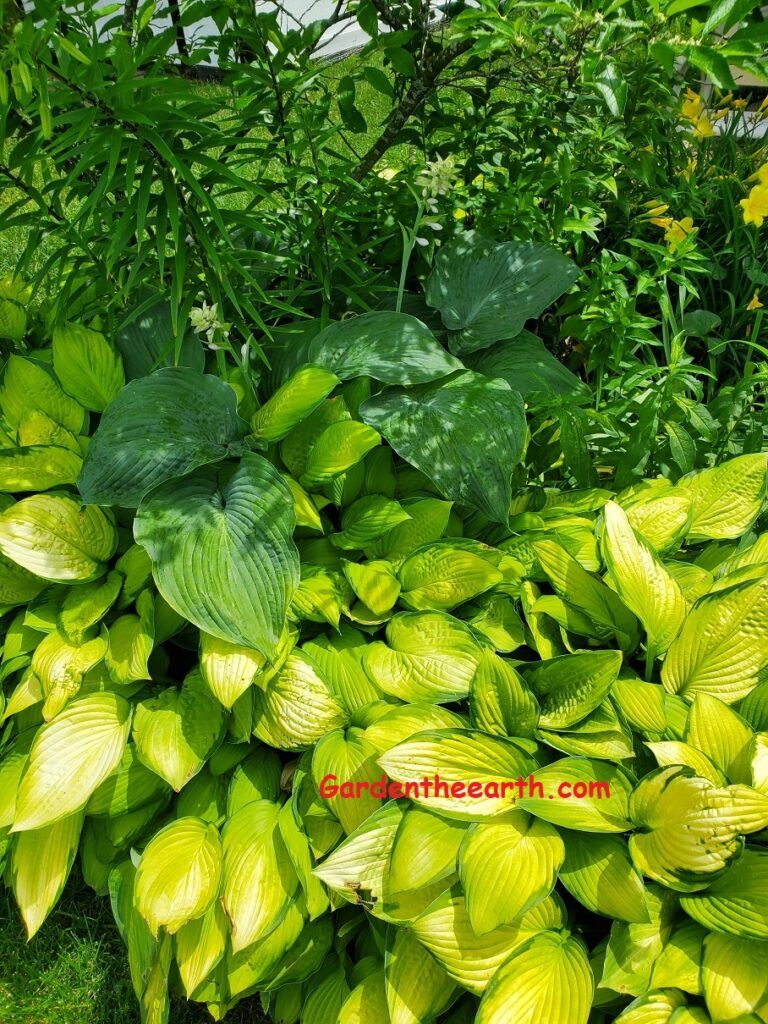 Keep in mind when you are are purchasing hosta, the way the plant looks in the pot may not be the way it will age in your garden.  Many change as the season progresses. It takes time and patience when working with hosta to understand how they will react..  As with all plants, what grows well in one garden may not perform the same in another.  With hosta, it's usually a combination of conditions that works best.   You may need to relocate them a couple of times or choose a different variety that works better at that location.  Once you get them where they are happiest, you will find them to be beautiful self-sustaining plants for years.
Hosta and sunlight exposure time
Observe the sunlight exposure time and intensity in your prospective area.   How long will the hosta be exposed to the most intense light of the day?  Will surrounding plants change the light exposure to dappled or shady as the sun moves? 
To reduce light exposure time, you can purposely use surrounding plants or structures.   Below is an example of Gold Standard hosta growing in sun.   The left side of the border is beginning to show signs of leaf scorch due to sun exposure. The right side of the border experiences protective dappled sunlight due to the evergreen branches that rise above it. These leaves are not being scorched although they are only a few feet away.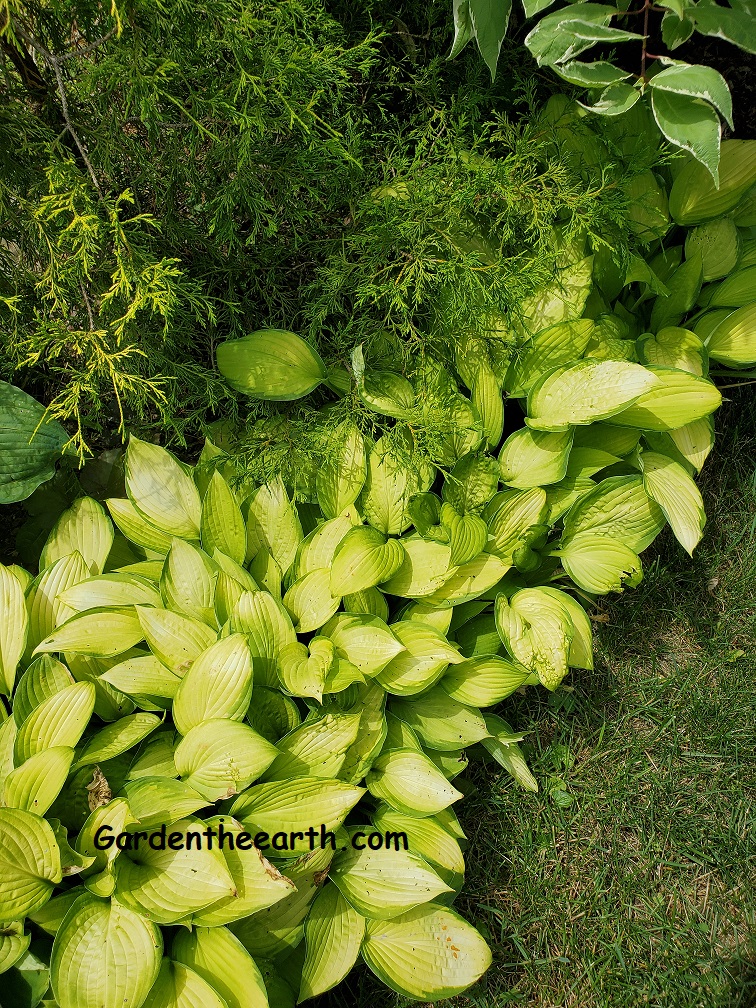 You can use existing plants to your advantage to create protection.  Tall perennials can provide reliable sun blocks each year when placed appropriately.  Hostas are also great in containers, so use them to add texture under the protection of taller container plants.  They can also be moved around as needed.   
Price:

$29.49
Price:

$54.95
Price:

$24.50
Sun Tolerant Hostas
Generally, hostas with yellow leaves can handle more sun exposure that hostas with green, blue or white leaves.  But there are no hard and fast rules and exceptions will be found.
There are many many hosta varieties available.  Listed is a sampling of hosta varieties that are noted to tolerate limited sun exposure in favorable conditions.
Yellow Hosta Varieties for Sun
Ambrosia – yellow to lime-green leaves edged in blue
August Moon – light yellow-green leaves that turn gold when exposed to sunlight
Fragrant Bouquet – lime green leaf with yellow edges that brighten into summer
Fried Bananas – glossy gold leaves
Gold Edger -  heart shaped leaves yellow-green
Gold Standard -  heart shaped leaves bright golden leaves with green edge
Golden Tiara  - heart shaped leaves light green with gold edge
Guacamole – avocado colored leaves with dark green veins and leaf edges very sun tolerant
Midas Touch  - have puckered foliage that tolerates sun better than most yellows
Piedmont Gold - Broad heart shaped leaves, heavily veined, slightly wavy edged, glowing green-gold
Pocketful of Sunshine – small compact with yellow centers and dark green edges.  Brighten into summer.
Rhino Hide – highly textured leaves with golden green centers and blue veining and edges
Royal Standard -  glossy light green leaves
Shade Fanfare - short compact plant with pointed oval leaves green to gold with creamy white edges
Stained Glass – bright gold leaves with wide green on leaf edges
Sum and Substance – large yellow-green textured leaves that turn gold in the summer
Sun Power – upright bright yellow-green arching leaves with wavy edges and long pointed tips
Zounds - have puckered foliage that tolerates sun better than most yellows
White Hosta Varieties for Sun
Because white hosta tend to have thinner leaves and are more sensitive to sun, their tolerance levels will be lower to extended exposure.  It may take some trial and error to determine which variety works best in your area. 
American Sweetheart -  narrow white center strip with wide green edges
Angel Falls – light green center that ages to white  with dark green veins and ruffled edges
Garden Delight – medium green leaves with creamy edges.  Edges lighten into summer
Happy Dayz – wide light green center that ages to white  with dark green edges
So Sweet – shiny dark green leaves with yellow edges that lighten to white in summer
White Bikini – narrow leaf of dark green with strip of white down center