Grow Valerian in your garden
When the pink-white flowers of Valerian open in rounded clusters, they make a stunning display and unique spicy vanilla-clove scent that you will notice even from distance.  Known for it's medicinal herbal benefits, it's leaves also provides a feathery texture in the garden during the entire season. 
Valerian Plant in Spring
The Valerian plant (Valeriana officinalis L.) is beautiful to watch evolve through its growth stages.  Sprouting spiky leaves from tangles of winter-worn roots, it begins its ascent into spring.
In several weeks, attractive mounds of deeply lobed narrowly lanced leaves fill the area.
By late spring, spikes begin to form that have opposing leaves along each stem which reduce in size the higher up they are formed.   At 3-4' light pink buds form in bunches at the top of the stems.
When the flowers finally bloom, you don't have to see them to know they are open. Valerian scent is one of the most unique and fragrant of perennial flowers, described as vanilla or clove-like.  They last for weeks, and stand up on thier own against Spring winds and rain.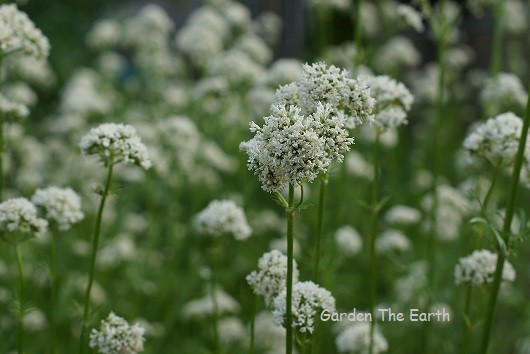 How to Grow Valerian
Extremely winter hardy, Valerian grows in full sun in a wide variety of soil types and conditions.   The plant will die down completely to the ground for the winter.  Winter clean-up is very minimal providing the flower spikes were deadheaded.
Grown from seeds or reproduced through the root system, it can be invasive.  I have mine surrounded by landscape edging to keep it where I want it or it will start popping up in unwanted areas from underground root travel.  Now that it is confined, it stays in its place.  If you are interested in harvesting the roots for medicinal use, Valerian will freely fill an area in a couple of seasons.  Depending on what you want, the plant provides versatility for specific growth location or spreading habit.  The roots are easily separated for new starts and are very hardy.
How to Deadhead Valerian
When deadheading valerian, you will notice the stalk is actually a tube rather than a solid stem.  Cut the stalks down to the base of the plant so there are not unattractive brown stems sticking up in a month.   Don't be tempted to pull them out – they easily release but it's the base plant that releases and you will end up pulling your plants out and have bare areas.   If the flowers have gone to seed and you don't want them to grow elsewhere, dispose of the flower heads or compost completely to assure they don't germinate elsewhere.
Valerian Plant Care
After the flowers are gone, the unique leaves will continue to fill the area up to frost, creating a border or foreground accent for taller summer flowers.   A little trimming at the edging now and then and it is basically carefree for the rest of the growing season.  Since it looks it's best with slightly moist soil, if the summer gets too dry, the leaves may start to yellow and thin, so an occasional watering might be needed to keep it looking its best.