Hardy Geranium Flowering Tip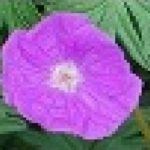 A great low growing perennial, some of the Hardy Geranium plants (Cranesbill) varieties will continue to bloom throughout the season with just a little attention.
One of the many varieties of Hardy Geranium is shown below in early summer.  You can see a combination of buds, blooming flowers and new leaf growth occurring all at the same time while at it's peak.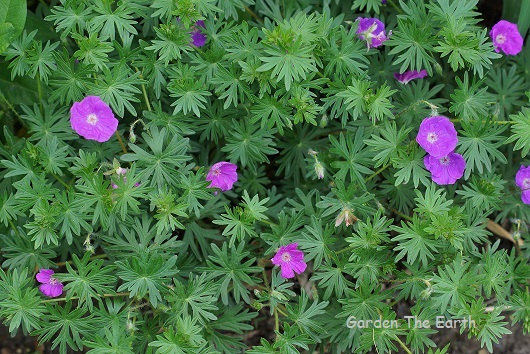 The below helps to identify what a hardy geranium spent flower (left) and seed pod (right) looks like.  Cutting these off (deadheading) down to the main stem will help to keep new growth cycling throughout the season and flower displays throughout the plant.   It will also help to maintain the  bushy habit of this plant.
If you don't keep up on deadheading this plant regularly, all is not lost if the seed pods grow but are still green.  The plant above was purposely allowed to grow without deadheading, to illustrate its versatility.  It's gotten lanky and sent out long shoots, losing its round bushy form.  The best approach to rejuvenate the plant is through aggressive deadheading.  The way I do this, is to gently gather up the extended growths and lift them straight up, as if trimming hair.  Cut off about 3-4″, and gently fluff the plant a bit to reset the stems back into position.   As long as there are several months left before frost will hit, there's plenty of time for new buds to form.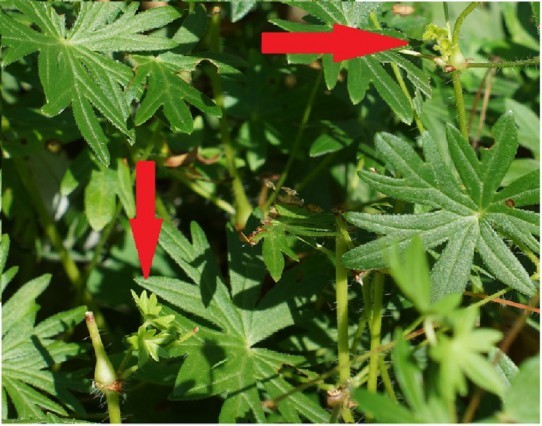 It's only been about 10 days since the trim, and already new growth has begun.  These will quickly fill in and set new buds for a whole new round of blooming in several weeks.   During dry hot times, make sure the plant has plenty of moisture so it's not stressed, or it will not be as likely to put out new growths.