How Much Water Do Annual Flowers Need?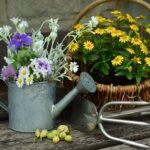 Let's look at how much water annual flowers need and how often you should water annuals so they stay healthy.
Annual plants will droop when they need water, and annual plants will droop when they have been over-watered. Waiting for them to droop is not healthy for the plant and indicates a stressed plant.  Stressed plants will reduce or stop flower production and eventually die.
4 Factors That Affect An Annual's Water Needs
Weather
Daily weather can change water needs from one moment to the next.  Excessive sun and winds can quickly dry out annuals, leaving stems and flowers drooping.  Light rainfalls every few days may wet the top of the soil, but not provide water to the plant roots.    Likewise, prolonged rains can cause soaked roots to rot and mildew to set in. 
Many annuals do not tolerate persistently windy locations and will react with lack-luster weak foliage and flowers.  Consider moving to a calmer location.
Stay ahead of the effects of weather by observing your plants and soil on a regular basis.  Respond appropriately to what their condition is telling you.
Soil
Annuals will grow in a wide range of soil types, but different soil types affect how often an annual plant needs water.
Heavy clay soil will hold moisture well once it is saturated.  If clay soil is watered too quickly though, it rolls off and does not absorb the water to the root level.  Slowly watering clay soil is the best way to assure deep absorption.   On the other hand, clay soil that is over-saturated can cause root rot.  Clay soil can appear dry on the surface even though there is sufficient moisture being held at the root level.  Break the surface of clay soil to know the true condition under the ground so you don't over-water annuals in clay soil. When clay soil is moist, it will be a dark grey.
In sandy soils, water penetrates quickly and deeply, but it filters through quickly too.  Sandy soil does not hold moisture as well as clay soils, so plants need more frequent watering.
Both clay and sandy soils can be amended to improve water absorption, retention and aeration.   Add compost, leaf mold, or other organic materials.  For containers, a potting mix is beneficial. 
If moisture loss in soil is an issue, consider mulching.  Mulching helps retain moisture in soil and reduces the amount of watering needed.
Containers will typically dry out faster than annuals planted directly in the ground. 
How to test how well your soil drains for growing plants
Dig holes 2-3 feet deep and fill with water.  Observe what the water does.
If the water drains immediately, the soil is most likely sandy.  Dig in some compost, peat moss or other organic matter to help it retain water.
If the water stands for 30 minutes to an hour, it drains sufficiently.  
If the water remains in the hole for several hours, your soil is poorly drained and most likely heavy clay or fine silt.  Either dig in some sand, peat moss, manure or compost or construct raised beds of improved soil.*
*Practical Problem Solver  Readers Digest
Climate
The climate of an area includes many factors which include average rainfall, temperature ranges and humidity.   Where soaking rains fall frequently, additional watering will not be needed.   Where sunlight and heat are more intense, plants will need to be checked more often for watering.   
General climate conditions that require less water are regular rain, cooler temperatures, overcast skies, low wind.  
General climate conditions that require more water are lack of rain, warmer temperatures and lots of sunshine, and high wind.
Being familiar with your climate and seasonal differences help you determine when plants need watering.  
Location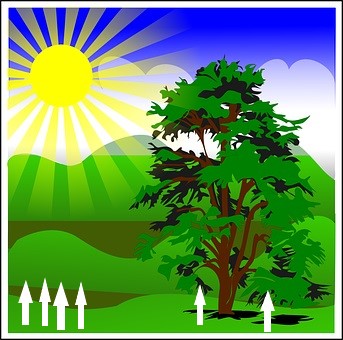 In sunny locations there is generally more moisture loss (evaporation) from the soil.  More evaporation means the soil dries faster and water is needed often.
In shady locations there is generally less moisture loss (evaporation) from the soil. Less evaporation means the soil retains moisture longer and water is not needed often.
An exception would be if there are other plants close by your annuals which are drawing water from the soil too.   Even in shady locations, the roots of thirsty perennials, bushes or trees can create competition for annuals planted nearby.   Planting annuals away from competing roots will reduce the amount of supplemental water they need.
How Often Should Annuals Be Watered?
How do you decide if your annual flowers need water?  A quick easy way is to poke your finger 2-3" into the soil and feel how moist or dry it is.  Just looking at the surface of the soil is not enough to know if there is moisture at the root zone of the plant. 
If soil is too hard to poke a finger into, insert a trowel into the soil and look at the depth of moisture in a soil section. Moist soil is typically darker than dry soil.   Better to check more often than not.
Containers will typically dry out faster than annuals planted directly in the ground.  They will need to be checked more often.
Eventually through observation you will develop a watering sense for your annuals based on climate, weather, soil and location of your plants.     
When Should Annuals Be Watered?
It's best to water annuals in the morning hours between 6am to 10am. Cooler temperatures of the morning allow the plants to absorb the water before the sun starts to evaporate it from the soil. An exception – if annuals are showing excessive stress from dryness or winds – water those as soon as possible at the soil level without getting the leaves wet.
Mid-day watering is not harmful to plants, but it is wasteful since much of the water evaporates in the heat and sun.
How Much Water Do Annual Flowers Need?
When you water annuals, whether vegetables or flowers, water deeply.  What that means is make sure that the water penetrates the soil down to the plant roots and below.  The roots of most annuals grow in the top 8-10" of soil.  Ideally this is where the soil is most aerated and conditions most suitable for root growth.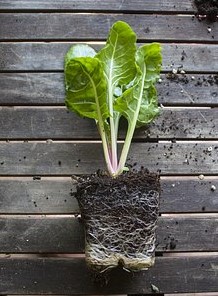 When we buy plants that have been grown at the nursery in 6-pack containers, the roots have been limit to grow to the size of the container. After we plant them, watering deeply helps them stretch their roots deep into the soil.   Roots that grow deep into the soil sustain the plant better than roots that only develop at the surface of the soil.  
If you have grown your vegetable or flower annuals from seed, they also need to develop deep root systems so the same principle applies – water deeply so the plant develops deep root systems 8-10" down.
A brief spray or rainfall will only wet the leaves and the surface of the soil.   Check to see how deeply the water has penetrated and make sure there is moisture at the root zone.
This article may contain affiliate links. Click here for full disclosure
How To Water Annual Plants  
Hand water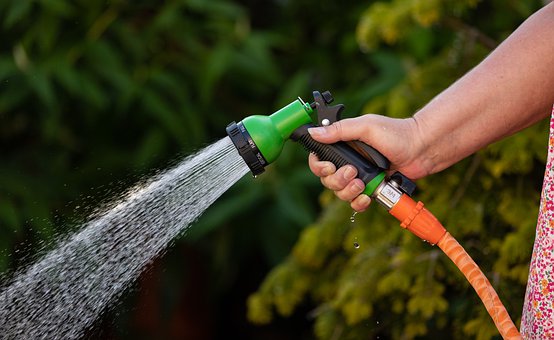 Hand watering annuals is a great way to spend time with your plants.  Observe how they are doing, if there are any pests or mildew bothering them.   This is a good time to remove dead leaves and stems, do a quick deadheading of spent flowers or pick ripened vegetables.
If container plants are excessively dry, make sure the soil has absorbed the water thoroughly by soaking, allow to drain and soak again.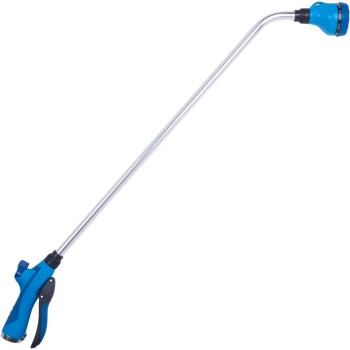 Melnor SP15679BB 33 8 Pattern Wand
from:
Hardware World
Using hose end sprinklers to hand water is a good way to control how the water is applied to the plant and how much. 
Disadvantage of hand watering:
It takes time whether watering via hose or filling a watering can.
If using a hose, it has to be dragged to locations whether in beds or containers
–

Automatic sprinklers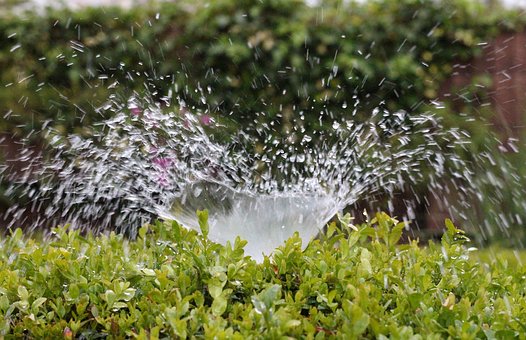 If you have large beds that make it impractical to hand water or just don't have the patience or time for hand watering, automatic sprinklers are a way to provide water to your annuals.
Automatic sprinklers should provide drops of water as opposed to light clouds of spray that easily evaporate.   Check at 15-20 minute intervals.   If you are concerned about over-watering, set a water glass within the spray pattern and note the level of accumulated water.
Oscillating water sprinklers are a type of automatic sprinkler that cover large areas with even flow water distribution.
Using a water timer is an efficient way to water plants at the right time of day and for the correct amount of time. Just set and it will take care of the watering for you.
 Disadvantage of automatic sprinklers:
You have to drag a hose around and frequently situate the sprinkler into position.
We're human – we get involved in something and forget to turn it off, over-soaking an area and wasting water.
Uneven watering when tall plants block the water from reaching shorter plants.  Some tall flowers such as cosmos or tall marigold will bend under the weight of water.  
When some annual flowers get wet they flatten and will not re-open, such as petunias.
Sprinkling leaves encourages the spread of foliage diseases such as mildew and fungal leafspots, common to zinnias. 
Drip irrigation
Drip irrigation provides water at the ground level via a series of shorter hoses attached to a main pipe. Moisture radiates sideways and wets the soil wherever a hose end is placed.    Watering occurs at a slow rate by regulators that control flow.
Drip systems can be elaborate or simple as desired. Connect custom sized tubing to lengths of pipe, assorted fittings or manifolds.  Drip irrigation systems are available in pre-assembled multi-valved systems which include wiring for adding a timer.
Weave a drip system oven among plants and leave in place the entire season. It's a effective way to control the rate of water and where it goes.
Drip irrigation puts water directly in the ground and not on leaves. Lay tubing on top of the ground and bury under mulch if desired.
Disadvantage of drip irrigation:
The system needs to be planned out for the design desired and the hardware that will be needed.  Initial assembly takes time, but once done, general maintenance is all that should be needed.
If you live in an area that freezes, drain and store indoors. 

Soaker hose irrigation
Soaker hoses are rubber hoses with tiny perforations along the length that slowly leak small amounts of water.  You can lay the hose on the top of the ground in a row or curve it around the base of plants when they are small and leave it all season.
Soaker hoses are simpler that drip irrigation because the hose is ready-to-use and involves fewer components.   Slowly watering the soil directly at the roots reduces moisture loss.  
Hoses can be moved without having to turn the faucet off, so are easy to change position as needed.  Use quick connectors to easily attach to main hose when watering is needed, and disconnect when done.   They easily customize to any shape, curving through the garden in lengths or circling plants.
Disadvantage of soaker hose irrigation:
This method works best on flat terrain. On sloped areas, water run-off may occur.
If you live in an area that freezes, drain and store indoors.  

When you master watering for annuals, you can apply the same factors for determining water needs for many plants.   What else do you want to grow in your garden?