When To Plant Seeds/Indoor Seed Starting Guide
When to start seeds indoors so seedlings are ready at the right time to be planted outside?   
See how to determine plant dates and organize with a sowing calendar. Includes seed start guide for many types of seeds you can plant indoors.
Start With Last Frost Date
Determining when to plant seeds indoors or outdoors begins with determining your average last frost date for your area.  Your last frost date is the average historical date the last frost occurs in your area. This begins your frost-free growing season.  If you need help finding the last frost date for where you live, use this zip code finder or see article What is a frost date?
Keep in mind, the frost date is not exact.  It has been developed from years of data gathered for your general area and doesn't take into consideration unique climatic conditions in your area.  I've known a few years where a surprise frost has occurred past the listed frost date.  If you plant your seedlings outside close to your frost date, you will want to stay aware of daily weather changes for a few weeks after.  You may need to protect your plants from a surprise frost.
Start seeds indoors, backward from the last frost date
 When to start seeds is often stated as a range of weeks.   Follow seed packet information first as it will be the most accurate for the seeds you are sowing.   If you don't have a seed packet, there is a seed start guide below for many seeds.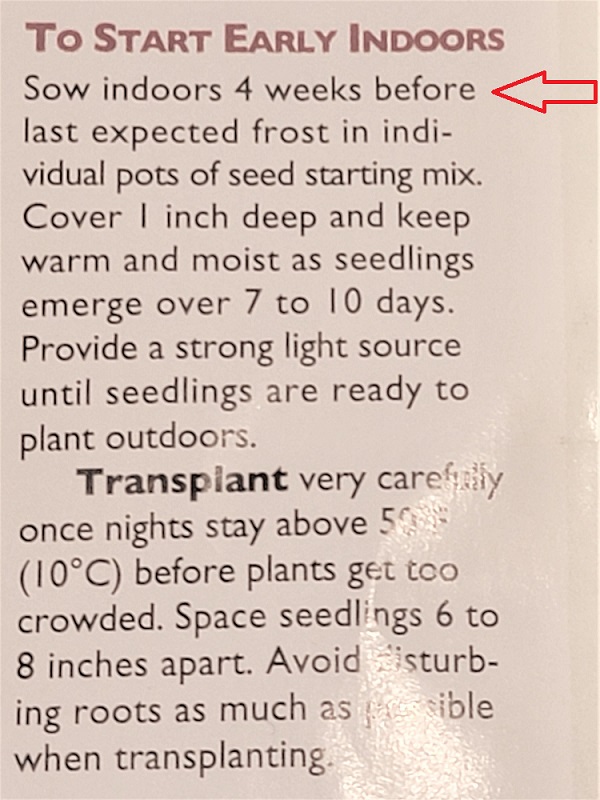 Seed packets often provide instructions for early indoor sowing as well as planting and transplanting instructions.
Count backward from your last frost date to determine your seed start date.   
For example, if you should plant seeds three to four weeks prior to your average last frost date and you choose week four:  

You can create your sowing calendar by knowing your average last frost date and number of weeks to start seeds. For outdoor planting dates, simply count forward from last frost date.
This article may contain affiliate links. Click here for full disclosure.
Create A Sowing Calendar
Create a simple sowing calendar so you don't miss a planting date.  Early planning assures the best outcome, and it doesn't have to be complicated. 
In the left column list your seeds. Across the top, number the weeks prior to your frost date. The start date for each week should be what best fits your schedule.
Below is a hypothetical example of seed starting dates and last frost date for illustration purpose.
Shown in the sample above, you would need to plant your Kale, Marigold and Tomato seeds 6 weeks before your frost date.
If you are planting a lot of seeds that have many different start dates, a few simple steps will help keep you on track:
Write the start week on each seed packet and how many pots or spaces you have allocated for growing these seeds.
Group seed packets together that have the same start week in a shoe box or similar container.
When the week arrives, pull the group of packets for planting.
Each week, check the shoe box for what will need to be planted the next week so you can allocate time.
Gardener's Tip:
Be realistic evaluating your resources. If you have taken on more than anticipated, adjust your sowing plan. If you have room to increase your sowing plan, try some new seed varieties for fun. Gardening is always an evolving learning process, and adjustments are often a part of the process.
Considering a mini greenhouse?
Here is a selection of quality mini greenhouses to get your seedlings off to a healthy start.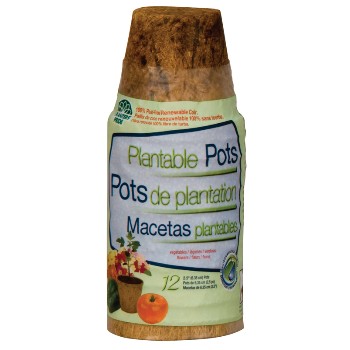 BWI Co PJRZR0225 Seedling Pots, Fiber ~ 2 – 1/4″
from:
Hardware World
When To Start Seeds Indoors – Seed Start Guide
The table below provides estimated number of weeks to start seeds indoors for many plants.  This is a general guideline to develop your sowing calendar from your last frost date.   Follow seed packet information first as it will be the most accurate for the seeds you are sowing.
Click on links for seeds, sowing and growing information

Begin seeds INDOORS before planting seedlings outdoors the # of weeks shown in the right column




Quinoa
1-2
Bitter Melon, Broccoli (Raab), Cucumber, Gourd, Melon, Pumpkin, Spinach (New Zealand), Squash (Summer, Winter), Watermelon
2-4
Alyssum, Amaranth, Baby's Breath, Bachelors Button, Basil, Broccoli, Cabbage (Napa), Calendula, Cape Marigold, Cardinal Climber,
Cauliflower, Chamomile, Chinese Lantern, Collards, Cornflower, Fennel, Ground Cherry, Honeywort, Kale, Kochia, Kohlrabi, Lettuce,
Love-in-a-mist, Marigold, Moonflower, Morning Glory, Nemesia, Nolana, Okra, Orlaya, Pincushion Flower, Potato, Shiso, Sorrel,
Spider Flower, Swan River Daisy, Sweet Alyssum, Sweet Pea, Swiss Chard, Tomatillo, Tomato, Watercress, Zinnia
4-6
African Daisy, Ageratum, Anchusa, Aster (China), Balsam, Bells of Ireland, Black-Eyed Susan Vine, Blue Lace Flower, Bluebells,
Bluebonnet, Borage, Browalia, Cabbage (Head), Calliopsis, Campanula, Candytuft, Canterbury Bells, Castor Bean, Catnip,
Celosia, Chives, Chocolate Flower, Cleome, Coleus, Coreopsis, Cosmos, Cup and Saucer Vine, Cypress Vine, Dahlberg Daisy,
Delphinium, English Daisy, Flowering Cabbage, Forget-Me-Not, Four-O' Clock, Foxglove, Gaillardia, Gazania, Globe Amaranth,
Gloriosa Daisy, Gomphrena, Hibiscus, Hollyhock, Hyacinth Bean, Hyssop, Larkspur, Lemon Balm, Linaria, Marjoram,
Mexican Sunflower, Milkweed, Mint, Money Plant, Nicotiana, Oregano, Painted Daisy, Pansy, Parsley, Penstemon, Phlox,
Portulaca, Sage, Scabiosa, Shasta Daisy, Spurge, Stock, Strawflower, Sweet Annie, Tahoka Daisy, Tarragon, Thyme, Verbascum
6-8
Bee Balm, Black Eyed Susan, Carnation, Cottage Pinks, Dianthus, Dill, Dusty Miller, Endive, Feverfew, Gerbera, Leek, Lobelia,
Onion (Bunching), Ornamental Pepper, Pepper, Salpiglossis, Salvia, Savory, Snapdragon, Statice, Stevia, Sweet William,
Viola, Wild Bergamot, Yarrow
8-10
Begonia (Fibrous), Blue Daisy, Celery, Columbine, Echinacea, Eggplant, Eucalyptus, Impatiens, Lavender, Monkey Flower,
New Guinea Impatiens, Nierembergia, Onion (Bulb, Shallot) Petunia, Rosemary, Sea Holly, Verbena, Wishbone Flower
10-12
Lantana
12-14
Begonia (Tuberous)
12-16
Strawberry
14-16
Cineraria, Fuschia
24-26
When to start seed INDOORS before planting seedlings outdoors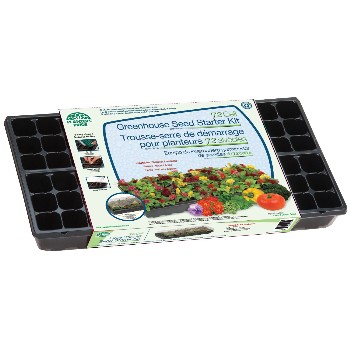 Myers Ind RZG08090 Greenhouse Kit w/Dome ~ 72 Cell
from:
Hardware World
Mini and Walk-In Greenhouse
Provide your seedlings with the optimal growing conditions of a greenhouse. Greenhouses can be used indoors or outdoors, and come in many sizes for any location.  Whether you are prepping your seedlings for planting in the spring, or want to garden all year round, see a wide variety of greenhouses to fit your gardening needs. 
Find more types of greenhouses here
I hope by providing this information you will have confidence to start your own seeds. It is amazing to watch a seed you planted come alive and grow into a heathy productive plant. Try it for yourself and you will experience one of the most rewarding miracles of gardening!