How To Choose Healthy Plants At The Nursery
Start your garden or landscape project off on the right foot by choosing healthy plants at the nursery. Use these tips to pick the healthiest plants.
Evaluate the nursery
Look at the overall condition of the plants at the nursery or garden center.  If plants are wilting in the afternoon sun, haphazardly piled together or laying on their sides, you might suspect they are not getting the attention they deserve.   Use the additional tips below to choose healthy plants worthy of your garden. 
Choose plants with healthy foliage and stems
Choose plants that have fresh lush foliage that is not yellowed or blemished.   This may indicate the plant is lacking in key nutrients and may have difficulty growing after transplanted.  Spots on leaves could be disease.
Do not purchase plants with chewed, ragged leaves.  This may be the result of insect damage that the plant will not recover from.  You don't want to bring the bugs home with you either.    
Choose plants that don't have dead leaves or stems, as this could indicate the plant is under stress from too much or too little water, disease or being rootbound.
Inspect the stems to make sure there are no scars from previous incidences or broken stems that are not obvious.
Avoid root-bound plants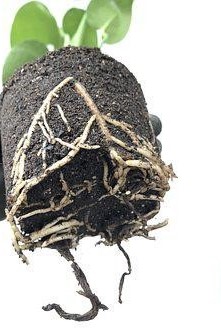 As a plant continues to grow leaves and branches above the soil it also continues to grow roots under the soil.  Eventually there is no more room in the container for roots to grow, and the plant becomes root-bound.   This is not a healthy condition and should be avoided.
Feel under the soil for circling or tangled roots or inspect the root ball if you feel it may be root-bound.
Look at the underside of containers to see if roots are protruding through drainage holes.  A few small roots may not be an issue, but many or large roots could be.   Not all root-bound plants have roots that protrude through drainage holes though. If you look into the drainage hole opening and only see roots and no soil, it could be an indication that the plant is root bound.
Annuals grown in 6-pack cells will sometimes have small roots protruding from drainage holes and are not typically an issue.  But excessive root growth encircling the base of the section or entangled with other plant roots should be avoided.

Choose small compact plants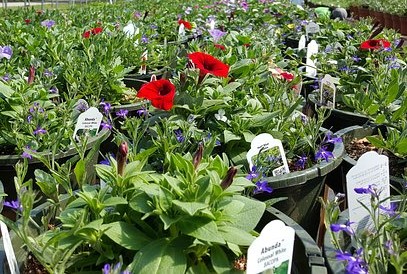 Small less mature plants handle transplanting well and can concentrate growth on their root system.   Establishing a strong root system is essential to long-lived healthy plants.

Look at the overall plant shape.  It should not look top-heavy or seem too big for its container.

Evaluate branch structure.  Plants should appear well proportioned, not leggy or lopsided with uneven or sparse growth.  

When picking out flowering plants, choose those with lots of flower buds and deep color.  It's tempting to choose a fully bloomed plant for instant color when you get home, but plants that are not in bloom will establish more quickly.  You may wish to purchase one with a few blooms if color is questionable.  

 Tip:  Before buying container plants, look at plants in the season they put on a show to see their key features such as flowers, fruit or fall color.  Familiarize yourself with the characteristics of the mature  plant to help make a wise choice at the nursery.    
Don't take home what you don't want
Are there weeds growing with the plant you are purchasing?  It may be fun to get a two-for-one, but be sure that extra plant is something you won't mind growing in your garden. Seeds hiding in soil could become a nuisance.   
Common Types Of Container Plant Sizes
15 gallon: Used for trees and shrubs, three to five year old plants.  
5 gallon: Used for many trees, shrubs, vines and large perennials.  Fairly easy to maneuver, needs decent-sized hole dug.
1 gallon: Used for trees, shrubs, perennials, herbs, vegetables, annuals, groundcovers, vines and succulents.   Easy to transport and minimal digging required for planting.
4"-6": Used for small perennials, herbs, vegetables, annuals and groundcovers.  Easy to transport and plant in large quantities. 
Six-pack: Used for young annuals, vegetables and fast-growing herbs or perennials.  Plants establish quickly.  Easy to transport and plant in large quantities.  
Flat:  Used for groundcovers and plants where many of the same kind are needed.  Easy to transport and plant in large quantities.  Economical choice.