How To Freeze Fresh Whole Tomatoes No Blanching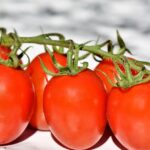 If you have a surplus of fresh tomatoes and want to save them for later use, you can easily freeze fresh whole tomatoes, no blanching required.  These simple steps will show you how to preserve the flavor and nutrients of fresh tomatoes for when you are ready to use them.   
Items Needed To Freeze Whole Fresh Tomatoes
Cookie sheet or similar with a lip around the edge (so they don't roll off)
Room in the freezer for the cookie sheet
Airtight freezer-safe container, bag or vacuum sealer 
Marker to write on the container or labels
Preparing Tomatoes For Freezing
Make sure tomatoes are clean before freezing.  You don't want debris that was on the tomato prior to freezing to get into your food when they thaw. 
You can choose to cut the center out before freezing or freeze the tomato whole and remove the center after thawing. 
Choose ripe unblemished tomatoes for freezing.
Steps For Freezing Whole Tomatoes
Place the tomatoes in a single layer on the cookie sheet so they are not touching each other, then put them in a flat area in the freezer. 
Once the tomatoes are frozen solid, you can start to transfer them to airtight freezer-safe container, bag or vacuum seal.  
Note: frozen tomatoes roll very easily. Be cautious when moving the cookie sheet.
Remove as much air as possible from around the tomatoes before sealing the bag.  Vacuum sealers are ideal for this process, just make sure the tomatoes are frozen solid before vacuuming or they could be crushed.
Work with small groups of tomatoes at a time rather than pull the whole cookie sheet out of the freezer. Frozen tomatoes thaw quickly outside the freezer and they can stick to each other if they start to thaw before they are packaged.
Label the container with the date and type of tomato.
Tip: A simple method of getting air out of a bag is to submerge it into water and it will push the air out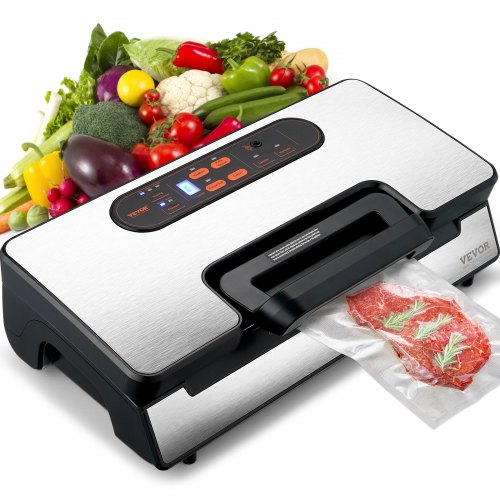 VEVOR Vacuum Sealer Machine, 90Kpa 130W Powerful Dual Pump and Dual Sealing, Dry and Moist Food Storage, Automatic and Manual Air Sealing System with Built-in Cutter, with Seal Bag and External Hose
Storing Frozen Whole Tomatoes
Once you have frozen your fresh tomatoes, it's important to store them properly to maintain their quality and flavor. Here are some tips for storing frozen tomatoes:
Make sure to label your container with the date so you can keep track of how long they've been frozen and use the oldest dates first. 
Store the frozen tomatoes in the freezer at a temperature of 0°F or lower. They will last up to 12 months in the freezer under ideal conditions.
Thawing Frozen Whole Tomatoes
Once you are ready to use the frozen tomatoes, you can thaw them in a few different ways. Here are two methods I recommend:
Refrigerator thawing: Simply remove them from the freezer and let them thaw in the refrigerator overnight. Use a bowl to catch the liquid that will be released. Once thawed, the tomatoes may be slightly mushy.  Be sure to use them within a day or two.
Cold water thawing: If you need to thaw tomatoes quickly, you can place them in a bowl of cold water. Change the water every 30 minutes until the tomatoes are thawed.  
It's important to note that freezing fresh tomatoes will change their texture. When they thaw, the tomatoes will become softer and may even be mushy depending on the type of tomato.  They will not be as firm as they were before they were frozen.  However, this does not affect their flavor or nutritional value.  And no worries about how to remove the skin – the tomato skin will slip off easily during the thawing process.
Removing The Tomato Skin
If you need to remove the skin from the tomato, it's easier to do when the tomato is not fully thawed and mushy. This is the method I prefer:
After removing the tomatoes from the freezer, I put them in a colander and run cool water over them.  The skin typically cracks and will slip off or peel off easily.  Now they can be thawed by your desired method.   
Any leftover thawed tomatoes should be used within a few days.  Do not re-freeze them, as this can affect the quality.
By following these simple tips, you can ensure that your frozen tomatoes will be ready to use whenever you need them.
Best tomatoes for tomato sauce? Try San Marzano, Roma, Costoluto Genovese
Why Freeze Fresh Tomatoes?
Freezing tomatoes is a great option when you have a surplus of tomatoes from your garden, or you want to save some for the winter months.  Freezing tomatoes fresh allows you to preserve their nutritional value and flavor without adding any preservatives or chemicals typically needed for other preserving processes. Tomatoes are a good source of vitamins A and C, as well as other important nutrients like potassium and lycopene. By freezing them, these valuable nutrients are retained.
Another reason to freeze fresh tomatoes is that you can enjoy the flavor and nutrient benefits year-round. Whether you want to make homemade spaghetti sauce, salsa or soup, having frozen tomatoes on hand makes it easy to create your favorite dishes any time of the year.
Conclusion
So let those tomato plants grow wild or take advantage of the sale at your favorite grocery store.  You can enjoy juicy tomatoes from your freezer any time of the year.
Explore More