Is It Safe To Put A Fire Pit On A Wood Deck?
We choose our ideal fire pit locations for many reasons including comfort, ease of access and warmth.   But when our ideal location is a wood deck, it may leave us questioning if it is safe to put a fire pit on a wood deck?
There are considerations to be taken when deciding to put a fire pit on a wood deck.
The first rule is a fire pit should never be placed directly on a wood deck.
Considerations For Putting A Fire Pit On A Deck
Concern is that a wood burning fire pit can release embers which may ignite nearby areas.  Dry leaves under decks or on roofs can be ignited without detection. 
Are there municipality restrictions for open flames in your area?  Are there restrictions for using fire pits on wood decks in your area?  Be sure to check all rules that may apply before making the investment.
Is your deck strong enough to hold the weight of the fire pit?  If you are constructing your own fire pit and unsure if weight will be an issue, seek the advice of a professional.
This article may contain affiliate links. Click here for full disclosure.
Types of Fire Pits To Use On Wood Decks
Cast iron or metal fire pits supported on sturdy legs are good choices for use on decks.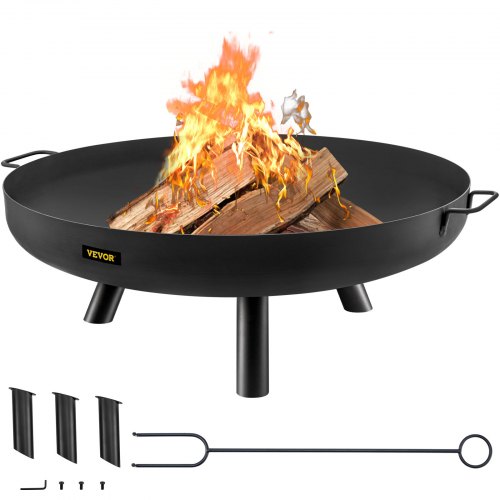 VEVOR Fire Pit Bowl Round Fire Pit 28-Inch Carbon Steel Outdoor Patio Portable
from:
Vevor

Sunnydaze Black Crossweave Wood Burning Fire Pit – 36-Inch
from: Sunnydaze Decor
Safety Tips for Putting A Fire Pit On A Wood Deck
Location
The fire pit should be placed so that flames will never be close to furniture, overhangs or any other items that can easily catch fire.  Some municipalities will have pre-established rules for this distance. Fire pit manufacturers will also include guidelines for distance so read the specifications for the fire pit you choose.
Don't overlook nearby rugs which should be considered flammable items too.   Also consider curtains, screens, tree branches, hanging plants or other hanging objects that may blow in the breeze and come in close range of flames.   
Combustible liquids, leaf piles, children's toys etc. should all be distanced from the location of the fire pit.
Protect The Surface
Never place a fire pit directly onto a deck surface.
Use a fire pit pad under the stand of the fire pit.  A fire pit pad is a layer of material that is placed between the deck and the feet of the fire pit stand.  
Fire pit pads protect the deck from gas, embers or ash.  If cooking on your fire pit, the pad can help protect the deck from any hot drippings, splatters or spills.
Pads are often made of stone, metal or heat resistant materials.  
Heat resistant mats can be purchased or you can create your own pad with pavers or bricks.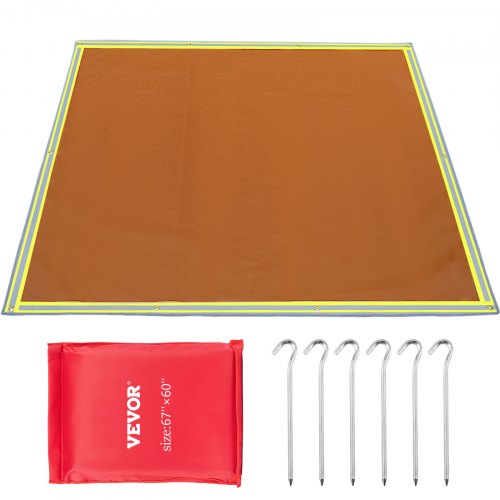 VEVOR Square Fire Pit Mat, 67″ x 60″ Fire Pit Mat for Deck, 1022 °F Fire Mat, 3.3lb Fireproof Mat for Fire Pit, Fire Pit Mat w/ 10 Stainless-Steel Grommets, 6 Silver Screws Fire Mat for Fire Pit Brown
from:
Vevor
Sunnydaze Cosmic Fire Pit with Cooking Grill & Spark Screen – 30-Inch
A lovely fire pit to enjoy for years to come on the patio or in the backyard. The stars and moons design cast unique shadows at night and provide a healthy cross breeze to the wood burning fire. Ships as a complete set including a beautiful rustic fire pit, spark screen, lifting tool/fire poker, wood grate and a cooking grate to cook dinner! The perfect solution to an outdoor fire.
See more Wood Burning Fire Pits
Additional Layer Of Protection
Adding a couple of inches of sand to the bottom of the fire pit helps to add an additional layer of protection between the fire and deck. 
Sand helps to disperse heat throughout the base so it is not concentrated at one spot, which can damage the fire pit.
Some fire pits are designed so that sand is not needed or sand would actually block vent holes that aid in air flow.  Read instructions for your particular fire pit to know what is best.
Not sure what type of wood to burn in your fire pit? See article Can I Burn Any Wood In A Fire Pit?
Fire Pit Safety Tips
Weather Conditions
Fire will travel farther on windy days and can be less predictable. Stay safe by using the fire pit on days that are calm.
 Be wary of encroaching storms or quick temperature changes that could produce sudden gusts of wind. 
Stay Alert Around Fire
Fire should be respected.   Never assume you have control over fire and never leave it unattended.
Even the slightest breeze can create sparks and an unpredictable situation.  Stay alert at all times.
Keep Fire Extinguisher Nearby At All Times
A nearby hose or bucket of water and full fire extinguisher should be near the fire pit at all times.  Make it known where these items are located so anyone can access if needed.
Lighting The Fire Pit – Clear The Area
Before lighting a fire in the fire pit, make sure the area is clear of any debris. 
Fallen leaves, branches or fading plants become flammable risks that can gather on or near the fire pit.   
Sweep the deck area clean and inspect corners where fallen leaves may have gathered and remove those before lighting the fire pit.   
Enjoy Outdoor Living With Your Fire Pit
Take precautions, follow safety tips and use common sense, and a fire pit will always be an enjoyable part of your outdoor living.