What Is A Wood Burning Fire?
A warm glowing light of intense energy.
A subtle scent that heightens your senses.
Soft crackling sounds that permeate the clear night air.  
A feeling of resolute calm with focused presence.
A magnet that draws us together.
Connect to the energy of fire with these fire pits for wood burning.

Tropical Moon Fire Pit
from:
The Charming Bench Company
Moonlit palm trees encircle the Fire Pit Art Tropical Moon 36″ Pire Pit. 
Each Tropical Moon Fire Pit is made to order by a Tennessee artisan who individually numbers each unique fire pit on an attached brass plaque. You will have a one of a kind hand crafted firepit made with pride.
Constructed from heavy-duty ¼ " thick mild carbon steel with a high temperature resistant coating on the inside of the bowl.
Your choice of color and if you prefer wood burning, propane or natural gas.
The outer iron oxide patina is maintenance-free, and the fire pit can be left outside in all weather conditions. 
Over time and use, the patina will mature and darken a few shades and remain permanent forever. 
Dimensions: Overall Height: 24″, Overall Width: 36″, Base Height: 19″

Sunnydaze Black Crossweave Wood Burning Fire Pit – 36-Inch
from:
Sunnydaze Decor
Gather around this cross weave outdoor fire pit and enjoy the warm crackling sounds of a wood-burning fire with family and friends.
Large 36″ fire pit is built of steel with a black high-temperature paint finish. Comes with a spark screen, a grate, poker and cover.
Accessorized fire pit for use on patio or in yard. Large size holds plenty of wood to keep the party going all night.
This article may contain affiliate links. Click here for full disclosure.

Sunnydaze Flaming Ball Wood Burning Fire Pit
from:
Sunnydaze Decor
What a super way to get the full enjoyment of the flame while you are protected from flying embers with this sphere shape fire pit.
This unique fire pit is 28″ diameter x 36″ high and made of steel with high-temperature paint finish to last.
Use the provided handle to glide the top open/closed for quick access. Includes poker, wood grate and cover.
Enjoy free shipping too!
Wondering if you can put a fire pit on a wood deck?
Find answer here: Is It Safe To Put A Fire Pit On A Wood Deck?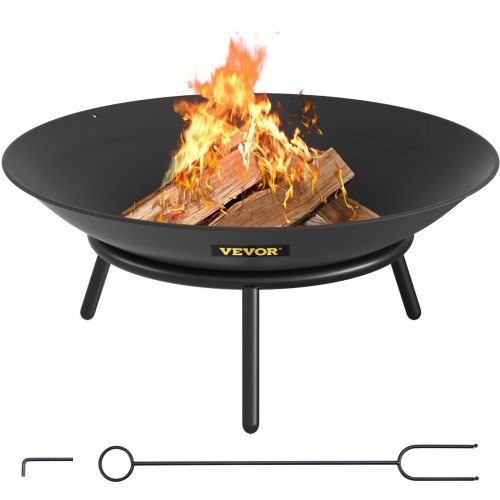 VEVOR Fire Pit Bowl Round Fire Pit 22-Inch Carbon Steel Outdoor Patio Portable
from:
Vevor
Shop Hot Sales at Vevor

Magnum Fire Pit
from:
The Charming Bench Company
The Magnum takes burning wood in a fire pit to an artistic level.
The classic elegant design is hand crafted using 1/4" mild carbon steel that is treated to allow oxidization in a controlled fashion.
Upon the first fire, the piece will start to mature and darken. With each fire, you will notice a change in the patina color as it matures.
You will create your own unique Fire Pit Artwork that will surely inspire all who gather around it!
Available options of wood burning, natural gas or propane and color.
Magnum has an OD of 54" and an ID of 35" and stands 18" tall with a ring width of 9". Comes with a lid that can be used as a fire snuffer or tabletop. 
Provide many wonderful memories for your family and friends who gather around your distinctive Fire Pit Artwork.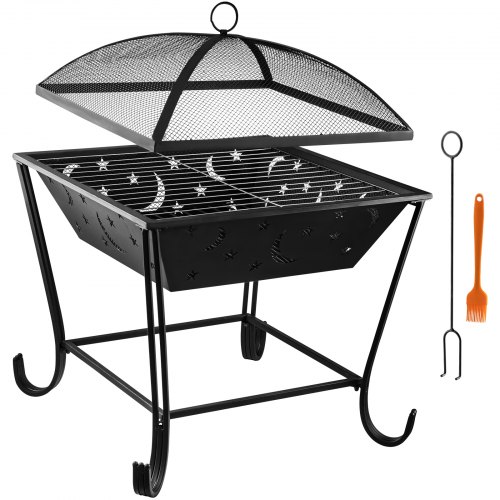 Vevor Fire Pit Bowl 24" Firepit Backyard Garden Square Stove Fire Pit With Cover
from:
Vevor
Shop Hot Sales at Vevor

Beachcomber Fire Pit
from:
The Charming Bench Company
Fire Pit Art® original Beachcomber design with Conch, Nautilus, and Scallop seashells.
Just imagine how this will look at night with mesmerizing flames back-lighting the sea-inspired cutouts!
Available options of wood burning, natural gas or propane and color. Stainless steel.
Dimensions: Overall Height: 24", Overall Width: 36", Base Height: 19"
Wondering what type of wood to burn in a fire pit?
Find answer here: Can I Burn Any Wood In A Fire Pit?

Liberty Fire Pit with Hollow Base
from:
The Charming Bench Company
The Liberty Fire Pit with Hollow Base by Ohio Flame combines bold and linear styling with exceptional American quality and durability. 
Crafted from thick carbon steel, no maintenance is required and it can stay outdoors year round.
Steel finish will develop a natural iron oxide patina and gradually darken over time.
Substantial 1.25" Rain Drain allows for water drainage, and can be converted to propane or natural gas burner.
Choose from size 24 inch up to 48 inch.
A robust fire pit guaranteed to provide years of enjoyment.

Outdoor Wood Burning Fire Pit With Cooking Grate
from:
The Charming Bench Company
Want a fire pit that you can cook on too? The Wood Burning Fire Pit by AZ Patio Heaters is a great tool for outdoor cooking.
Use the cooking grate to cook over the fire, and the mesh screen to keep food warm and protected from bugs.
Comes with cooking grate, wood grate, 18" wood fire poker and cover. All you need are the hot dogs!
Size 30" diameter, 18" high with lid, 14" high without lid


Sunnydaze Cosmic Outdoor Patio Fire Pit with Spark Screen -42-Inch
What a perfect celestial theme of moon and stars. Imagine the stars sparkling in the crackling flames of this wood burning fire pit.
Large fire bowl 34" diameter x 10" high comes with spark screen and poker. Built in wood grate allows for better air flow.
Built from durable steel and finished with a rustic high-temperature paint, you can expect years of quality and performance. 
Whether a large backyard party or soul-relaxing evening, the Sunnydaze Cosmic Large Outdoor Fire Pit will satisfy your needs.
Enjoy free shipping too!
Sunnydaze Outdoor Fire Pits