Outdoor benches are used to provide comfortable seating, add focal points to landscape, or double duty for functional storage.
A bench tucked in along the garden path is inviting – quietly coaxing onlookers to '"come, experience the presence of life here".
Traditional or contemporary style, there is a perfect bench for any taste or purpose. Create that special spot you will want to experience again and again.
Considerations for a bench location
View
The view from sitting on the bench may be consistent or one that evolves throughout the year with the environment.
The view can invite the eye to a nearby feature, distant landscape or both. Consider the value of having an open sky to view clouds or sunsets.
Environment
For sitting, place the bench in an area that will be dry year round to extend your enjoyment. A gravel base or paving stones help keep feet dry.
For sitting, sunshine is nice, but too much will reduce your ability to enjoy the bench. Watch for how the light moves throughout the day so the bench is not exposed to sun at its highest point. Likewise, try to keep the bench from being in shade when temperatures will be lowest if it gets chilly.
When choosing bench cushions and pillow, choose quality fabrics. It can be very disappointing when your once vibrant cushions become faded and unevenly colored from sun exposure. Choose fabrics that are made of solution dyed fibers. Solution dyed fibers are dyed to the core of fibers, resulting in a fabric that is resistant to fading and the damaging effects of sunlight. The Charming Bench offers a wide selection of colors, styles and sizes of cushions and pillows made of solution dyed fibers.
Discover benches for outdoor in unique designs that are the perfect decorator touch, functional storage seat or double duty table.
Black Cast Iron Lattice Patio Garden Bench
Contemporary bench with lattice back has a unique style of its own
SPECIFICATIONS: Overall Size:50″ L x 18″ W x 35″ H Seat Size:48.25″ L x 16″ W Material: Cast Iron Steel Color option: Black
REASONS TO BUY: Great price . Durable cast iron steel material. Large enough to accommodate 2 average-sized adults. Lattice design is great for vines to climb on.
WHAT TO KNOW: Only one color option. Some basic assembly needed.
This Sunnydaze Decor bench combines a contemporary style frame with charming lattice design. The rolled seat makes sitting comfortable too. Made of cast iron material that is weather resistant for protection from the elements. Basic assembly of armrests to back and seat.
Yellow Pine Fanback Garden Bench
Eye-catching fan design with color options for any decor
SPECIFICATIONS: Available in 4 ' to 6' seat widths. Material: Solid Knotfree Yellow Pine Color option: over 15 color options or unfinished
REASONS TO BUY: Quality product hand-made by Amish artisans in Pennsylvania for a great price. Size and color options for any taste. Indoor or outdoor use.
WHAT TO KNOW: Some basic assembly needed.
A classic wooden bench with an eye-catching fan-back style from The Charming Bench. Place on porch or at that special spot in the garden to invite onlookers to come sit and enjoy! Choose from a wide range of colors in paint and stain. The perfect addition for any location indoor or outdoor. Find the perfect cushion and pillows to add comfort and accent your bench in a wide range of colors.
Homestead Deck Bench
Rustic style combined with hand crafted quality
SPECIFICATIONS: Approximate Dimensions:  52″W x 30″D x 37″H 20-Year Limited Warranty Material: Solid, US-Grown genuine Lodge Pole Pine
REASONS TO BUY: Proudly Handcrafted in Montana, USA One of a kind, each piece is Individually made and signed by the Artisan who makes it.
WHAT TO KNOW: Sold "Ready To Finish"- Exterior Finish Must Be Applied Before Used Outdoors
The perfect place to relax and chat, this two-seater bench will surely be the place to catch up on the day's events or just watch the sunset with someone at your side. The Homestead Deck Bench by Montana Woodworks will last for generations to come. 
Handcrafted in the mountains of Montana using solid, American-grown wood, the artisans rough saw all the timbers and accessory trim pieces for a look uniquely reminiscent of the timber-framed homes once found on the American frontier.
This article may contain affiliate links. Click here for full disclosure.
Colored Wood Patio Garden Bench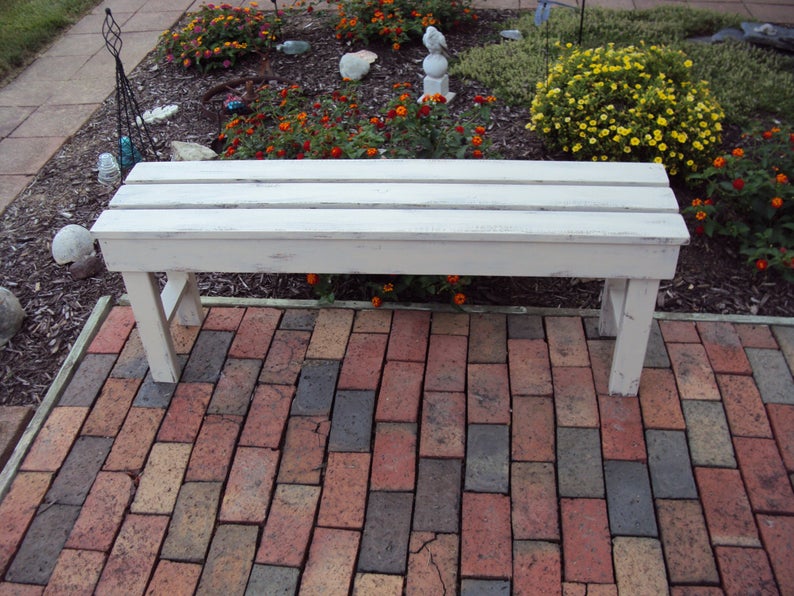 Handmade bench or table is one of a kind that you design
SPECIFICATIONS: 12″ deep x 18″ high and chose from 24″, 30″ 36″ or 48″ length. Many color options available.
REASONS TO BUY: Customizable with choice of colors and sizes Great price. Uniquely your one of a kind piece. Can also be used as a table.
WHAT TO KNOW: May not ship immediately . White color cannot be polyurethane topcoated for protection
A versatile option for outside, entry or porch areas. Color choices allow the bench to match decor. Create your own unique wood bench that will eagerly await your arrival every day.
See other great handmade items from The Retired Woodworker
Meranti Wood Outdoor Storage Bench with Teak Oil Finish – 47-Inch
Beautiful bench that combines purpose with functionality
SPECIFICATIONS: Overall size 47.25″ Wx 24″ D x 36.5″ H. Constructed of natural meranti wood with teak oil finish.
REASONS TO BUY: Provides seating as well as storage. Beautiful warmth of wood.
WHAT TO KNOW: Assembly needed.
This Sunnydaze Decor bench doubles as storage for outdoor cushions, pillows, tools, decor. Provide a comfortable place to sit while stashing away your outdoor items for a peaceful and less cluttered backyard oasis. Everything needed to put together this piece of outdoor furniture is in the box, including all components, hardware and tools.
English Garden Poly Bench
Handmade recycled plastic bench in lots of colors to choose from
SPECIFICATIONS: 53″ wide x 39″ H. Recycled poly resin plastic.
REASONS TO BUY: Many colors to choose from. Weather resistant. Ecologically friendly.
WHAT TO KNOW: Minimal assembly required.
This English Garden Bench is made from recycled plastic which is weather resistant and will withstand rain, heat, cold and direct sunlight. Never needs painting or refinishing. Many color choices so you can design your perfect garden bench the way you want it. Easy clean with soap and water. This recycled plastic bench helps to remove milk jugs from landfills.
See other great handmade items from Driftless Enterprises
Cement-Concrete Outdoor Garden Bench
Handmade traditional Old-World style bench or table
SPECIFICATIONS: 40 " long x 16″ wide x 18″ high.
REASONS TO BUY: Weather resistant material that will last decades. Neutral style that fits a wide range of tastes.
WHAT TO KNOW: Will need to secure the legs to the top with adhesive. Weighs 200 lbs. which may add to shipping cost.
This concrete bench is 40″ long which will seat 2-3 people. The bench top has rebar reinforcement manufactured within the cement during the casting process for extra durability and support. Add a cushion or pillows to pad the tush or add a splash of color. A bench style that has invited bench-sitters for generations.
See other great handmade items from The Cement Barn