How To Grow Hyacinth Bean Vine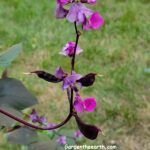 Hyacinth Bean vine (Dolichos lablab) is an easy to grow annual with delicate scented pea-like pink-purple flower and large thick deep purple seed pod.  They are also available in white varieties. As this vine grows and reveals its extraordinary characteristics, it is a delight to experience.
What do Hyacinth Bean vine seeds look like?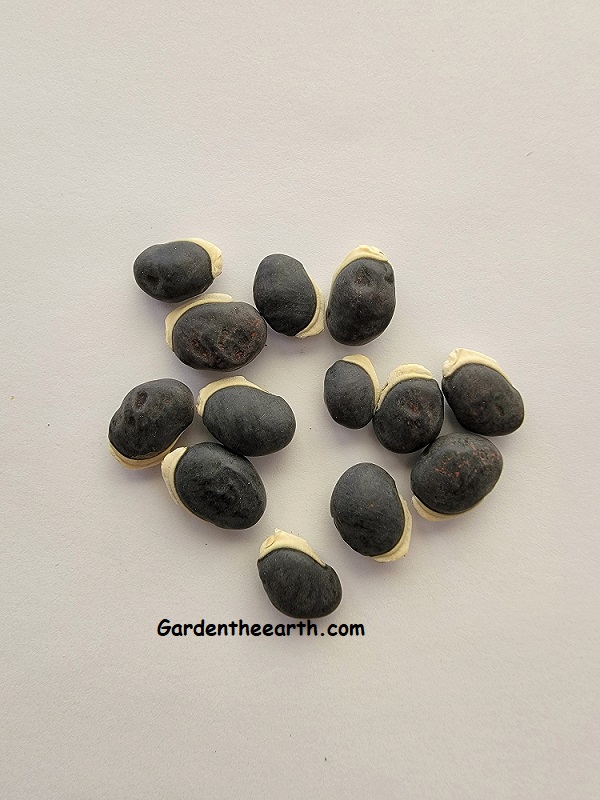 Mature Hyacinth Bean vine seeds are light brown to black in color and 1/2″ long. They are very hard seeds with a distinctive white appendage on one end.
What do Hyacinth Bean vine seed pods look like?
Exotic and tropical looking, Hyacinth Bean vine produces gorgeous sprays of violet-pink blossoms on purple stems.  The flowers mature into shiny flat 3 inch pods that hang like electric-purple ornaments against dark green foliage.  The unique character of the seed pod adds to the charm of the vine as much as the flowers do.
How to harvest Hyacinth Bean vine seeds?
The seed pods will become bulgy as the seeds grow inside.  Choose pods with largest seeds to dry on the vine or cut off and remove seeds to dry in a ventilated area at room temperature.  Remove the dried seeds from the pods before storing in an envelope or paper bag at room temperature. 
Where does Hyacinth Bean vine grow best?
Full sun is most desired for best performance. Some shade is tolerated.  Mine grew well in morning and afternoon sun and late afternoon dappled shade.
Well drained soil is best because proper drainage is important to the health of the vine.  They like moist soil, but will not tolerate soggy soil.
How long does it take Hyacinth Bean vine seeds to germinate?
10-20 days in soil temperature  65-70 degrees F.   Needs warm temperatures to germinate.  Be patient as these seeds need proper conditions to get started. Mine took almost two weeks to sprout, but then they took off quickly.  
Should I soak Hyacinth Bean vine seeds before planting?
I recommend you soak these seeds in water overnight before planting.  Seeds with hard outer covers like these can end up rotting in the ground before they have a chance to germinate.  Soaking gives them a boost to get started and improves the rate of germination.
When should I plant Hyacinth Bean vine seeds?
Sow directly outdoors after all danger of frost has passed.   Plant seeds 1" deep, and thin seedlings four to six inches apart if desired.   Hyacinth bean vine prefers to be direct sown and does not like being transplanted.  If seeds are started indoors, use biodegradable pots to avoid disturbing roots.  Transplant when the seedlings have at least 4 leaves to reduce transplant shock.   Keep soil moist but not overwatered until established.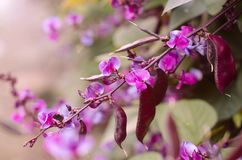 Ruby Moon Hyacinth Bean Seeds
from:
Botanical Interests
When does purple hyacinth bean vine bloom?
The vine flowers from mid-summer through fall. Pods start forming about 90 days after germination.
How tall do Hyacinth Bean vines grow?
This is a twining vine that can grow as long as 20 feet. It can be used climbing or as ground cover.
What does a Hyacinth Bean vine grow on?
This twining vine will need a sturdy structure to twist onto, such as a trellis, fence, arbor, teepee poles, bench, deck etc.   The vine will need a diameter of about ½" – 1" to get started.  Once attached, it can be manually wrapped onto larger structures and trained to follow a direction. 
Plant in pots on the deck and grow on supporting structures or allow to drape over railing.
Grow on a bench, chair, wagon or wheelbarrow to add interest and fill space with this easy-to-care-for annual vine.
Use to create quick privacy by growing on trellises, tepees or permanent structures.   Hyacinth Bean vine grows quickly and can be trimmed to keep neat so makes an excellent choice for privacy in defined areas.
Growing Tip:  When directing twining vines to grow from one place to another, use stakes, wires, or other thin structures to create the path.  They will naturally sense the object and wrap onto it.  Gently direct the tips of the vines towards the path you want them to follow.   
Are hummingbirds attracted to Hyacinth Bean vine? 
Yes hummingbirds love Hyacinth Bean vine flowers.  Their hang time is extended because they carefully sample each flower along the spiky cluster. Butterflies and bees also regularly visit the flowers.   I saw hummingbird moths sampling the flowers several times too.
How to maintain Hyacinth Bean vine
Once established, hyacinth beans grow quickly with side branches that can cover a structure in a few weeks.  It can be easily trained to grow on a support and follow a direction.  Wrap the vine in the direction it is naturally twisting. 
 The side branches that grow from the main stem can be selectively trimmed to keep uniformity and avoid a 'weighty tangled" look.  
Trimming excessive side branches will encourage more flower production.  The plant will be putting less energy into developing vine and leaf and more into flower.  Trimming side branches will provide more air circulation too, discourage fungal diseases. 
To encourage wider spread, snip the end of branching vines and the plant will produce new side shoots that fill spaces with new leaves and vines.
 Grow Hyacinth Bean vine on a bench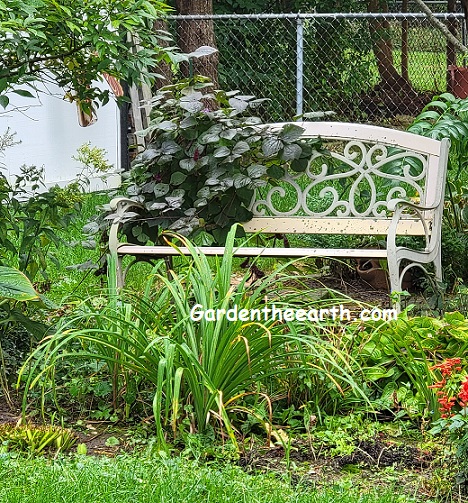 A bench is a great place to grow a vine on. It fills space and adds charm to a traditional structure.
You can relax right next to the full dark leaves of this Ruby Moon Hyacinth Bean vine and enjoy the spires of purple flowers bouncing in the breeze. If you sit very still, maybe a hummingbird will visit.
What to consider when choosing a bench for a vine to grow on
Bench size: Make sure the bench is large enough to handle a vine that will grow up to 15 ft. in length. The bench shown is 48″ long x 30″ high x 18″ deep. The vine grew about 10 ft long. A small bench may be completely covered by the vine. Actually a vine covered bench could make a fun garden object now that I think about it. Maybe next years' project!
Bench sturdiness: Make sure the bench is sturdy enough to handle a twining vine. Delicate artistic features may be distorted when removing the vine at the end of the season. The scrollwork in the back of this bench will not bend, so easily supports the vine.
Bench design: The vine will need structure to twist onto, so either the bench design will have to provide it or structure will have to be added such as stakes or wire. The open scrollwork on the back of this bench allows the vine to twist around and support itself.
Bench location: Dolichos lablab grows best in full sun. Consider how nearby plants or structures will affect sun exposure throughout the day.
See Outdoor Benches for bench ideas.
What if my bench legs are too large for the vine to grab onto?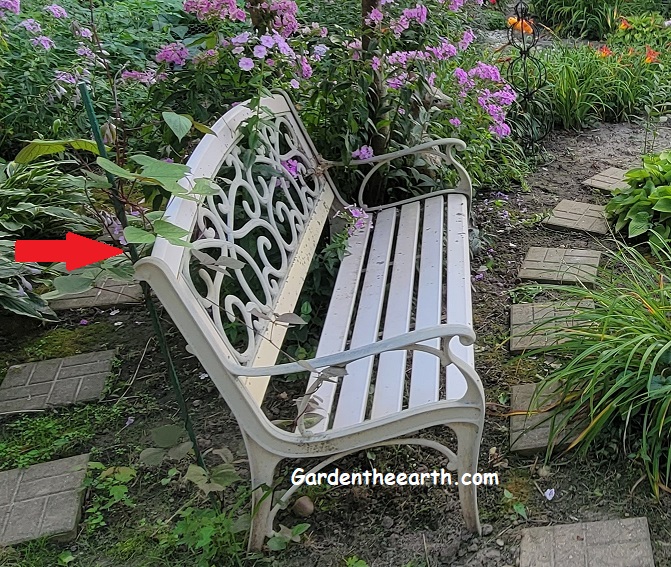 If the bench legs are too large for the vine to grab onto, you can help the vine get from the ground onto the bench with stakes.
Shown above, a 1/2″ stake is inserted into the ground to bridge the gap between where the the seedlings will emerge and where the vine will attach to the bench. You can choose wherever you want the vine to start onto the bench.
Plant the seeds next to the base of the stake.
When the seedlings emerge, gently direct to find the stake. You may need to gently twist the delicate end of the vine onto the stake. It will naturally grow upward.
Once the vine fills out, the stake will be covered.
For more annual vines that are easy to grow, see Quick Growing Annual Vines.