Vegetables High In Calcium You Can Grow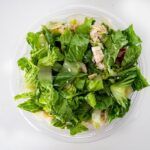 There are many vegetables high in calcium that you can grow in your own garden. Many vegetables high in calcium are also packed with vitamins, minerals and fiber.
If you're looking to add natural calcium to your diet, look below for calcium-rich vegetables to add to your menus.
A DEXA (bone density) scan result prompted my research for natural sources of calcium. As I learned about vegetables that were high in calcium, I also learned there were many other people looking for natural ways to increase their calcium intake. This list of vegetables is provided to help anyone looking to add natural sources of calcium to their diet and enjoy growing and harvesting fresh calcium rich vegetables right from their own garden!
Kale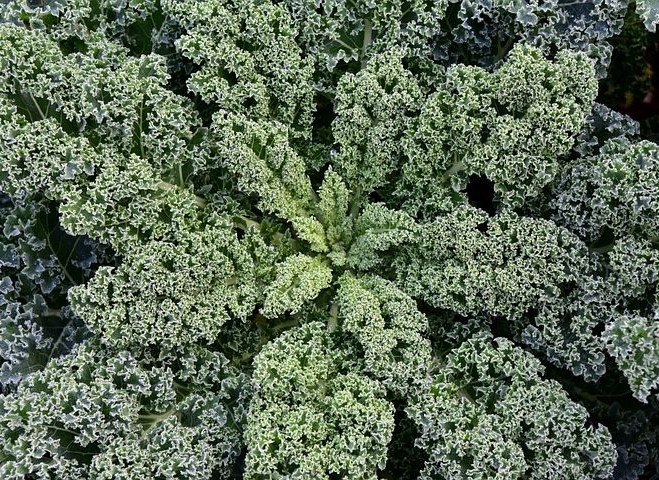 Kale cooked, – 1 cup – 177 mg calcium
Kale is a popular source of calcium with a wide variety of colors, textures, sizes and flavors. Some varieties can be harvested in as little as 30 days and are frost hardy. Baby Greens are ideal for growing indoors, to keep your calcium requirements met through winter.
Red Russian Kale Baby Greens Seeds

How do you make a nutritional powerhouse even more nutritious? Grow it as a baby green! Loaded with vitamins A and C with big boosts of calcium, protein, iron, and fiber. Kale baby greens can be grown indoors at any time of year and are a nutrient-packed way to get your "green fix" in winter. Move containers as needed for best light exposure and temperature. Harvest when 2″–4″ tall and enjoy!
Dazzling Blue Kale Seeds

Be dazzled by the striking colors of this extra-cold-hardy kale–more cold tolerant than other lacinato types. The striking purple midrib pops against the blue-green leaves, some of which may take on more purple hues in the cool temperatures of fall. Lacinato kale is ideal for kale salads and other fresh culinary endeavors. Pick tender, baby greens for fresh salads, chips, or cooking, in just 30 days.
Redbor Kale Seeds

This kale has it all. Beautiful, ruffled leaves are tasty and have amazing color. Extremely cold tolerant, 'Redbor's' purple color and curliness intensifies, and flavor sweetens as temperatures drop in the fall; plants can last even through hard freezes. Sow with pansies, violas, and snapdragons for long-lasting fall color.
Premier Blend Kale Seeds Conventional

Is there any dish that can't use a flavor and nutrient boost from kale? This blend of 'Dwarf Blue Curled', 'Dwarf Siberian Improved', 'Nero Toscana' Lacinato, and 'Red Russian' provides a variety of colors, textures, sizes, and flavors. Harvest baby greens in just 25 days and allow some plants to grow to maturity. This frost-hardy crop is a rock star in the garden even as other vegetables are winding down.
Bok Choy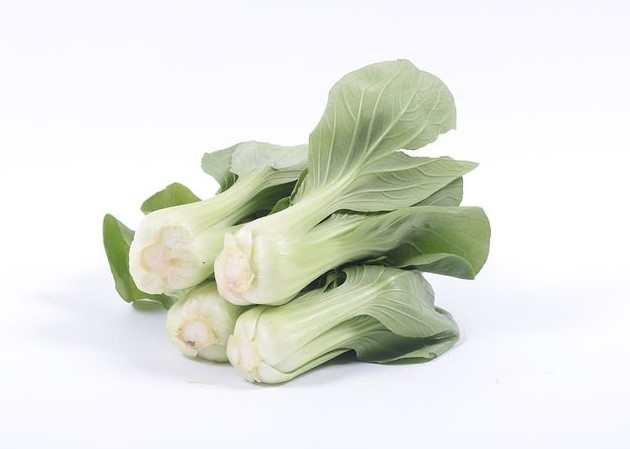 Bok Choy, cooked – 1 cup – 185 mg calcium
Varieties mature in as few as 30 days and tolerate extremes of warm and cold weather. Compact 4-5″ sizes are ideal for containers.
Toy Choy Bok Choy Seeds

Also called pak choi, this leafy green has been cultivated in Asia for centuries. A miniature variety, 'Toy Choy' grows just 5″ tall and is ready to harvest in as few as 30 days. The thick, white stems and glossy, dark green leaves are tender and crisp. Tolerates warm weather better than full-size types. Small plants are ideal for growing in containers.
Bok Choy Choko Seeds

This baby bok choy or pak choi tolerates heat, so you can grow it all summer. Harvest at 4″ tall for delicate, crisp, and pleasantly mild-flavored leaves. An indispensible stir-fry ingredient, also try it fresh or marinated for salads, or make baby bok choy kimchi. The uniform, green leaves look beautiful when grown alongside flowers. Great for containers, too!
Rosette Tatsoi Bok Choy Seeds

Believed to be of very ancient origin, the spoon-shaped, dark green, evenly spaced leaves make tatsoi a plant worthy to be grown for its decorative value alone! More nutritious (high calcium and vitamin content) and more flavorful (slightly mustard-like) than traditional bok choy; many consider it a superior flavor, and it is prized for its smooth texture. Very cold tolerant; withstands temperatures down to 15°F. Tatsoi can be harvested even when there is snow on the ground!
Now available in organic!
Turnip Greens
Turnip Greens, cooked – 1 cup – 197 mg calcium
Enjoy the greens and turnips. Fast growing, enjoy 2″ baby-sized turnips in only 30 days, or grow them to full size (4″–5″) in just 40 days
Market Express Turnip Seeds

Join farm-to-table chefs and add this premium Japanese salad turnip to your garden repertoire. Pure white and mild, 'Market Express' is a great baby turnip in salads, crudité trays, and pickling, as well as traditional cooked turnip dishes. The roots have a smooth texture and slightly sweet, fruity flavor that upgrades homegrown meals, and the greens are also delicious.
Spinach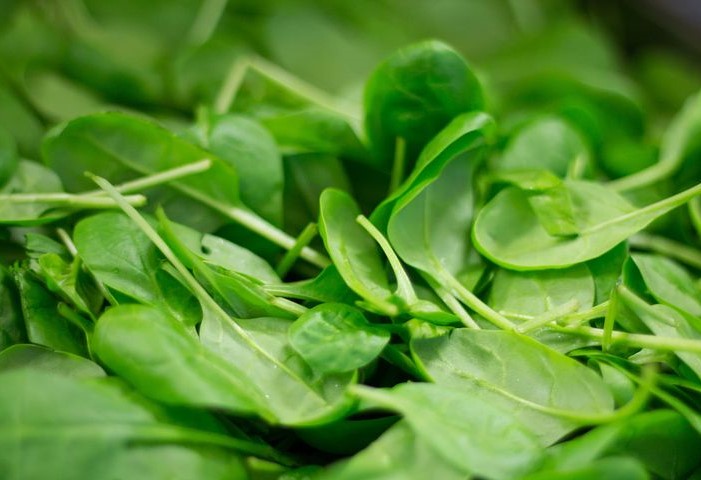 Spinach, cooked – 1 cup – 245 mg calcium
High in vitamins and minerals, spinach is easy to grow and the flavor of fresh-picked can't be beat. Try a heat tolerant variety to extend the growing season.
Note: spinach contains high amounts of oxalate, which can interfere with your body's ability to absorb calcium.  It is recommended that spinach be eaten cooked to reduce the effect of oxalate interfering with calcium absorption.
Bloomsdale Spinach Seeds Organic

Be strong to the finish and eat your spinach! If you haven't grown spinach before, the freshness and quality of homegrown will win you over. 'Bloomsdale' is an early 1800's, dependable, open-pollinated variety. For growing tender, baby greens in as little as 28 days, you can sow seeds just 1″ apart. Very nutritious—lots of vitamins A and C and iron. Grows great in a container too!
Lavewa Spinach Seeds

Rich, green color on productive plants, 'Lavewa' is an open-pollinated variety that competes with hybrids for flavor, heat tolerance, and mildew resistance. Spinach is high in vitamins, minerals, antioxidants, and low in calories.
Oceanside Spinach Seeds

'Oceanside' is the perfect spinach for tender baby greens. Enjoy deep green, flavorful, easy-to-clean leaves in just 25 days! Great for fresh salads, or added to stir-fries at the last minute. Spinach packs a punch when it comes to vitamins and minerals. Full-grown plants in 40 to 60 days. Plants are resistant to downy mildew.
Broccoli
Broccoli Raab, cooked – 1 cup – 100 mg calcium
Versatile options are available for growing broccoli. To get the most harvest from your broccoli, look for varieties that will meet your climatic needs such as heat tolerance or cold tolerance.
Chinese Broccoli / Kailaan Seeds

Chinese broccoli, also called Chinese kale or gai lan, is widely used in Asian cuisine. The florets can be substituted for regular broccoli in many recipes. The leaves and juicy stems have a more complex flavor, sweet yet slightly bitter. Chinese broccoli is easy to grow and will tolerate heat better than many broccoli and kale varieties, so the harvest period is longer; expect lots of side shoots after the first harvest. High in calcium, iron, and vitamins A and C. Very popular for stir-fry dishes; it can also be steamed or boiled. For a gourmet treat, lightly sauté the thinned seedlings!
Waltham 29 Broccoli Seeds

Broccoli has a long culinary history going back to the Romans. The florets, leaves, and stems are packed with vitamin C and provide calcium, potassium, and iron. The 4″-6″, blue-green heads are delicious raw or cooked. 'Waltham 29' grows prolific side shoots and is specially adapted for cold tolerance. Freezes well. Kids will delight in the "little trees" on their plate.
Rapini Broccoli Raab Seeds

There is a good reason the Europeans love Rapini; the tender stems, buds, flowers, and leaves have a wonderfully delicate and slightly bitter, peppery broccoli flavor, that can be enjoyed in salads, stir-fries, or steamed. Budding florets should be harvested just before the flowers open for best flavor. Known in Italy as "broccoletti".
Burgundy Broccoli Seeds

Sprouting broccolis, like 'Burgundy', create one moderate to small main head, but the real show starts as it begins to produce generous side shoots. Purple broccolis are known for being quite tender, flavorful, and full of antioxidants, but in most cases also a bit fickle, needing cool temperatures–not 'Burgundy'; it's tolerant of a wider range of temperatures, which means a longer harvest period. Some gardeners pinch the first main floret off as soon as it is visible to encourage more abundant side shoots. Resistant to Fusarium yellows.
Broccoli Sprouts Seeds

Broccoli sprouts contain higher levels of the cancer-fighting, phytochemical sulforaphane glucosinolate than mature heads of broccoli, while also contributing vitamins A, C, and E, calcium, and fiber to the diet. Extremely versatile in the kitchen, tangy broccoli sprouts will perk up almost any dish—fresh or cooked.
Collards
Collard Greens cooked – 1 cup – 268 mg calcium
Easy to grow and cold tolerant, you will find collards are a versatile leafy green in the kitchen. Grow in containers if space is limited.
Georgia Southern Collards Seeds

A staple in the South, collards are a nutritious and versatile vegetable that grows in hot or cold regions with ease. 'Georgia Southern' has been enjoyed since the 1800s. The large leaves not only make delicious steamed greens, they also make fantastic wraps (a low-calorie substitute for tortillas), and when young, hearty salad greens. Fall frosts make them sweeter, and they may overwinter, as they can survive temperatures down to 20°F. Excellent container variety.
Okra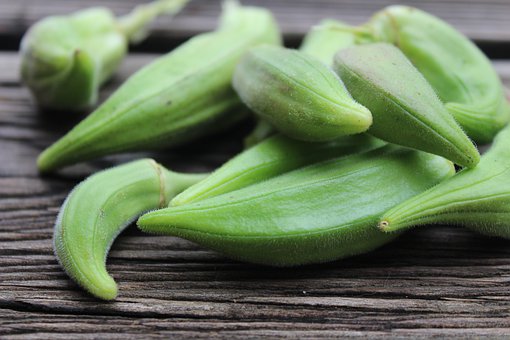 Okra, raw – 1 cup – 82 mg calcium
These heat-loving plants produce dark green, grooved, straight pods with a full-bodied flavor that okra lovers find utterly delectable.
For more information on growing Okra see Okra Plant Grow Harvest Okra
Clemson Spineless 80 Okra Seeds Conventional

Originally developed at Clemson University and improved in 1980 for an earlier, more productive harvest. Related to hollyhocks, the plants' beautiful flowers make them a pretty addition to the flower garden and they attract pollinators.
Garbanzo Beans
Garbanzo Beans, cooked – 1 cup – 80 mg calcium
Garbanzo bean sprouts are easy to grow and delicious for snacking or adding to a variety of dishes.
Garbanzo Bean Sprouts Seeds

Garbanzo beans have been grown and enjoyed for thousands of years. This ancient ingredient is still a popular part of Asian, Indian, and Mediterranean cuisine. Rich in vitamins and minerals, they contain protein, plenty of fiber, calcium, iron, and vitamin C.
Arugula
Arugula raw – 1 cup – 45 mg calcium
Distinguished by it's peppery flavor, Arugula comes in several varieties and can be used in may ways. Can be grown directly in the ground or containers outdoors, or grow as baby greens indoors for winter.
Astro Arugula/Rocket Seeds

Because 'Astro' has wider leaves and is slower-to-bolt than other arugulas, you will be enjoying more leaf per harvest and a longer harvest period. With its milder flavor, it makes a delectable baby green, harvestable in just about a month! The peppery flavor many of us love ramps up over time and as spring temperature heats up. Afternoon shade helps prolong the harvest. Also a good container variety.
Arugula/Wild Rocket

Wild perennial arugula has a slightly stronger, more complex flavor and is slower growing than other arugula. Its peppery flavor adds a zing to salads but it is also delicious on pizza or as a pesto. Harvest as baby greens or grow to full size. A good container variety, and the flowers are edible, too! Recipe inside packet for wild arugula and walnut pesto.
Arugula Baby Greens Seeds

Add new flavor to everyday salads! High in vitamin C and potassium, arugula's peppery flavor is the perfect balance tossed simply with balsamic vinegar and Parmesan cheese. Arugula baby greens can be grown indoors at any time of year and are a nutrient-packed way to get your "green fix" in winter. Move containers as needed for best light exposure and temperature. Harvest when 2″–4″ tall and enjoy!
Brussels Sprouts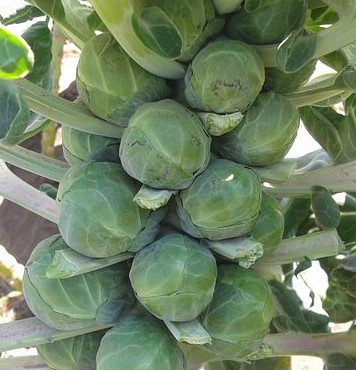 Brussels Sprouts, cooked – 1 cup – 56 mg calcium
Brussels Sprouts are a delight to watch develop into "little cabbages" and well worth the wait. The growing season is extended with Brussels Sprouts, since they benefit from leaving the plants in the garden into winter as frost actually improves the flavor.
Long Island Improved Brussels Sprouts Seeds

Modern chefs have transformed this historically disliked vegetable into a much-sought-after food that is delicious deep fried, steamed, or roasted. Give them plenty of water, nutrients, and time to grow before they begin forming sprouts. Covering plants with row covers after sowing/transplanting will help exclude pests. You can leave plants in the garden into the winter, as they are hardy to 10°F; frost actually improves the flavor. The plants resemble little palm trees.
Mustard Spinach
Mustard Spinach, cooked – 1 cup – 284 mg calcium
An easy to grow variety, it quickly produces flat, smooth, dark, glossy green leaves that can be picked as baby greens or grown to full size.
Tendergreen Mustard Spinach Seeds

This versatile Japanese green is called mustard spinach, spinach mustard, or komatsuna, but it's neither mustard nor spinach! Whatever its name, this delicious, leafy green is milder than other mustards. Hardy and productive plants are slow to bolt and tolerate cold, heat, and dry conditions; although best results in cool weather.
Winter Squash
Winter squash gives you the perfect reason to look forward to winter! Harvest in the fall and store for several months to provide calcium through winter. Individual varieties have different calcium content.
Honey Boat Winter Delicata Squash Seeds

A baked and buttered 'Honey Boat' with or without a sprinkling of cinnamon sugar makes a succulent treat for a chilly autumn day! The rich, golden-orange squash has a delectably sweet, nutty flavor. High in calcium, potassium, folate, and vitamins A and C. There's no better way to enjoy summer sunshine in the depths of winter. 9′-12′ vines.
Table King Acorn Winter Squash Seeds

Nothing beats the rich, sweet flavor of baked winter squash on a chilly, autumn day. 'Table King' is great for short seasons or late spring planting; it is early maturing for a winter squash. Compact, 4′ vines are great for small gardens or even large containers, and they are so easy to grow from seed! A 1974 All-America Selections winner.
Waltham Butternut Winter Squash Seeds Conventional

The rich, sweet flavor of butternut quickly became a classic and has set a bigh bar. Roast, bake, or pureé into a soup for classic winter fare. 4 to 5 fruits per plant; solid stems resist squash vine borers. 1970 All-America selections winner.
Edamame or Green Soybeans
Edamame, cooked – 1 cup – 98 mg calcium
For continuous harvest, plant seeds at 10 day intervals. Harvest when the pods are bright green and at lest two to three inches long.
Chiba Green Edamame Seeds

Edamame has been eaten for centuries in Japan. Traditionally, whole pods are blanched and lightly salted, served in a common bowl to be shared with friends. Also Excellent shelled and added to cold or hot pasta dishes or stir-fries. These young, cholesterol-free soybeans are rich in protein, calcium, iron, fiber, and vitamins A, B, and C. 'Chiba Green' grows large, dark green pods with a high percent of three-bean pods. Earlier to harvest than most, and well adapted for any growing area.
Superfoods Baby Greens Seeds
Superfoods assorted baby greens can be grown indoors at any time of year and are a nutrient-packed way to get your "green fix" in the dead of winter. Move containers as needed for best light exposure and temperature. Harvest when 2″–4″ tall and enjoy!
Superfoods Baby Greens Seeds

What's more healthful than superfoods, such as kale, broccoli, and collard greens? Baby superfoods!

Mix includes: 20% kale, 20% broccoli, 15% collards, 15% kohlrabi, 15% turnip, and 15% bok choy
Sources:
https://www.dietaryguidelines.gov/food-sources-calcium