Can Houseplants be Planted in the Garden?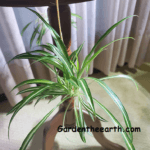 Yes, houseplants can be planted in the garden outdoors directly in the ground or in pots.
They may be considered annuals in your geographic location, meaning unless you bring them in before frost hits, they will die. The houseplants used for this article were planted in Zone 5.
Houseplants can be considered invasive species in some areas. Be sure to check how the plant survives in your geographic location before planting outdoors to assure they are not considered an invasive species.
Benefits of using houseplants outdoors
Many houseplants have variegation and leaf shapes that are unique. Lengthwise stripes on a spider plant or narrow stiff spikes of Sansevieria are unique.
It's healthy to re-pot root-bound plants and trim excess growth. Re-purposing houseplants is a low cost creative way to put plants to good use in your outdoor space.
How to use houseplants outside
Vining houseplants can be used as a low-cost ground cover for a shady spot or a quick way to fill space under trees or structures. Mix variegated varieties to add interest and brighten a dark area. Vining houseplants also make great hanging baskets or trail over the sides of mixed containers.
Use variegated varieties with unique leaves as accent plants in mixed containers. Houseplants can make striking container accents in combination with bright colored flowering annuals.
Use to fill gaps between perennials. Besides growing during the season, houseplants maintain consistency in their look. When other plants are winding down, they are vibrantly holding their place. Many tolerate the cooler evenings as the season winds down too.
Below is an example of how to use houseplants in the perennial garden in Zone 5. These received average 3 hours of direct sunlight every day.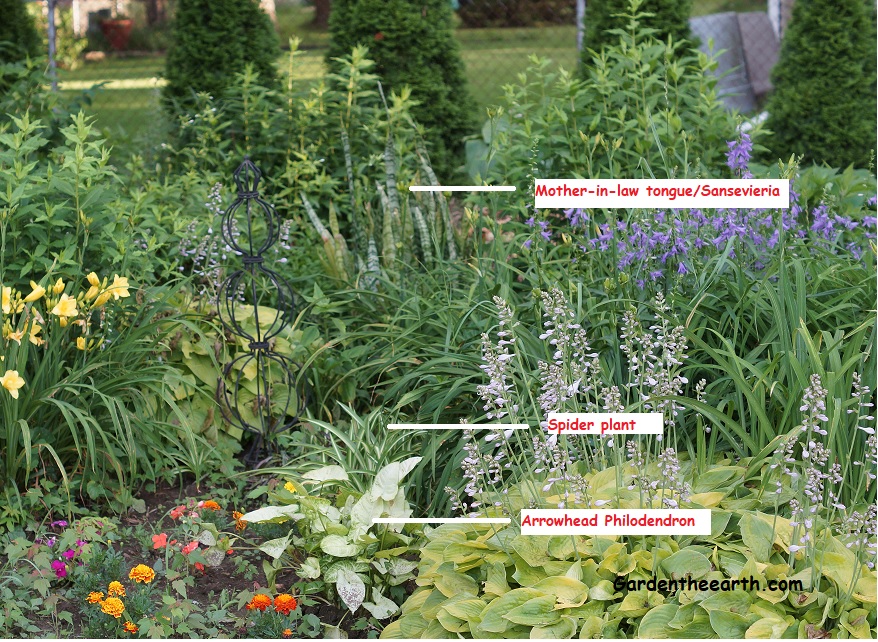 A fun way to extend gardening year-round is to propagate houseplants inside during the winter. Commonly used methods of propagation are root divisions and cuttings. Start plants inside during the winter, and have substantially sized plants ready for the garden in Spring.

Variegated Snake Plant
from:
Perfect Plants Nursery

Snake Plant Soil Mix
from:
Perfect Plants Nursery
Sansevieria (Snake Plant) adds a tropical touch to the garden with variegated markings unique to this houseplant. Re-pot plants with a potting soil mix made specifically for the needs of your Snake plant.

Liquid Snake Plant Fertilizer
from:
Perfect Plants Nursery

Grow spider plants outside
Spider plants are one of the easiest to propagate, and they love to spend the summer outside. They grow quickly and transplant well. Spider plants grow in sun to partial shade, and quickly fill spots in the garden. Use as accents in mixed containers or hanging baskets.

Variegated Spider Plant
from:
Perfect Plants Nursery
How to propagate spider plants babies
Spider plant babies develop roots as they grow on the mother plant. When you see these, they are ready to be propagated. Some people prefer to start them directly in water. I prefer to start in potting soil, therefore the roots are already surrounded by soil and protected from breaking when planted directly into the ground.
Cut the stem from the spider babies about 2" up. Holding by the stem, gently work the base of the spider into soft soil just deep enough for the plant to stay upright. You don't want to break any roots that may have already started to develop at the base.
Carefully pour a small amount of water around the base so the soil secures the plant in place. Don't bury it too deep – the roots should just be under the soil enough to keep the plant upright. For the first two weeks, keep the soil slightly moist but not wet.
The plant should develop a substantial root system in about 3 weeks.
Do expect that there may be a few that don't make it. Sometimes they just don't take no matter what you do. If you have the option, plant a few more. I promise you will find places for them when you see how great they look outside!
Spider babies are great communicators when it comes to watering – they will droop and their color will appear washed out when under or over watered. Be sure you have good soil drainage so the soil stays slightly moist but not wet. Check on them every day for about two weeks. You will know they have rooted and are happy when they stand upright, maintain bright color contrast, and start to develop new leaves. They will not need the soil kept moist all the time now. Mature Spider plants prefer to have the soil dry between watering.
I was once told that "spiders thrive on neglect". That's not entirely true, but they are a durable forgiving plant and a good starter plant for beginners.
How to move houseplants outside
Acclimating houseplants outdoors after being inside for the winter is a step by step process. How you approach it depends on your area and the type of houseplants you have. Start with the hardiest varieties first, then move the more sensitive tropicals such as hibiscus and bouganvillea later when it's warmed up more.
First, there should be no threat of potential frost. Know what your last frost date is for your area and add two to three weeks before considering moving plants outdoors.
Watch weather forecasts, and take note of when the night temperature is expected to be within 5-7 degrees of the day temperature. There should not be wide temperature swings between the day and night. Typically, I wait until its no lower than 60-65 degrees at night before I put mine out.
Second, place plants in an area where they will not receive direct sunlight at all.
Protect from wind, and support if they might be knocked over. I place mine along the back of the house under benches and chairs and along protective walls. Create a canopy if needed to protect from direct sunlight or wind at any time of the day.
This is the most crucial time in their acclimation, and the time when they can be most damaged by elements.
Third, refresh the soil and roots with a good soaking of water that flows out the bottom of the pot. A light gentle shower will clean dust off smooth leaves. This revives plants and gives them a good start for this new environment.
Fourth, depending on the best growing conditions for each of your plant varieties, you can start to move them to more exposed locations in about 10 days.
Plants that can handle direct light should be ready to move into dappled sunlight or early am light, then gradually into full sun.
To keep leaves from scorching, protect sensitive plants from direct sunlight.
Protect all from excessive wind – it can damage leaves, break stems and dry out soil quickly.
Use gentle spray from the hose if watering leaves. Hoses that have been left in the sun may have hot water in them so be sure to run the hot water through before spraying plants.
Fifth, it's essential to watch how the plants are reacting to their environment and adjust as needed. Plants that would prefer to dry out between watering when they are inside may prefer to remain somewhat moist during the heat of summer outside. Another that typically handles direct sunlight on a windowsill may not handle an excessively sunny location outdoors.
Repot and separate excess plants
Now that your potted houseplants are acclimated, it's time to repot them and separate those that you want to use in the outdoor garden.
I like to use a great big tarp and lay it on the ground. Then I gently slide the plant out of the pot and onto the center of the tarp.

Indoor Plant Soil Mix
from:
Perfect Plants Nursery
Repot your winter plants and give them a place to spend the summer outdoors. Plant the root divisions directly in your gardens, as companion plants in pots or hanging containers.
Repot your plants with this high quality blend formulated specifically for the needs of your houseplants.
Separate what you will be planting in the garden, and what you will be replanting into the pot that will come in for winter. It can get kind of messy sometimes, but no worry – it's all contained on the tarp.
Re-pot your winter plants and give them a place to spend the summer outdoors. Plant the root divisions directly in your gardens, as companion plants in pots or hanging containers.

What is left behind in the tarp can be dumped into the compost pile or scattered around the garden.
Plant vining houseplants in the garden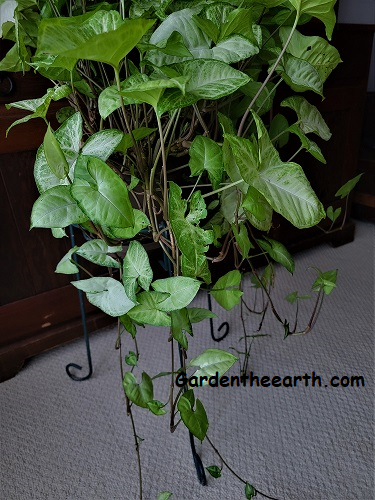 Cuttings from vining plants can be used to fill partial shady areas under trees or bare spots. Lay cuttings in the area you want them to grow, and cover the root ends with about ¾" layer of growing mix or potting soil with compost. Keep them damp for several weeks so the roots can take hold. You will find your bare spots covered with new plants in a few weeks. Trim as needed to keep within bounds.

Golden Pothos
from:
Perfect Plants Nursery

Pothos Soil Mix
from:
Perfect Plants Nursery
Pothos makes great groundcover that grows quickly once established. Propagate stem cuttings in the Winter so you have rooted plants ready to go in the Spring.
Favorable houseplants for use in the outdoor garden
Geographic location (hardiness zone) will have an impact on the tolerance of a houseplant to survive outdoors. A houseplant that enjoys a dry bright location in the house may not be as tolerant of a dry bright location outdoors. Watching how they react is key. Once you know where they grow best, you will be able to plan for houseplants in your garden each year.
Houseplants for sunny locations outdoors
Hoya carnosa
Coleus
Geranium
Gerbera
Sansevieria
Yucca
Kalanchoe
Hibiscus
Umbrella plant
Some varieties of Dracena do well in sun as long as they are kept moist.

Houseplants for early or late sun outdoors
Caladium
Coleus
Ficus
Gardenia
Hoya
Tradescantia
Jade
Calathea Zebrina
Aechmea Fasciata
Houseplants for light but not direct sun outdoors
Dracaena
Ficus
Orchids
Philodendrons (philodendron spp)
Aglaonema "silver queen"
Zygocactus (Christmas cactus)
Houseplants for shady locations outdoors
Vining plants like ivies (Hedera spp)
Philodendrons (philodendron spp)
Swedish ivy (Plectranthus australis)
Wandering Jews (Zebrina spp)
Ficus Pumila – low growing trailing plant variegated leaves
Aglaonema "silver queen"
Fittonia
Boston Ferns do best in in shade to semi shade but also can be acclimated to bright locations if kept moist
Houseplants can be considered invasive species in some areas. Be sure to check how the plant survives in your geographic location before planting outdoors to assure they are not considered an invasive species.