Flower Container Gardening Ideas and Tips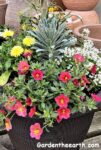 Flower container gardening is one of the many pleasures that come with Summer.
Nurseries and retailers are a great place to discover flower container ideas for visually appealing combinations, as well as combinations that work together for similar light and moisture needs. I hope these offer inspiration as you plan your own flower containers.
Container Gardening Tips
Think not just of color, but also texture and leaf sizes. Many non-flowering plants add contrast, texture and visual movement.
Sprengeri fern offers a lacy textured leaf that creates lightweight airy space
Dusty Miller creates color contrast with a fuzzy green-gray leaf
Spiky Dracena adds height and drama to pull the eye upward and outward
Place containers that have scented plants near sitting areas so they can be enjoyed. Cintronella plant (scented geranium) has a wonderful lemony scent.
Don't skimp on plants – nice full containers will be more appealing.
Consider mixing edibles and annuals in one pot. Herbs or ornamental peppers combined with annual flowers create container gardens that are beautiful and functional.
Add accents such as willow branches, an obelisk or trellis for a vine, or your plastic squirrel if you want.
Have fun with your selections and choose what appeals to you. There is no right or wrong – this is your chance to create your own work of art!
V. Kale Storm Mix – leafy greens mixed at base
Juncus Blue Mohawk – tall grass at back
Osteospermum Bright Lights – light pink daisy on right
Linaria Fantasista Blue – light and dark purple on left
Pansy – orange on right
Erysimum Sugar Yellow – tall at back right
Poppy Champagne Bubbles – tall orange at center
Snapdragon Snaptini Sunglow – tall red with yellow throats at back left
Fern Sprengeri – light green lacy foliage at back left
Viola mix – yellow and red throughout mid center
Ivy English Green – cascading vine at front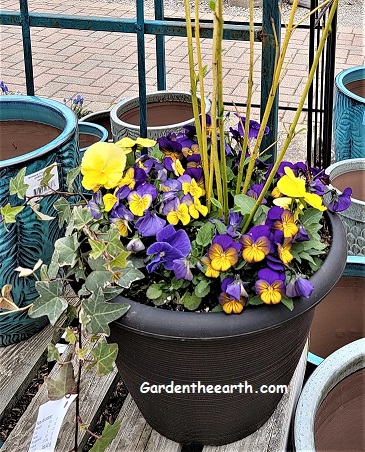 Ivy English Green – vine cascading down left side
Pansy / Viola mix – purple and yellow
Branches are Dogwood
Dracena Green – tall spikey leaves at center
Vinca Vine Variegated – light green and white vine on right side
Erysimum Sugar Rush Purple Bicolor – tall at back right dark green leaf
Diascia Deep Salmon – peach colored at lower left front
Fern Sprengeri – light green lacy foliage at back left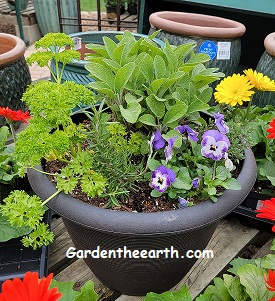 Herb Sage Berggarten – broad green leaf
Herb Parsley Curled – light green at left
Herb Rosemary Barbecue – ferny looking dark green stem at left front
Viola – purple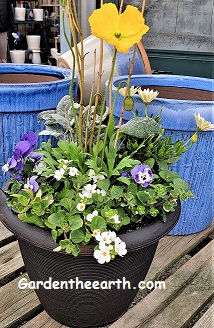 Bacopa Megacopa Versa White – front/left low growing
Osteospermum Bright Lights White – daisy like at back right
Dusty Miller Cirrus – fuzzy greyish leaf at back
Poppy Champagne Bubbles – tall yellow in center
Pansy mix – purples
Branches are Dogwood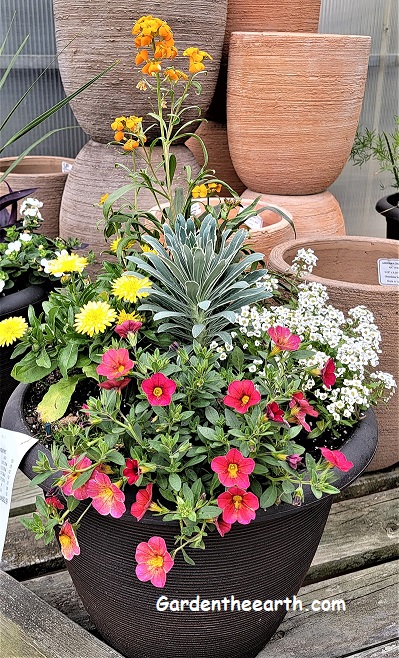 Calendula Caleo Yellow – soft yellow daisy-like on left
Erysimum Sugar Rush Orange – tall at back with thin leaves
Euphorbia Glacier Blue – grey at center
Calibrachoa Diva Orange – red with yellow throat
Sweet Alyssum – white on right side
Fern Sprengeri – light green lacy foliage on right
Snapdragon Snaptini Sunglow – red with yellow throat at back
Pansy – orange
Branches are Curly Willow