Types of Containers for Plants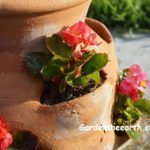 Now that you are ready to get those flowers potted, what type of containers should you use for your plants? 
Yes, you can consider a wide range of clever items to make as containers such as old boots, ash buckets, hollow tires, furniture or other garage-sale-finds, but each of these requires considerations for porosity, drainage and contamination potentials that create complexity for growing plants in them.  For this discussion, we will stick with the basics – unglazed clay, glazed clay, plastic and wood.
CLAY CONTAINERS, UNGLAZED
Terra cotta or clay (unglazed) – a traditional rimmed pot of orange.  You will see this style repeated in other pots of different materials, as it has been a long-standing recognized style.  Available in many shapes and sizes, the clay varieties are heavier than plastic, but the weight lends itself to its ability to hold top-heavy plants without being blown over.  Remember that the soil is going to add to the weight, so if you plan on moving the pots around often, consider the size of the pot and the final weight you will be dealing with.  Larger pots will be easier to move with casters.
Because clay is porous, the soil will dry out faster.   This characteristic makes this type of pot a bit trickier to deal with in hot, sunny or windy locations.  You may need to be vigilant about watering plants in the morning so they maintain moisture throughout the day.
These pots tend to have a sharp bottom edge as a result of how they are manufactured.  If the pot is too heavy to lift and you tip it and roll the pot along this sharp edge to move it, it has a tendency to chip, so when moving you need to keep them flat when moving or pick the pot up.  I found this out when I tipped and rolled my large clay strawberry jars on the bottom edges to relocate them.
Time tested and durable, unglazed clay pots will last years and years when cared for.  I have had my clay strawberry pots for many years and wouldn't want them made of any other material.  The naturalness of the clay enhances the style of the pot and the plants.  Place several sizes together to create a nostalgic grouping, or mix with other shapes and heights for contrast and interest.
CLAY CONTAINERS, GLAZED
Usually with a coated look from dull to shiny, you get amazing colorful designs and shapes with these pots, as they are often hand made.   Price range is wide on these, with the more unique and elaborate typically higher priced.  The glazing makes them less porous so they hold moisture better, and the finished surface helps keep them clean.  They don't usually have the sharp bottom edge the unglazed clay have, but can be heavy when filled with soil.  The artistic freedom with these pots allows one to create any mood desired when planning a garden look.
PLASTIC/RESIN CONTAINERS
Plastic pots offer similar look with less weight, less porosity and less breakage potential.   They usually maintain moisture levels longer than the clays do. They are typically made with resins that resist UV deterioration so with minimal care will last a long time without color fading.  Inexpensive plastic pots are often used as liners inside wood containers.
Plastic can provide a wide variety of colors and textured designs as well as imitated shapes of other pots, such as cauldrons and whisky barrels. Their easy to care for and lightweight.   When shopping for pots, you may experience the surprise that comes from thinking you are picking up a heavy concrete urn only to find out it's a lightweight resin look-alike.
See a collection of lightweight planters you won't believe aren't the real thing!
Sometimes these pots come with bottom saucers attached and drain holes already formed, but sometimes they don't, and you will need to drill or cut the holes yourself.  There are usually markings on the bottom to suggest where to put them.  If the plastic is soft and thin enough you can use an exacto-type cutter to cut the hole.  What is most important is that you cut the hole cleanly without crack lines.  Crack lines will continue to crack under pressure and the integrity of the pot will be compromised.  If you cannot drill holes into the container, consider using another pot for the plants and place that inside the container you prefer, elevated from the bottom so the roots are not water logged.
WOOD CONTAINERS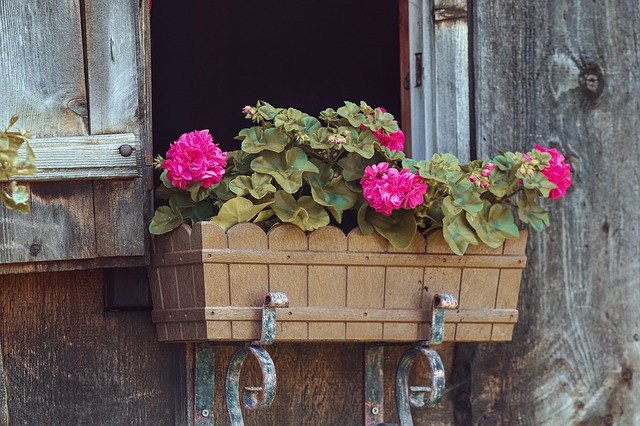 Wood – boxes and tubs are sold in many shapes and styles, sometimes made of redwood and cedar.  They're typically heavy and durable and stand up well to cold weather.  They can provide either a rustic natural look or a very formal structured look.  I recommend sealing them with a preservative and using a liner so they don't deteriorate.  They maintain moisture, so bottoms may rot if set directly on another surface.  Add spacers under boxes and leave space all around to allow air circulation.   Wooden boxes are often seen overflowing with flowers that have been placed on the top of railings or mounted on brackets.   It's a super way to liven up an area.
Whatever container choice you make, always consider how heavy the pot will be once filled.  You will be disappointed if you had planned on moving a pot around that requires a Herculean feat each time.   Look for dollies at the time you purchase the pot so you get the right fit and caster capacity for the weight.  You can also get formed feet that set under the pot base to keep it elevated.
If you have a specific area you are planning for a container, measure the area before heading to the store and take the tape measure with you.   Faced with a lot of choices, it can be overwhelming.  Establish your guidelines ahead of time so you get the perfect one for the spot you have chosen.  If you have a specific look in mind, consider the plants you will be filling the container with ahead of time too.  This is of course not a requirement – some of the best container plantings are made up on the fly.  Be inspired as you go and enjoy creating!