Harvesting Coneflower (Echinacea) Seeds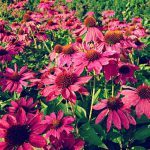 Harvesting Purple Coneflower (Echinacea) seeds are easy when you understand how they are formed. See what Coneflower seeds look like, how to remove them and how to grow your own Echinacea plants.
What Does a Coneflower Seed Look Like?
Above are seeds from a Purple Coneflower. The seeds are hard triangular shapes with tiny spikes on the wide end. The seed pod is the center of the flower head.
How To Harvest Coneflower Seeds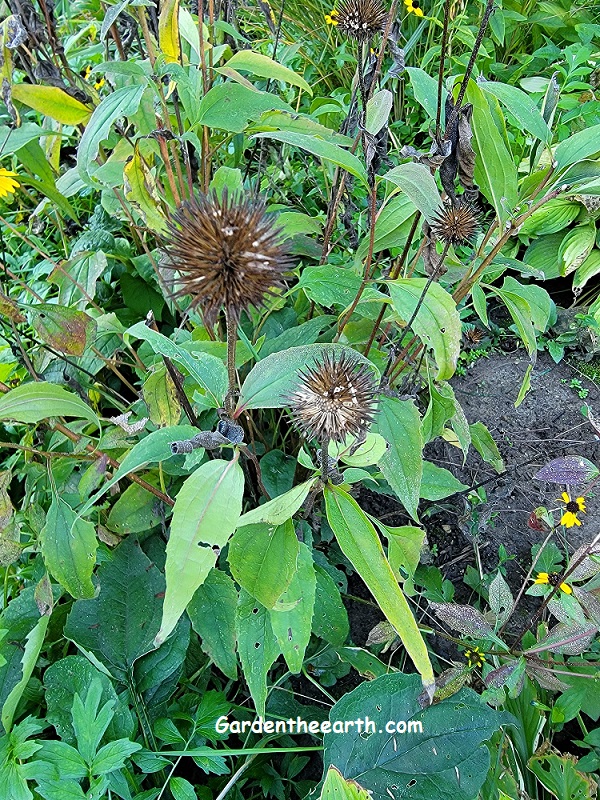 This perennial Purple Coneflower has seed pods that are ready to be harvested. The birds have helped themselves to the seeds as they ripened. If birds are stealing your seeds, consider covering the flower heads with mesh.
Choose the darkest seed pods since they are the driest. Choose evenly rounded heads that don't have bumpy growths or coatings that may be mold or fungus.
The coneflower seed pod (the center of the flower) holds the seeds deep within stiff spikes with needle-like ends. Use caution when handling. Sometimes the spikes are flexible and sometimes they are very stiff.
How To Remove Echinacea Seeds From The Seed Pod
There are several methods that can be used to remove coneflower seeds from the spiky seed pod. The dried petals do not affect where the seeds are stored so they can be removed first.
*The seed head can be tapped and many of the seeds will just fall out.
*Gently push the spikes sideways so the seeds fall out. You can do this with your fingers or a flat tool such as a knife. It's best to do this inside a paper bag or container, because the seeds tend to shoot out from the stiffer spikes as they spring back. Work around the entire ball to release all the seeds.
*Break spikes off down to center cone and drop into a container. If spikes don't break off or pull out from the center easily then the seed head is not dry enough.   Wait a couple more weeks for the seed pod to dry. Separate the spikes from the seeds and chaff. Chaff will be extra bits of material that are part of what formed the center of the flower head and are not needed. The center cone can be used in the compost pile.
*Put the dry seed pod into a paper bag  and shake to loosen the seeds.  It must be a very dry seed pod.  If  the seeds don't drop out, let the head sit for another week or two to dry.
*Put the heads in a plastic container with room to bounce around.  Cover with lid and shake the container well.  Remove the seed pods and the seeds will be in the bottom of the container.
There will be some triangular shapes that look like seeds, but will crush when pressed with the edge of a fingernail. These are not developed seeds. Developed seeds are hard and cannot be crushed.
Storing Coneflower Seeds
Store Echinacea seeds in a cool dry place. Store dry seeds in baby food jars, pill bottles or plastic containers. I prefer to keep seeds in paper bags or envelopes. Sealed plastic bags are not ideal because they hold moisture that may allow mold to develop. Dry seeds are prime winter food for rodents, so be sure that they are stored somewhere where they will not become winter sustenance for critters.
If you save lots of different seeds every year, mark your containers with identification of the seeds and the date. It's best to rotate out your oldest collections so you always have the most viable seeds available when needed. Dates will help you keep your collection fresh.
See Do Coneflowers Come In Different Colors? for varieties and colors of these amazing flowers
How To Get More Seeds From Coneflowers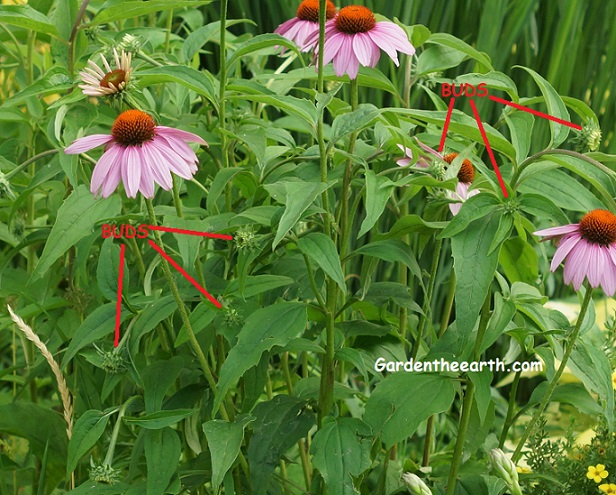 The coneflower plant has an upright branching growth habit. When deadheaded, it grows new branches which produce whole new sets of buds. With consistent deadheading, you can create a full branchy plant with lots of flowers.
If you have a mature group of Coneflowers, you can save seeds and keep flowers blooming at the same time. Start to leave some flower heads on the grouping in mid summer to develop seeds. Continue to deadhead other sections of the grouping and continue to enjoy flowers to frost.
This article may contain affiliate links. Click here for full disclosure.
Planting Coneflower Seeds
Coneflower are naturally self-seeding. This means seeds from the seed pods can fall to the ground in the fall and seedlings will grow in the spring after winter.
In the north where there is a period of cold winter, planting the seeds directly in the ground in the fall is the easiest way to grow new plants.
To naturalize an area with Coneflowers, generously hand broadcast seeds over the area. They will settle into the soil to sleep during winter cold until spring temperatures and rains awaken them for germination. Anticipate that birds and other critters will enjoy a good amount of the seeds you scatter, so plant more than you would actually like to have grow. 
To grow Coneflowers in specific areas, spread the seeds and cover lightly with soil no more than 1/4″ deep. Seedlings can be transplanted in the spring or fall the first year or allowed to develop and transplanted the following year.
In areas where there is not a period of cold winter, cold stratification should be used. Cold stratification is a process of applying cold temperature and moisture to the seeds to prepare them for germination. It is artificially creating a winter climate for the seeds to experience. For information about the process of cold stratification see here. If seeds have been purchased, follow instructions on the packet for the proper seed preparation for your variety.
Coneflower Seedling Tips
Echinacea seeds germinate in 10-20 days average, once the soil reaches 65-70 degrees.
Coneflower plants tend to suffer from transplant shock. Choose spring or fall to transplant, and keep the soil moist until established. Thin seedlings and leave the most robust plants in place to avoid transplanting if possible.
If growing seedlings indoors, reduce the chance of transplant shock by growing seedlings in peat pots. Plant the entire pot so the roots are not disturbed.
Growing Coneflower 
With what looks like a delicate daisy-like flower, one quickly discovers that Coneflower is designed for survival.  It has a sturdy branching structure with stiff stems, thick dark green leaves and stiff center cones where the seeds are produced.  The plant readily responds when deadheaded and continues to bloom to frost.
Grow Coneflower in full sun. Purple Coneflowers bloom best if they receive direct sun for at least six hours each day.
Averaging 18″-24" tall once established, Purple Echinacea plants maintain through drought and heat.  I've seen mine wilting from excessive heat of the day, and by evening their leaves are standing full again.   
Coneflowers are tolerant of poor soil or clay , but grow best in soil rich in organic matter that drains well. Loosen soil 12-15″ down and mix in compost prior to planting.
Divide plants in the fall when clumps become crowded, usually after three to four years. Dig up and rinse off the soil. Gently tease apart roots into sections and replant.
What To Plant With Coneflowers
Use Coneflowers as accents or in masses.  With  upright flowers that stand high atop stems, utilize them to punctuate your garden design with visual flow.  They are also great for filling the late season garden with color after other perennials have faded. Purple Coneflowers blend well with many perennial and annual plants.
Combine the rosy pink 'Bright Star' Coneflowers with white and blue varieties of Salvia and tall marigolds for a bright combination that blooms all summer.
Create textural contrast by combining Coneflowers backed by clumps of tall Maiden Grass or Goldenrods. Their stiff stature is not easily brow-beaten by other plants.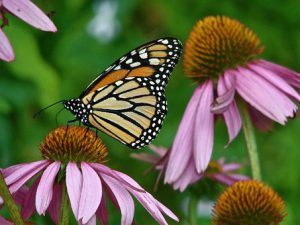 Coneflowers Attract Butterflies, Bees And Other Pollinators
Butterflies and other pollinators love Echinacea flowers.  It would be unusual for me to go into the garden and not see a yellow swallowtail butterfly, several bees or a hummingbird moth visiting the coneflowers.  Their huge center cones almost seem like beacons,  often tipped in bright contrasting colors.
Types of Coneflowers

Butterfly Rainbow Marcella Coneflower
from:
Nature Hills Nursery, Inc.
Many varieties of pink, white, yellow, orange, gold and red are available.  A couple of the notable varieties I've grown are the Magnus and the Butterfly Rainbow Marcela.  Magnus flowers are striking hot pink petals that surround a deep orange-tipped center that seems to glow in fluorescence.  The Rainbow Marcela, radiates apricot, pink and raspberry color around the center cone.  See more colors and types of Coneflowers. 

Magnus Superior Coneflower
from:
Nature Hills Nursery, Inc.
See Do Coneflowers Come In Different Colors? for more wonderful varieties and colors of these amazing flowers
Find Coneflower (Echinacea) seeds at Botanical Interests and a large variety of plants at Nature Hills Nursery.