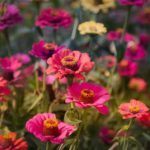 Zinnia seeds are some of the easiest to save, and can provide a fun learning experience on how these seeds are formed. It's also fun to share them and see yours growing in others' yards. It's one of the most colorful and versatile ways to share nature's beauty and garden the earth.
What does a zinnia seed look like?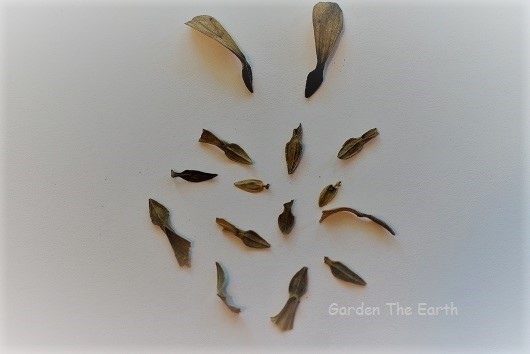 The seeds of zinnia's have a unique arrow shape. They are formed at the center of the head, at the end of the petals. There are different shapes of roundness, length or thickness depending on the flower variety. When they are ready, you can gently pull the dried petal and the seed will release from the center of the flower head and be attached to the end of the petal.
How to harvest zinnia seeds
Deadheading keeps the zinnia plants blooming all season. But if you want to harvest zinnia seeds, you have to let the old flowers fade, turn brown and dry out on the plant so they can produce those precious seeds you will be planting next year. You don't need to let them all go to seed at once – continue to deadhead to keep the plant producing buds and flowers throughout the summer, while selecting a few to leave on for seed production. Since I have to compete with yellow finches for seeds, I let them have the top flowers and leave some of the lower ones amongst the branches to dry out. Towards the end of summer and beginning of fall, I stop deadheading altogether. Existing buds will keep flowers coming, but this is the time you want to see some good zinnia seed production in progress before frost.
The first step is to make sure that you are cutting dried heads from healthy plants. If the plants have mildew, are insect infested or weakened by drought, chances are the flower heads are suffering from the same malady, and are not desirable. Choose the healthiest most robust flower heads, but they don't necessarily have to be the biggest. Healthy nicely formed small flower heads also produce seeds that propagate just fine.
When the flower has turned brown and dry, you can cut it off just below the base of the head (no stem). You don't have to wait for the head to dry out completely and turn entirely brown, although it is ideal. If insects or birds are a problem or you wish to harvest a lot of seeds, you can cut the heads when you can see the petals fading and the center start to dry out and separate. All the color does not have to be gone, but the objective is that the seeds inside the head have turned brown and are not white or cream colored, as these are not mature yet. I have an example picture below of what I would consider acceptable to harvest, even though all the petals have not turned brown. The seeds from inside have turned brown and are acceptable. Also keep in mind, that dried petals don't always turn brown. They can retain some of the original color after the head has dried and still set good seeds.
How to save zinnia seeds
Lay the flower heads in single layer on a cookie sheet or shallow pan or bowl and set it in an open place to dry completely for 2-3 weeks. They may appear as dry as they will ever be, but it's a good precaution to let them air out completely just in case there is moisture retained within the structure. It will be very disappointing to pull your seeds out in the spring and find they have been completely destroyed by mold.
The seeds and petals will start to fall out as they dry and get a bit messy, so it's good to lay them on something that has sides to contain them. Turn them every few days for a couple of weeks so they dry on all sides. Then they can sit for a couple more weeks to dry completely. There's no rush to separate the seeds out, so if practical, leave them be. You can make removing the seeds a fun winter project.
I prefer to leave the seed and petal attached for storage so I don't disturb the seed structure. You can pull the petals out individually or gently roll the heads and the seeds and petals will fall out on their own. If you are saving a lot of them, you can store the heads with petals in a bag and gently crush or shake the bag to allow the seeds to settle at the bottom. I've used ziplock bags, brown paper bags, or bags with zippers that you buy blankets in. Some prefer to save the seeds in the refrigerator in a jar. A cool dry place is ideal. A word of caution – these seeds are prime winter food for rodents, so be sure that they are stored somewhere where they will not become winter sustenance for critters.
Is it too late to plant zinnia seeds? See How Late Can You Plant Zinnia Seeds? to calculate for your Zone
How to plant zinnia seeds
In the spring, plant the petal/seed mix directly in the ground after danger of frost 1/2-1″ deep. Maintain moisture and they will easily sprout in about 8-10 days. Even in my heavy clay soil, they are easy to grow and maintain. I cast my seeds over an open area and then dig up the seedlings in groups when they are about 2-3″ high and replant in other areas. Don't disturb the main root and keep them moist until established if you use this method. Since I make large batches with lots of different flowers I get a good colorful mix and flower variety each year. There will also be plenty to share with friends who were envious of your beautiful zinnia's last year!