How To Grow And Care For Black-eyed Susan Rudbeckia fulgida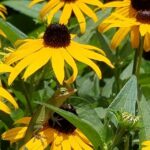 Black-eyed Susan is a tough perennial that is favored for drought tolerant gardens and ease of care. With bright glowing flowers, the North American native Rudbeckia fulgida blooms from mid-summer through fall. See how to grow and care for Black-eyed Susan and enjoy this timeless perennial in your garden year after year.
Origin:  North America 
Family:  Asteraceae
Genus: Rudbeckia
Species: R. fulgida.  fulgida means "shining" or "glistening"
Common Name:  Black-eyed Susan
Hardiness Zone:  3 – 9 
Black-eyed Susan Plant
A classic variety of Black-eyed Susan is Rudbeckia fulgida var. sullivantii 'Goldsturm' . It is incredibly adaptable for gardens or containers, and reliable for year after year performance. It's typically the variety you will see for landscaping use.
Rudbeckia fulgida 'Goldsturm' has branching erect stems that bear orange/yellow colored 2-2.5" wide yellow daisy-like flowers with brownish purple central cones.  The flower is not scented.  Leaves are oblong to lanceolate, slightly serrated.
Black-eyed Susan plants spread outward at the top to form mounded clumps 1-1/2-2 feet tall, 1-1/2-2 feet wide. 
If you are looking to attract butterflies, bees and other pollinating insects to your garden, Black-eyed Susan is a top choice. 
Rabbits and deer tend to avoid Black-eyed Susan, although there have been cases of rabbits eating plants. This may have to do with limited food availability and excessive rabbit population in a given location. Generally, rabbits are not an issue.
Black-eyed Susan Care and Maintenance
Sun Exposure:
Black-eyed Susan grows best in full sun to light shade. If grown in partial shade, Black-eyed Susan loses its compact form and gets a bit leggy.  Aim for 6 hours or more of full sun exposure for best performance.
Soil Type:  
Black-eyed Susan adapts to a wide range of soil types including clays, dry soils and shallow or rocky soil.  The plant performs best in well-drained, not overly rich soil with ample moisture. 
 Moisture:
Black-eyed Susan performs best in average moisture soil but will exhibit heat tolerance when plants are established.  As with many drought-tolerant perennials, Black-eyed Susan will tolerate periods of drought, but do perform best with average moisture soil.  Be sure to provide ample moisture to new plantings until roots are established (well-rooted).  One to two months should be sufficient.
Black-eyed Susan will not tolerant damp soil that does not drain well.   Rain that leaves puddles on the soil surface would not be a good location for this plant.
Being of wildflower origins, once established Black-eyed Susan is a reliable perennial that requires few extra resources.  As with most drought-tolerant perennials, they perform best with supplemental ground watering during extended periods of drought.
Deadhead Black-eyed Susan regularly for two main reasons – first to keep blooms forming on the plant and keep the plants tidy, and second, to keep seeds from falling and germinating.  
Fertilizing is not necessary unless soil is vey depleted.  If necessary, fertilize in spring.  Don't over-fertilize or you will have more leaves and less flowers.
Pests
Aphids can be a problem for Black-eyed Susan, sucking moisture from the susceptible plant.  Keep plants watered during extended drought so they aren't stressed.  If you do experience aphids, shoot them off with a stream of water, or use insecticidal soap.  Welcome ladybugs in the garden because they eat aphids.    
Disease
Black-eyed Susan can be susceptible to Septoria leaf spot on the foliage.  Warm, wet, humid weather provides the perfect environment for Septoria to develop.  Remove the damaged foliage and dispose of affected leaves and stems.  Be careful not to touch other plants to avoid spreading.
Avoid over-watering Black-eyed Susan and keep water off leaves when possible.  If plants are crowded plan to divide to increase air flow around plants.  
Propagating Black-eyed Susan 
Propagate Black-eyed Susan by seed or by division.
Seed:
Black-eyed Susan will naturally spread by reseeding itself.  If you want to naturally reproduce plants by reseeding, start leaving flowers on the plant towards the middle/end of the season so they can go to seed.  Birds will take some seeds, and some will scatter to the ground and naturally germinate seedlings in the spring.  
You can also take the seed head and tap the seeds out from the center and let them fall to the ground.  Rudbeckia fulgida seeds need some light to germinate so don't bury them deeply.  Typically, just scattering a generous amount of seeds on the ground is sufficient for spring seedlings.
Black-eyed Susan can reseed vigorously if flowers heads have gone to seed are not removed.  Control the ability of the plant to spread seeds by persistent deadheading of flowers before the seeds form. 
You can control where they grow by sowing seeds in specific locations outdoors in fall or spring.  Black-eyed Susan seeds can also be saved and sown indoors in late winter.  Then you can place seedlings specifically where you want them to grow.  Plants will typically bloom in the second year.
Division:
Black-eyed Susan plants can be divided in spring or fall every two to four years. Plants grow from fibrous-rooted crowns and the roots are stiff and durable.  Dig a hole twice the width of the rootball. Enhance soil with organic matter . Gently tease roots apart, place in hole and fill with soil to the same depth as originally planted.   Plant 12-18" apart. 
Winter care for Black-eyed Susan
Stems can be cut down to 3-4" before winter or left to over-winter and trimmed in spring.  Leaving stems with seed pods provides food for birds during the winter.  Birds also scatter seeds that may germinate in the spring. Stems left to overwinter can be trimmed in the spring to allow space for new growth.
How To Use Black-eyed Susan
Use Black-eyed Susan in butterfly gardens, containers, and along borders.  Rudbeckia makes a strong statement whether planted in naturalized drifts or as eye-catching focal points planted with other intensely colored flowers.   The daisy-like blooms make long lasting cut flowers too.    
What flowers go well with Black-eyed Susan?
Companion plants that work best with Black-eyed Susan will have similar care requirements.  Here are perennials that also have drought tolerance like Black-eyed Susan.
Coneflower
Monarda (Bee Balm)
Yarrow
Blanket Flower
Sedum
Russian Sage
Salvia
Daylily
Lavender
Coreopsis
Penstemon
Ornamental Grasses (check variety for drought tolerance)
Explore More