How To Grow Lettuce In Summer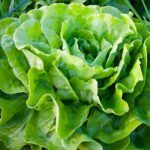 You can grow lettuce throughout the summer if you learn a few tips about how lettuce responds to high temperatures and how you can work with it to your advantage.
What is the best heat-tolerant lettuce to grow in summer?
Successfully growing lettuce in summer heat starts with choosing heat-tolerant varieties of lettuce.  Not all varieties will tolerate heat, so look for those that are specifically described as heat-tolerant. Many of these varieties are slow to bolt (go to seed) and disease resistant.
A long-time favorite is the Black Seeded Simpson leaf lettuce, which is tolerant of both heat and light frost. Recommended for its good germination rate even under challenging conditions.
This article may contain affiliate links. Click here for full disclosure.
Great Lakes 118 Crisphead Lettuce is an iceberg lettuce that is heat tolerant and bolt, scald, and tip burn resistant. One packet sows up to 148 feet. Good for containers.
New Red Fire Leaf Lettuce is slow to bolt in heat, which helps to extend your harvest time. It's colorful leaves are a welcome addition to any salad.
Growing Lettuce
Provide growing conditions that will counteract heat :
Direct sunlight on lettuce can cause wilted or burned leaves.  Plant in the shade of other plants or structures, or use row covers to provide shade.
Water lettuce often, several times a day if necessary.  Roots are shallow so plants are susceptible to drying quickly.   Water also helps cool the soil. 
Mulch lightly with organic mulch to retain even soil moisture, cool the soil and keep leaves off the ground.
Soil: Lettuce enjoys soil rich in nitrogen.  Adding nitrogen-rich amendments like compost or manure will benefit the plants.  
Fertilize: Replenish soil nitrogen throughout the season.  A fish emulsion fertilizer works well to encourage growth.    
Regularly inspect plants for disease or insects. Remove diseased leaves or plants.
Germination
Lettuce seeds do not germinate well in warm soil.    When the soil temperature is above 80 degrees it's best to germinate seeds in trays in a cool location. 
For direct planting outdoors, cool the soil with a shade cloth prior to planting seeds.   If soil is above 80 degrees germination rate will be low.
Transplanting
Keep plants shaded for the first two weeks after transplanting so they can get established.  
Water frequently to help shallow roots move into the new soil and keep roots cool. Mulch to retain moisture.
Denser plantings help keep the soil cool. Consult the back of your seed packet for the ideal spacing for that cultivar.
Harvesting
Harvest lettuce early in the morning.  This reduces wilt as well as the potential for bitterness.
Harvest leaves when leaves are young for best flavor.
Leaf lettuce requires ongoing harvesting of the plant to maintain quality.    Frequently pick the outer leaves and let the center continue to grow. Continually removing these leaves tricks the plant into thinking it has not matured yet and helps to keep the plant from bolting.  
Other Heat Tolerant Greens
There are several other leafy green vegetables you can grow that will tolerate heat and provide yields all summer long.
Grow spinach in the summer with these heat tolerant varieties : Matador | New Zealand
Additional greens to consider for all summer enjoyment: Edible Red Leaf Amaranth | Collards

Related: Vegetables High In Calcium You Can Grow
Can I Grow Lettuce in Containers?
Leaf lettuces are ideal for containers. Use a plant caddy to move containers to shaded areas.
Look for varieties that specify use for growing in containers such as Great Lakes 118 Crisphead or Salad Bowl Blend Leaf Lettuce.
Best-Selling Galvanized Raised Garden Bed Planter
Can I grow Lettuce in a Vertical Garden?
Lettuce and many leafy greens are ideal for growing in vertical gardens. Create your own compost and grow a harvest of vegetables with the Garden Tower 2 vertical growing system.
Try the Bountiful Harvest Seed Collection for leafy greens and assorted vegetable seeds that are sure to please!
Growing leafy greens is not just for early spring or late fall. Now that you know how to grow lettuce during the heat of summer, try these heat-tolerant seed varieties, counteract the effects of heat with shade and moisture, and enjoy fresh lettuce all summer long.
Explore More: